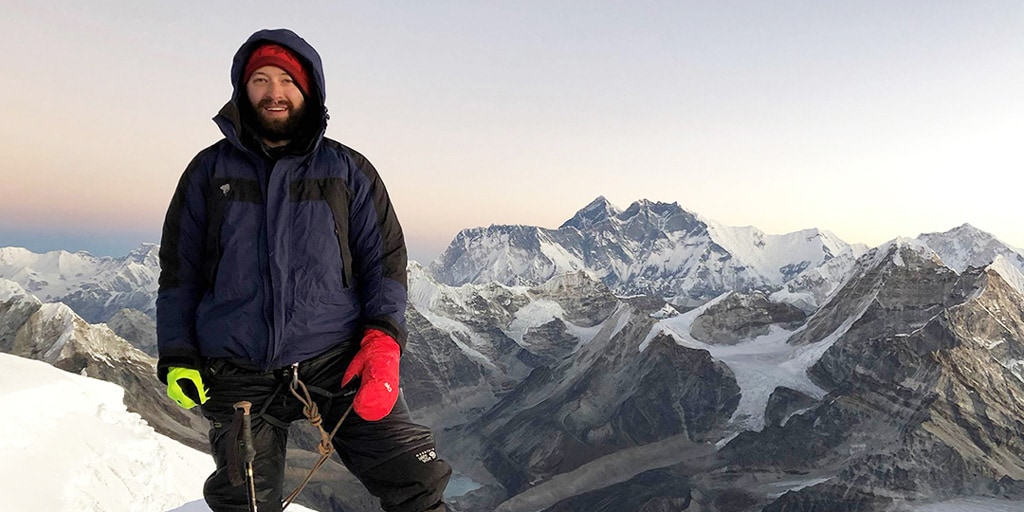 ---
February 5, 2018
---
Christopher Czaplicki, M.D., gripped the back of the seat in front of him. Dr. Czaplicki, a radiology resident at Mayo Clinic's Arizona campus, is usually a fearless flier. He's traveled throughout the world, covering thousands of miles in planes of all sizes. But this journey, from Kathmandu, Nepal, to the tiny village of Lukla some 90 miles away, was different.
Though he would soon be attempting to climb 21,247 feet to the top of Mera Peak in the Everest region, "the flight is what had me awake, staring at the ceiling at 3 a.m.," Dr. Czaplicki tells us. And with good reason. The Lukla airport, officially known as the Tenzing Hillary airport, is unofficially known as the world's most dangerous. (Just Google "Lukla" to see why.)
Some 45 minutes after taking off, Dr. Czaplicki touched down safely. It was the second stop in a journey that combined two of his loves: service and climbing. As we wrote last year, Dr. Czaplicki traveled to Nepal to complete an elective rotation at Tribhuvan University Teaching Hospital. The experience, supported by a small travel grant from the Mayo International Health Program, provided an up-close view of how medicine is practiced in one of the poorest countries on earth.
In spite of the difference in resources in Nepal and the U.S., "there was no knowledge gap," Dr. Czaplicki tells us. What was different, he discovered, was how those resources — or lack thereof — affected the delivery of care.
"Cost was very much a part of the conversation and decision-making process," he says.
Patients were given a list of supplies that would be needed for their procedures, and they could choose to buy new or have the hospital reuse equipment, like catheters or wires, that had been used on other patients and sterilized. Seeing differences like that will have an impact on his practice going forward, Dr. Czaplicki says, helping him "understand more culturally about Nepalese patients who I'll encounter in the United States."
This story originally appeared in In the Loop, an email newsletter and blog that gives a unique perspective on what's happening around Mayo Clinic.