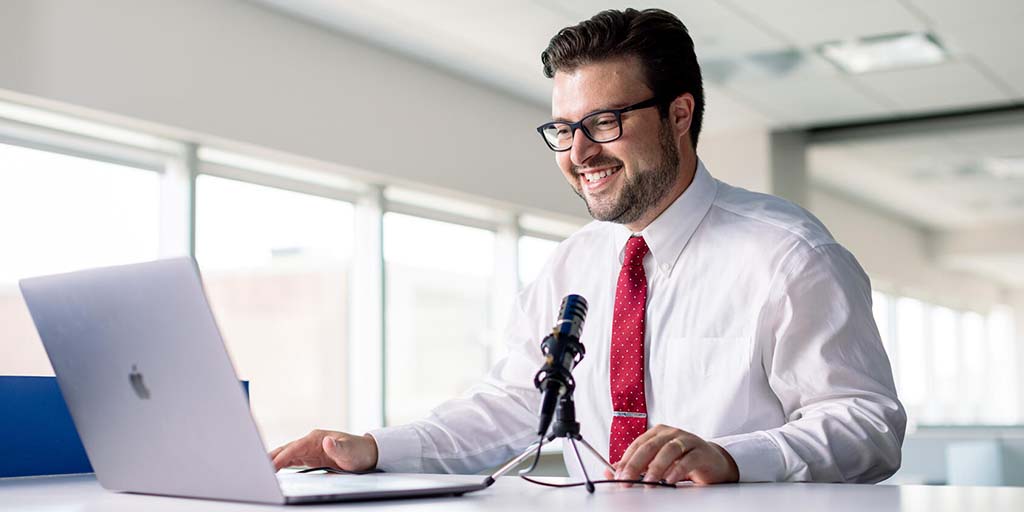 ---
November 22, 2021
---
During medical school, Anthony Kashou, M.D., developed EKG training materials for his fellow students. He continued that work, creating an online community with 1 million followers and a curriculum that has earned accreditation.
While preparing for exams during medical school at State University of New York Upstate Medical University in Syracuse, Anthony Kashou, M.D., grew frustrated by the state of EKG training resources, deeming them either too basic or too advanced.
"As a learner, I had to consult multiple textbooks and the medical literature due to the lack of appropriate resources, which isn't the most effective way to learn," Dr. Kashou says. "Even then, those materials did not always do a good job explaining some clinically relevant material."
So during his fourth year of medical school, he took on the task of developing EKG training materials for his fellow students so they wouldn't have the same struggle.
"My classmates liked the content I created and asked for more," he says.
Now as a fellow in the Cardiovascular Diseases Fellowship at Mayo Clinic School of Graduate Medical Education in Rochester, Dr. Kashou has created an EKG community with one million online followers, the fastest growing community of its kind. His curriculum is used by medical providers and programs around the world.
2:13
Welcome to The EKG Guy
Every person who enters an emergency department with chest pain or shortness of breath gets an EKG — one of the most rapid, noninvasive and cost-effective diagnostic tools in modern medicine. EKG interpretation skills are critical for patient care, yet many providers feel unequipped to achieve proficiency. I think it's important to be less reliant on an expert or computer's interpretation.
Anthony Kashou, M.D.
The EKG Guy
Better learning options
Dr. Kashou realized that medical professionals across the board wanted better EKG learning options. After only a five-hour weekend session using the tools he created, a learner's improvement in EKG literacy is measurable, he says.
On his website, YouTube channel and social media, Dr. Kashou is known as "The EKG Guy." He has created more than 500 EKG video lessons and EKG courses, including "Ultimate EKG Breakdown," which purports to take someone with no EKG experience to an advanced interpreter level.
His curriculum has earned joint accreditation by the American Medical Association and Accreditation Council for Continuing Medical Education.
He recently introduced a more advanced course, "Ultimate EKG Coding Breakdown." The course now serves as the primary EKG course for the electrophysiology technician and physician assistant programs at Mayo Clinic in Rochester. It also serves as a means for Mayo cardiac technicians to improve their skills.
On his own time, Dr. Kashou leads seminars for medical professionals at Mayo Clinic who want to improve their EKG proficiency. During the pandemic, his online curriculum served as a learning solution for Mayo Clinic Alix School of Medicine students when clinical duties were suspended.
From education to innovation
Dr. Kashou is just as passionate about EKG innovation as he is about EKG education. His research focuses on the development of algorithms to aid in wide complex tachycardia differentiation, the application of artificial intelligence-enabled electrocardiography in clinical practice, and the creation of educational solutions to improve EKG literacy among medical providers.
"This work is exciting, and the leaps we're making are incredible," he says. "We have a chance to truly transform the way we address clinical problems and deliver patient care."