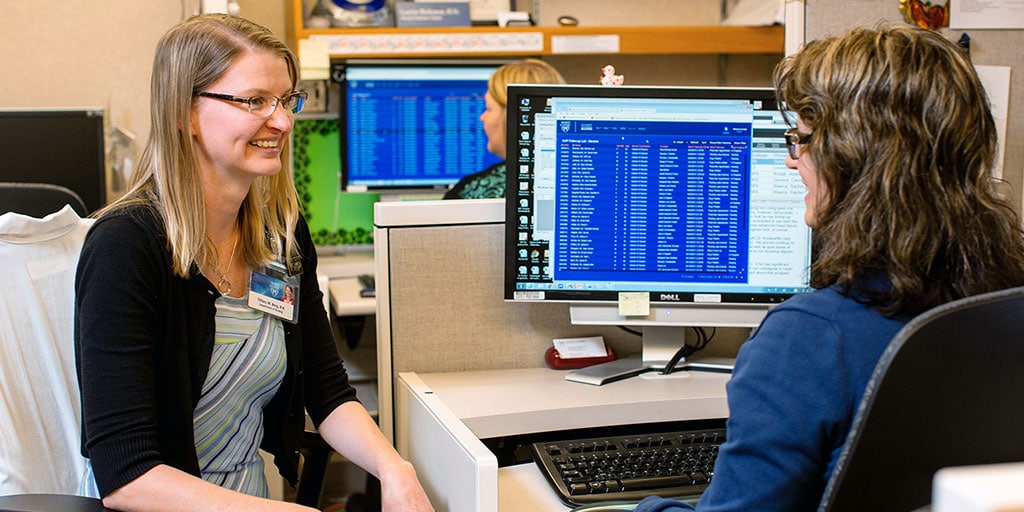 What does a health information manager do?
Health information managers (HIM) organize, oversee, and protect patient health information data which includes symptoms, diagnoses, medical histories, test results, and procedures. These administrative professionals make sure that traditional and digital medical data maintains its quality, accuracy, accessibility, and security. They serve as an essential link between physicians, patients, and third-party payers.
They are trained in information technology applications and often serve in bridge roles, connecting clinical, operational, and administrative functions. They enter patient information into computer databases to comply with federal legislation mandating the use of electronic medical records.
Scope of practice
This is one of the few health-related occupations in which there is no direct hands-on patient care. Health information manager's work changes day to day, but may include:
Compiling, organizing, maintaining, and protecting confidential medical records
Designing health information systems to comply with medical, legal, and ethical standards
Enters and maintains information in the electronic medical record (EMR)
Monitors information in the EMR for accuracy
Observes trends in audits and denials from payers
Analyzes clinical data for research, process improvement, reporting, and more
Health information manager professionals not only make sure that medical information is accurately and securely stored in the EMR, they also ensure nurses, physicians, and other health care professionals can access that medical information when and where they need it.
Work environment
These professionals can find employment in hospitals, doctors' offices, pharmaceutical firms, insurance companies, software companies, home health agencies, nursing homes, and consulting firms. Due to the increased use of electronic medical records, many health information managers enjoy telework, or working from home.
Becoming a health information manager
Individuals that want to work in health care, but not directly with patients might enjoy an HIM career. They should be detailed oriented, have an interest in both technology and science, and be able to adapt to changes in technology with ease.
Higher education requirements
Typically, employers look for health information managers with the below higher education:
Higher education in health information management (associate degree, bachelor's degree, and/or master's degree). In this career, the amount of higher education you acquire will qualify you for different responsibilities and certifications.
Relevant work experience
Health information manager certification
To obtain the Registered Health Information Administrator (RHIA) credential, individuals must complete a bachelor's degree and the RHIA certification exam.
The Registered health Information Technician (RHIT) credential is available to those who have completed a two-year associate's degree and the RHIT certification exam.
Career opportunities and outlook
Health information managers can expect a median annual salary of $51,840.
Employment of HIM professionals will continue to grow at an average pace, according to the Bureau of Labor Statistics. This is due to the aging baby boomer generation, expanded health care coverage, and the increased adaptation of electronic health records. Together this calls for a need for employees to organize and manage all the data in the health care industry.
With additional education and experience, a health information manager can move into a director role or an executive position at a company.
By the numbers
2-4
years of higher education
9%
job growth projected from 2020-2030
Health information manager programs at Mayo Clinic
Mayo Clinic offers a health information management internship at our campus locations in Arizona and Florida that aims to prepare students for a career as a health information manager:
Browse similar careers