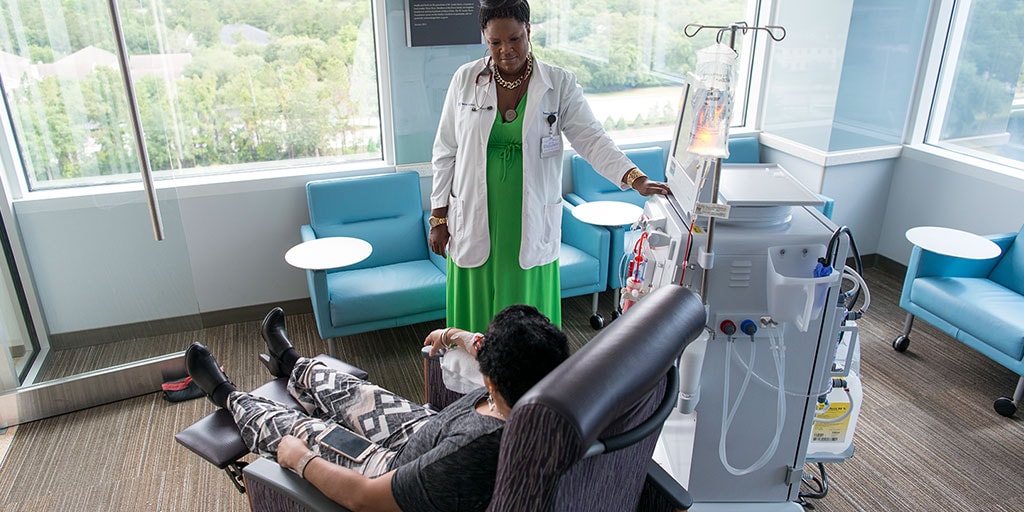 What does a hemodialysis technician do?
Hemodialysis technicians, also known as dialysis technicians, work together with a doctor or nurse to provide patient care to people with permanent kidney failure (end-stage renal disease).
Kidney dialysis removes metabolic waste from the blood. This is typically the job of the kidneys, but when the kidneys do not work, kidney dialysis is a necessary treatment for a patient.
Scope of practice
During dialysis, the technician monitors the dialysis machines and patient's vital signs.
Their typical roles and responsibilities include:
Monitoring patients as they undergo dialysis
Assisting with any patient questions or concerns
Educating patients on dialysis
Maintaining dialysis machines and equipment
Cleaning dialysis machines and equipment
Work environment
Hemodialysis technicians work in hospitals, clinics, and dialysis centers under the supervision of a registered nurse or physician. Typically, hemodialysis technicians spend most of their shifts standing and making rounds to several patients.
While every workplace is different, hemodialysis technicians generally work a variety of shifts and hours. While some may choose to work regular daytime shifts, others may choose to work 12-hour shifts. There is flexibility in this career.
Becoming a hemodialysis technician
After high school, the typical pathway to becoming a hemodialysis technician includes a certificate training program and patient care experience.
Higher education requirements
To become a hemodialysis technician, you'll need to first complete a hemodialysis technician certificate program. These programs contain classroom learning and hands-on experience.
Certification
Certification differs in every state, so technicians should research the requirements for the state they'll practice. Nephrology organizations set and regulate the necessary requirements for certification. These currently include:
Career opportunities and outlook
Many dialysis centers across the U.S. employ hemodialysis technicians to provide the majority of direct patient care. With the increasing number of people with chronic kidney disease and renal failure, the demand for hemodialysis technicians is expected to rise faster than average. The median annual salary for a dialysis technician is about $42,165.
With experience, hemodialysis technicians can advance into supervisory or management positions.
By the numbers
1
year or less of higher education
8%
job growth projected from 2019-2029