How to Apply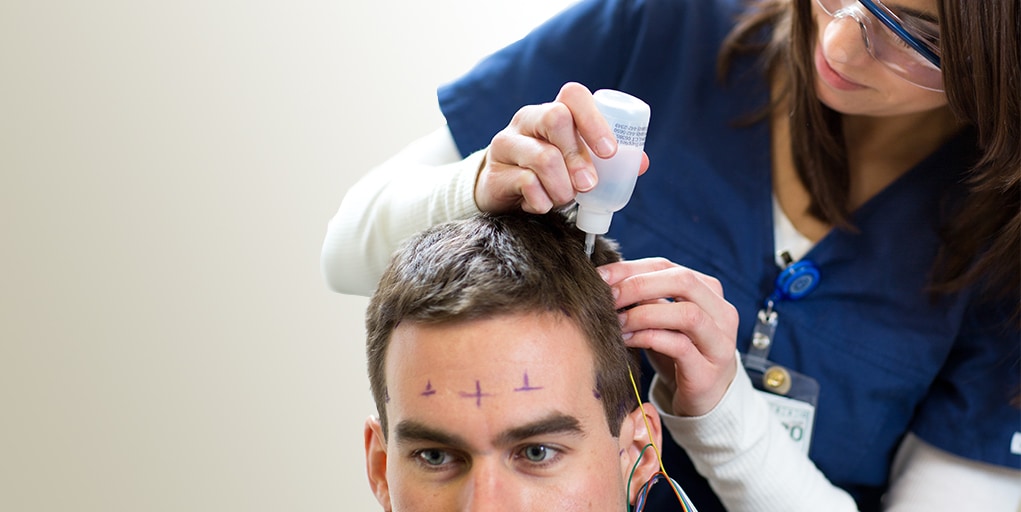 Before you apply
Prerequisites
The following criteria are the admission prerequisites prior to application to the Clinical Neurophysiology Technology Program. Please note the information that is required to be submitted with your application.
Area
Requirement

High school graduate

Required: Applicants must have a high school diploma (equivalent acceptable) or a high school senior who expects to graduate by time the program begins.

Preferred: Graduated in the upper one-half of high school graduating class with a 2.8 GPA or higher.

Preferred: ACT scores to submit with your application.

Mathematics, biology and chemistry

Required: Algebra II and biology (within the past five years) with passing grades. Preferred: Completed one year of high school chemistry or Chemistry 1101 at Rochester Community and Technical College or the equivalent college course with a passing grade.

Job shadow

Required: Contact program director Jan Buss to schedule a job shadow. This experience must be scheduled and completed before the Feb. 1 application deadline. Be prepared to show evidence that you have met the prerequisites.

College readiness and placement

Required: Students must have academic skills that allow them to enroll in Physics 1103 and English 1117 at Rochester Community and Technical College. Evidence of your academic readiness for these college-level courses can be demonstrated by adequate ACT scores or by completing the Accuplacer assessment at Rochester Community and Technical College. Mayo Clinic School of Health Sciences recommends that students submit both ACT scores and Accuplacer results with their applications.

GPA: Applicants with some college-level courses completed should have at least a 2.8 GPA.

Computer skills

Required: Must demonstrate above-average competency in computer skills. Must be able to use a computer for online curriculum and patient care activities. For students without basic computer skills upon entering the program, a computer course may be required.
Technical standards
Mayo Clinic School of Health Sciences accepts students who are highly qualified for its programs. To be considered for admittance, you should exhibit strong qualifications for the health profession you wish to pursue.
In addition to meeting general standards, the Clinical Neurophysiology Technology Program requires the ability to perform the following essential functions and activities:
Visual
Visual ability sufficient for patient identification, assessment of equipment choices used in patient care, and observing waveform patterns, specifically possessing normal vision or corrected equivalent.
Examples include:
Read small, fine print in all environments, including low-light conditions for accurate patient identification
Differentiate basic colors and their hues in relation to distinguishing recording electrodes and attaching electrodes to color-coded equipment
Differentiate subtle variations in waveform patterns displayed on computer screen for an extended period of time
Hearing
Hearing abilities adequate to provide safe and efficient patient care and to effectively communicate with health care personnel.
Examples include:
Have an auditory capacity or comparable capacity to ensure patient identification (ability to hear patients state name and date of birth within noisy environments) is correctly performed according to institutional policy
Interact with health care faculty, patients and family in person and via the telephone
Identify and be alert to various equipment sounds such as alarms, emergency signals and instrumentation in noisy environments such as, but not limited to, emergency department and during a code situation
Discern when taking blood pressures and equipment sounds, and voices that may or may not be visually associated or accessible due to environmental conditions and constraints
Tactile
Tactile ability (sense of touch) for assessing patients to make proper site selection and correct equipment choices.
Examples include:
Locate veins and arteries, by palpation, in order to take manual blood pressure readings
Recognize patient's changing condition in regard to skin integrity and temperature
Motor skills and mobility
Possess both gross and fine motor skills necessary in providing safe and effective patient care.
Examples include:
Have full range of motion (ROM), allowing for gross movements within confined spaces such as bending, stooping, squatting and lifting, as well as moving and pushing up to 50 pounds
Possess stamina to tolerate sitting and standing for prolonged periods of time
Provide safe patient handling including lifts, slings and stands
Use fine motor skills, steady hand function and hand-eye coordination for accurate recording electrode placement and for correct and safe use of equipment; have dexterity of arms, hands, wrists and fingers (be able to grasp and pinch); and be able to perform repetitive movements
Properly and safely handle chemicals, sharp objects and equipment
Demonstrate the ability to fully utilize computer equipment for instructional curriculum and patient care activities
Communication
Possess written, verbal and comprehension English language skills for effective interaction between health care workers and patients in providing patient care.
Examples include:
Possess the skills necessary to effectively verbalize instructions and procedures (such as articulation, pronunciation and volume) when communicating with faculty, patients and family members
Have English language fluency to read and comprehend caregivers' written or electronic orders, and all related patient care procedures
Use correct written English to allow for proper completion of clinical documentation regarding patient care, and reading and written assignments as required in the curriculum
Interpersonal behavior and social skills
Possess the skill sets and ability to effectively communicate and interact in a nonjudgmental manner with patients, family, peers and other health care providers.
Examples include:
Communicate exchanges with peers and other health care workers in a mutually respectful manner
Establish good rapport with patients (such as greeting and explaining procedure) while recognizing the variances in emotional status
Show genuine empathy, understanding, interest and professionalism while interacting with patients
Have the ability to accept constructive criticism and modify behavior accordingly
Environment
Sensory and physical well-being that will allow an individual to tolerate occasional stress and disturbing conditions that may be present in a clinical setting.
Examples include:
Work with patients with immunodeficiencies and tolerate exposure to blood and bodily fluids
Tolerate sights such as open incisions and injuries or deformities
Have ability to acclimate to various noises, which may range from distractions to annoyances
Possess emotional strength and maturity to understand patient and family disturbances, death and dying
Function effectively (by completing the given task) in emergent and stressful situations while maintaining performance standards
Problem-solving and organizational skills
Command the ability to think critically, possess problem-solving and organizational skills necessary in providing quality patient care.
Examples include:
Understand the relationship between patient health status or condition and requested tests
Possess the skills necessary to acquire, measure, calculate, analyze, interpret and evaluate data to understand when to perform additional testing
Troubleshoot and adapt when necessary and evaluate data being collected for quality and accuracy
Possess the skills necessary to follow instructions and procedures with accuracy and precision and manage time, organize workload and meet deadlines
Understand additional resources available, where to locate them and how to use them
Ethics
Adhere to Mayo Clinic's mission, vision and value statements.
Examples include:
Recognize the importance of performing duties in accordance with policies and standard operating procedures
Accept the expectation of maintaining patient confidentiality, both from a legal standpoint and a humanitarian perspective
Understand the Patient Bill of Rights and perform care in a manner that exhibits respect, dignity and empathy for the patient and family members
Computer and technological skills
Possess the skill sets and capability to utilize electronic technology in the health care setting.
Examples include:
Understand basic computer functions, such as Windows applications, drop-down menus, pop-up boxes, data entry, printing and the ability to function in multiple screens simultaneously
Have the ability to learn and understand the software technology utilized in the health care setting
Possess basic troubleshooting skills and recognize resources available to assist
Transfer student policy
Transfer students must submit a Minnesota college admission form, an official transcript of high school credits and official transcripts from all colleges previously attended. Generally, courses from other colleges in which you have earned at least a grade of C are accepted if those courses fit the program curriculum.
Rochester Community and Technical College makes the final decision regarding which general education courses may be transferred to the Clinical Neurophysiology Technology Program.
In addition, transfer students are required to complete a minimum of 20 credits on the Rochester Community and Technical College campus in order to receive the Associate in Applied Science degree in Clinical Neurophysiology Technology.
See the Rochester Community and Technical College website for information on advanced placement and credits for experiential learning.
Non-U.S. citizen applicants
Application process
Your application and all supporting documentation must be received by Mayo Clinic School of Health Sciences between Nov. 1 and Feb. 1 of the year you wish to begin classes. Admission status notification is mailed in early April. The program begins in August each year.
Please read the instructions below carefully before you begin the online application.
1. Create an account. Prior to submission of an application, you must create an account. Note the following as you create an account and begin completing an application.
On the Create an Account page:

For School of Study → School of Health Sciences
For Location → Rochester, MN
For Area of Interest → Clinical Neurophysiology Technology Program
For Start date → Choose date
For Entry Term → Term available

On the My Account

Scroll down to Next Steps → "Start an Application"

On the Online Application page:

Verify that the program listed is correct
Click "Continue with Application Selected Above"

On the Application Listing page:

Select "Start a New Full Application"
2. Online application. The sections below are located in the application. You may complete them in order or click on the section you want on the left.
Program of interest

Review populated data for accuracy
Complete "Reapplying and Education Completed" questions

Personal information

Review populated data
Complete any other fields
If you didn't enter an address or phone number before, you will be required to enter it now

Demographic data
Education
Employment
Standardized testing

Input information regarding the ACT, SAT, and/or GRE as they apply to you

Professional licensing and registration

There are no licenses required for this program

Submit an essay

A goal statement or personal essay based on the questions listed in the online application. The essay should be no longer than 500 words.

Signature and submit

Certify and sign your application
Submit your application
3. Complete the recommendations. Two recommendations are required. Submit two recommendations by entering an email address for each recommender under the "Recommendation Requests" section. One recommendation should be from an educational reference and one should be from a work reference.
Educational reference: Choose a person familiar with your education qualifications and your potential for success in the field of Neurodiagnostic Technology. References may include current or former teachers or professors.
Work reference: Choose a person familiar with your professional qualifications and your potential success in the field of Neurodiagnostic Technology. References may include employers or supervisors.
If you do not complete these at the time of submission, please visit your "My Account" page and navigate to your application for a link to complete.
4. Submit supporting documentation. Submit the following materials by email to the email address listed below:
An official transcript from each high school, college, or university you have attended
Official results from college entrance examinations, such as the ACT, taken within the past two years
Results of Rochester Community and Technical College Accuplacer assessment
Please submit these items via email to mccm@mayo.edu or to the following address:
Mayo Clinic School of Health Sciences
CNT Program-Siebens 5
200 1st St. SW
Rochester, MN 55905
Interview process
Some applicants will be invited to Mayo Clinic in Rochester, Minnesota for a personal interview with the program director and selected faculty.
Acceptance
Acceptance letters are mailed in early April. If you receive an acceptance letter, your reply is expected within 10 days.
Your appointment to the program is dependent upon review of the Rochester Community and Technical College Accuplacer scores, successful completion of the program prerequisites, and compliance with the Mayo Clinic School of Health Sciences admissions policy.
Apply to Rochester Community and Technical College
Once you are accepted into the program, you must also apply for admission to Rochester Community and Technical College.