Application Process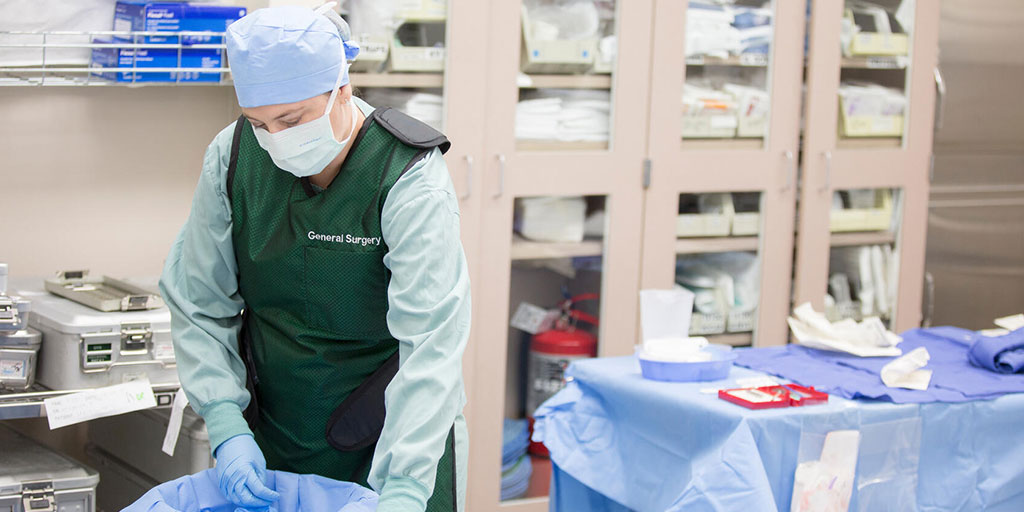 Positions
One to three 16-week perioperative nursing fellowships are offered each year, typically in the spring, summer, and fall.
Prerequisites
For admission to the Perioperative Nursing Fellowship, you must:
Have graduated from an accredited school of nursing
Be a licensed registered professional nurse (B.S.N. preferred)
Have a minimum of one year of current medical or surgical nursing experience or three years of current experience as a Mayo Clinic surgical technologist
Be eligible to obtain licensure as a registered nurse in the state of Arizona
Technical standards
The Perioperative Nursing Fellowship Program is committed to diversity and educating students who will make the population of health care professionals a true representative of our diverse community.
The following technical standards are not intended to deter any candidate for whom reasonable accommodation will allow the fulfillment of the complete curriculum. Program applicants and admitted students with disabilities are confidentiality reviewed to determine whether there are any reasonable accommodations that would permit the individual to satisfy the program standards. The technical standards are required of all enrolled students.
View the Perioperative Nursing Fellowship Program technical standards.
Admission policies
Non-U.S. citizen applicants
Admission to Mayo Clinic School of Health Sciences is open to U.S. workers in the four categories below. Therefore, visa sponsorship is not available.
U.S. citizens
U.S. nationals
Lawful permanent residents
Asylees and refugees
Applicants whose primary language is not English must submit results from the Test of English as a Foreign Language Internet-based test (TOEFL iBT). Scores from the speaking portion of the exam are given particular consideration in admission decisions. Learn more about the exam and register online at the Educational Testing Service.
The Mayo Clinic School of Health Sciences code for the TOEFL iBT is 5784.
Educational transcripts from schools outside the U.S. must be translated (if they are not already in English) and evaluated for U.S. equivalence by an accredited credential evaluation service company prior to submission. Please refer to the National Association of Credential Evaluation Services for a list of qualified companies. The applicant pays for the examination and credential-evaluation services.
More information
See further Mayo Clinic School of Health Sciences admissions policies.
How to apply
Disability accommodations
Mayo Clinic School of Health Sciences values diversity and welcomes applicants with disabilities. If you are anticipating or experiencing disability related barriers in accessing this application, please contact Disability Compliance Advisors at rfaccommodations@mayo.edu.
Application timeline
Your application and all supporting documentation must be received between Aug. 10 and Sept. 8, 2023, at 5 p.m. (MST). The program will start October 25, 2023.
Application instructions
Mayo Clinic Careers application
All applicants are required to submit two applications to be considered for this fellowship: one through the Mayo Clinic Careers website (job posting number 308878) and one through the Mayo Clinic School of Health Sciences (use instructions below).
Mayo Clinic School of Health Sciences application
Complete the following steps to apply:
Create an account to begin the online Application for Admission

Select - Mayo Clinic School of Health Sciences
Select - Perioperative Nursing Fellowship

Complete each section of the application and submit
After submission, view the required Supplemental Items and Documents

Upload each required item in the Supplemental Items section
Complete the Recommendation Request section
Additional required items
CV/resume
Essay
One letter of recommendation is required and must be completed in the Recommendation Request section. The recommender will receive an email with a link to complete a rating form.

Professional: Choose a person familiar with your professional qualifications and your potential for success in the field of perioperative nursing. References may include individuals who are/were an authority figure in your current or previous schooling or place of employment, such as a supervisor or teacher.
Interview process
The selection committee carefully reviews each complete application and schedules interviews with qualified candidates.