Application Process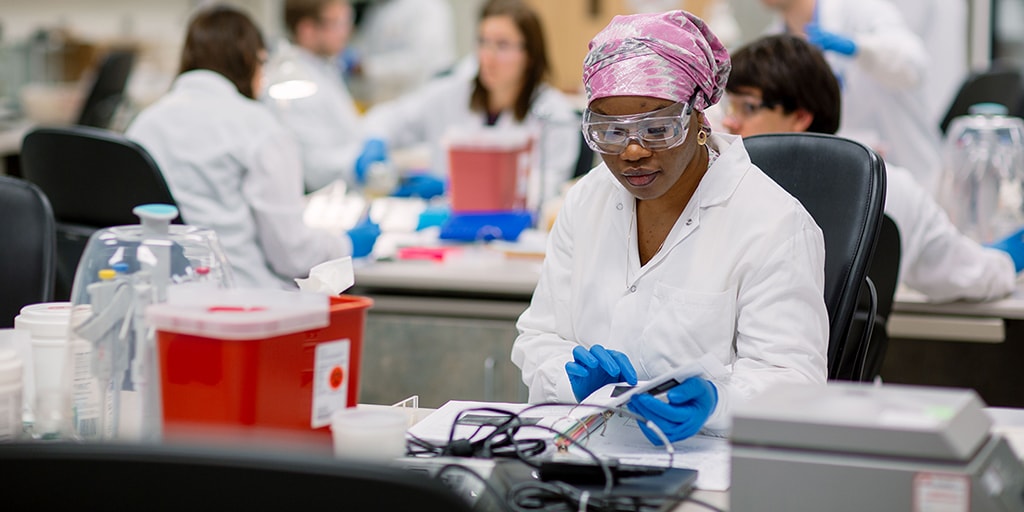 Class size and location options
Each year, we admit 24 students (including one or two Florida-appointed students) to the Medical Laboratory Science program. This ensures that you receive tailored instruction and a comprehensive educational experience. The program is 10.5 months. It begins the first week of July and concludes the fourth Thursday in May.
3+1 program
Students in affiliated medical or clinical laboratory science programs are eligible to apply for the 3+1 Medical Laboratory Science Program at Mayo Clinic through their college program director.
Affiliated institutions
Students enrolled in one of our affiliated institutions below may apply for enrollment in the 3+1 track of our Medical Laboratory Science program.
4+1 program
Students with baccalaureate degrees may apply directly for the 4+1 Medical Laboratory Science program at Mayo Clinic. In addition to meeting the prerequisite coursework, applicants applying to the Medical Laboratory Science program must have a four-year degree in chemistry or the biological sciences.
Before you apply
Prerequisites and technical standards
Prerequisites
To be eligible for the Medical Laboratory Science program, you must:
Possess both a science and overall GPA of at least 2.75 on a 4.0 scale
Have a strong track record in science
Science courses that are required and recommended for admittance to the Medical Laboratory Science program at Mayo Clinic are as follows:
Subject
Prerequisites
Biological sciences (16 semester hours)

Required:

Microbiology (with lab preferred)
Anatomy or physiology (both preferred)

Strongly recommended:

Genetics
Molecular biology
Immunology

Chemistry (16 semester hours)

Required:

Organic chemistry (with lab)

Strongly recommended:

Mathematics and statistics

Strongly recommended:
Technical standards
These are essential functions that represent the nonacademic requirements of the Medical Laboratory Science program that all students must master to successfully participate in the program and become employable. View the technical performance standards.
Non-U.S. citizen applicants
Application process
Application timeline
Acceptance to the program is on a rolling admission. Applications are accepted beginning Aug. 1 with a Dec. 15 deadline for the program starting the following July. Applications are accepted throughout the year, but applicants are encouraged to apply as soon as possible.
Application instructions
1. Create an account. Prior to submission of an application, you must create an account. Note the following as you create an account and begin completing an application.
On the Create An Account page:

For School of Study → select School of Health Sciences
For Location → select Rochester, Minnesota or Jacksonville, Florida
For Area of Interest → select Medical Laboratory Sciences
For Start Date → Choose date
For Entry Term → select term available

On the My Account page:

Scroll down to Next Steps → select "Start an Application"

On the Online Application page:

Verify that the program listed is what you want
Click "Continue With Application Selected Above"

On the Application Listing page:

Select "Start a New Full Application"
2. Complete the online application. The sections below are located in the application. You may complete them in order or click on the section you want on the left.
Program of interest

Review populated data for accuracy
Complete Reapplying and Education Completed questions

Personal information

Review populated data
Complete any other fields
If you didn't enter an address or phone number before, you will be required to enter it now

Demographic data
Education
Employment
Standardized testing
Professional licensing and registration

Enter any professional licenses or certifications you hold

Essay

Please answer the questions within the application

Signature and submit

Certify and sign your application
Submit your application
Recommendations/supplemental items
3. Complete the recommendations and supplemental items. After submitting the application, click on "Click here to upload program-specific supplemental item(s)."
Recommendations

Enter email addresses for recommendations under the Recommendation Requests
Two professional references are required
References should be individuals who are/were an authority figure in your current/previous schooling or place of employment (supervisor, coach, teacher/professor). Please follow the guidelines in the online application carefully

Resume/CV
If you do not complete these at the time of submission, please visit your "My Account" page and navigate to your application for a link to complete the requirements
4. Submit transcripts. Please submit transcripts from all colleges and universities attended.
Rochester campus applicants should submit official transcripts to:

Medical Laboratory Science Program
Mayo Clinic School of Health Sciences
Stabile Building, Third Floor, 3-64
200 First St. SW
Rochester, MN 55905

Jacksonville campus applicants should submit official transcripts to:

Medical Laboratory Science Program
Mayo Clinic School of Health Sciences
4500 San Pablo Road
Jacksonville, FL 32224
5. Deadlines. Applications are accepted beginning Aug. 1. The application deadline is Dec. 15, but is subject to change depending on how quickly the program slots are filled. The program uses a rolling admissions process.
Applicants are encouraged to apply early in the admissions cycle in order to be considered.
Interview process
Each application is carefully reviewed by a selection committee. Individuals considered competitive for acceptance are invited to interview.
Candidates are evaluated based on academic performance, written and verbal communication, panel interview, individual interviews with faculty, two letters of recommendation, life experiences, and career awareness (knowledge of the profession).
The interview process includes a behavioral style panel interview followed by individual faculty interviews. It includes a tour of the program facilities and typically lasts about three hours. Payment of the $250 slot-retention fee is required upon acceptance into the program.