Curriculum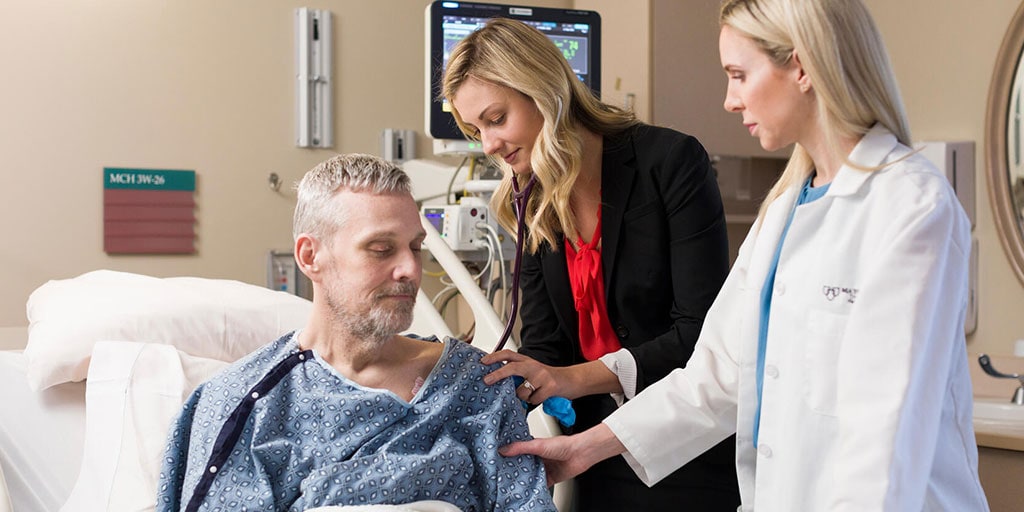 Trainee experience
The Nurse Practitioner or Physician Assistant Abdominal Organ Transplant Fellowship is a comprehensive one-year program designed to provide specialty training in medical and surgical aspects of liver, kidney and pancreas transplantation. This training is intended to prepare you for a career in the growing field of organ transplantation.
Clinical training and rotations
Core competencies have been established such that upon completion of the fellowship graduates have proficiency and knowledge in these areas:
Recognition and management of acute and chronic disease states for which patients are considered for liver, kidney or pancreas transplantation
Care of patients who are critically ill, both pre- and post-organ transplantation
Evaluation and selection of candidates for abdominal organ transplantation
Surgical aspects of abdominal organ transplantation, including intraoperative and perioperative care of transplant recipients
Immunosuppression of organ transplant recipients
Prevention, recognition and management of the complications and side effects of immunosuppression
Donor selection and matching criteria
Organ allocation policy
Evaluation, selection and care of living liver and kidney donors
Evidence-based, cost-effective care for transplant patients
Current medical literature, including current controversies, in the field of abdominal organ transplantation
You participate in these rotations and events:
Kidney-pancreas clinic (outpatient pre- and post-kidney or pancreas transplant)
Liver clinic (outpatient pre- and post-liver transplant)
Kidney-pancreas inpatient service
Liver inpatient service
Transplant surgery clinic (outpatient pre- and post-abdominal organ transplant)
Transplant surgery inpatient team (includes operative exposure)
Attendance at liver transplant selection conference and kidney-pancreas transplant selection conference
Attendance at regularly scheduled academic conferences and lectures
Your supervision is conducted in accordance with Mayo Clinic policies and all relevant legal requirements.
Curriculum enhancements
Mayo Clinic School of Health Sciences is committed to developing and maintaining the best education programs. The curriculum and other aspects of this program are routinely assessed and changed as necessary to ensure the highest quality training.
Schedule and hours
For the majority of the program, your learning schedule includes 10-hour days, four days a week with no expected night, weekend or holiday duties. For portions of the fellowship, night and weekend participation may be introduced in order to permit adequate exposure to the urgent and emergent clinical scenarios in the care of transplant patients. For a minor amount of the fellowship (clinic specific), you will participate in eight-hour clinic rotations.
Department and faculty
The Nurse Practitioner or Physician Assistant Abdominal Organ Transplant Fellowship has a dedicated team that educates, supervises and mentors you during your rotations. Faculty members are chosen for their commitment to teaching as well as their medical and surgical expertise. You have direct access to these individuals throughout the training program.
Mayo Clinic's campus in Arizona, is home to several board-certified transplant hepatologists and transplant nephrologists who lead the medical care of kidney and pancreas transplant patients, and Mayo Clinic's outstanding transplant surgeons are of national and international renown. In addition, a team of highly professional, valued and recognized full-time nurse practitioners and physician assistants play a vital role in Mayo's transplant practice and education missions.
Visiting professors and lecturers
A hallmark of higher education excellence is the breadth and depth of information and experience provided to students by faculty and visiting experts. Many prominent professors visit Mayo Clinic each year to lecture on their areas of medical and scientific expertise.
As a student at Mayo Clinic School of Health Sciences, you are encouraged to learn from these valuable resources by attending all relevant conferences, lectures and seminars prepared for students, interns, residents, fellows and consulting staff.
Facilities
Mayo Clinic has two campuses in Arizona. The Phoenix campus includes the state-of-the-art Mayo Clinic Hospital, the first hospital entirely designed and built by Mayo Clinic. It has been recognized several times by Phoenix magazine as the Best Hospital in Phoenix.
The Mayo Clinic campus in Scottsdale is centered around a beautiful, five-story outpatient clinic. This modern facility contains extensive exam rooms, an outpatient surgery center equipped for general anesthesia, a full-service laboratory, pharmacy, patient education library, endoscopy suite, and a 188-seat auditorium for patient, staff and student education programs. Services in numerous medical and surgical disciplines are provided, including outstanding programs in cancer treatment and organ transplantation.
The Scottsdale campus offers excellent education facilities, including classrooms, lecture halls, an extensive library and a computer lab. The Samuel C. Johnson Research Building, a 75,000-square-foot building, houses scientists, trainees and students focused on molecular genetics, molecular immunology, molecular and cell biology, molecular chemistry, and surgical research.
The campus includes a 3,000-square-foot multidisciplinary simulation center that simulates real-life patient care situations, enabling learners to practice on sophisticated manikins in a no-risk environment. Experiential learning enhances patient safety and improves competency assessment of learners through new modes of simulation-based education.
The campus also includes a state-of-the-art education and conference center, which has a 330-seat auditorium and adjacent meeting rooms. The facility serves all types of learners engaging in lifelong learning.
Evaluation
Successful participation at all rotations and mastery of all defined competencies is required for graduation. Progress is determined by faculty review of performance during the rotations and is reviewed periodically with you. Other evaluation tools (including written examinations and other exercises) may be utilized for assessment of certain skills.