Curriculum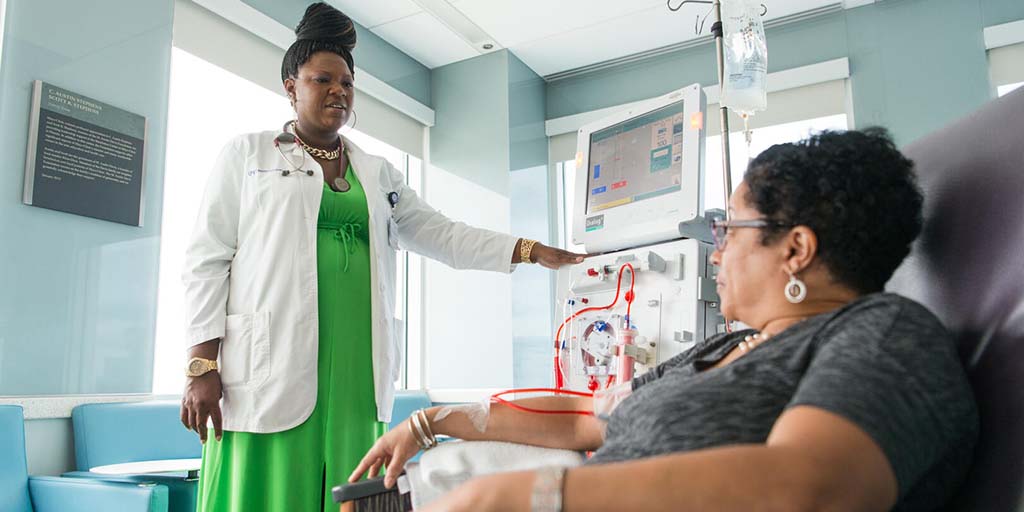 Trainee experience
This 12-month program is aimed to offer an advanced didactic education with a focused clinical experience to allow the trainee to develop the skills and knowledge to provide high-quality patient care in the specialty of nephrology and hypertension in the inpatient, outpatient clinic, and outpatient dialysis rounding setting. The didactic curriculum may include weekly conferences (Journal Clubs and Grand Rounds).
Clinical training and rotations
Rotations may include but are not limited to the following:
Weekly outpatient hemodialysis rounds
Hospital service rounds
Outpatient home dialysis therapies
Outpatient chronic kidney disease and hypertension clinic
Outpatient kidney stone clinic
Inpatient and outpatient renal transplant service rotation
Nutrition for patients with kidney disease and kidney stone
Research
Weekly/monthly conferences
Nephrology education modules/conferences
Schedule and hours
For the majority of the fellowship, the learning schedule includes primarily weekday hours with approximately 40 hours weekly. This does not include additional time spent on didactic responsibilities. The rotations may vary depending on outpatient or inpatient schedule.
Department and faculty
This fellowship is coordinated and taught by an interdisciplinary team, including nurse practitioners, physician assistants, allied health, and physician staff of Mayo Clinic in the Division of Nephrology and Hypertension.
Faculty members are chosen for their commitment to teaching, as well as clinical practice and research. Many have published and lectured extensively and are highly regarded in their fields. You have direct access to these individuals throughout your training, giving you the opportunity to learn from experienced practitioners.
Facilities
Mayo Clinic's campus in Jacksonville, Florida, is a comprehensive medical facility providing advanced programs in education and research that support the highest quality patient care.
As a trainee, you will be working in the variety of settings, rotating between the hospital building for inpatient rounds, the Nephrology Department in the Davis building, and the outpatient dialysis building on Mayo Clinic campus for dialysis rounds and CKD clinic.
Evaluation
Evaluation and feedback will be provided throughout the year.
Mayo Clinic School of Health Sciences uses these evaluative tools:
Written examination
Demonstration of skills
Self-assessment exercises
Faculty reviews
Mayo Clinic's system of evaluation provides students and faculty with a comprehensive look at individual performance. This allows faculty and administrative staff to direct students who are experiencing academic difficulty to the appropriate support resources, including tutoring programs and counseling opportunities.