Curriculum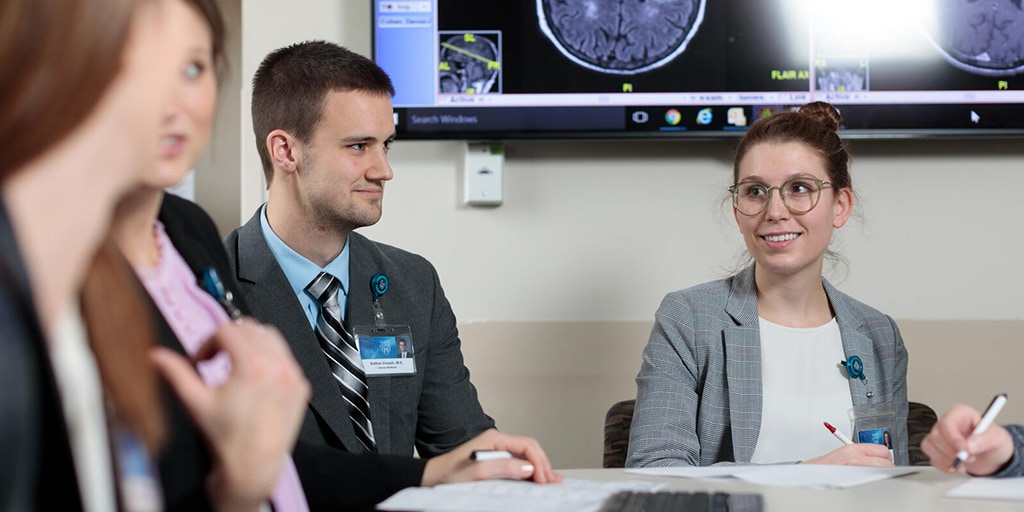 Trainee experience
As a fellow, you will rotate in both the acute care setting and outpatient clinic setting, seeing a variety of neurological conditions. You will learn to manage acute neurological conditions, assuming responsibility for managing emergent conditions including but certainly not limited to, acute ischemic stroke, intraparenchymal hemorrhage, seizures and status epilepticus, meningoencephalitis, and acute inflammatory demyelinating polyradiculoneuropathy.
In the outpatient setting, you will learn to assess and manage a variety of clinical conditions including but not limited to peripheral neuropathy, epilepsy, headaches, Parkinson's Disease, dementia, and multiple sclerosis.
Hospital rotations will include new consults and admissions, daily rounding, appropriate procedures, and discharge planning.
Outpatient clinical duties will involve new consults and follow-ups on established patients as well as indicated procedures.
During time in the hospital and clinic, you will perform a variety of procedures including lumbar punctures, nerve blocks, and Botox injections.
There will be many opportunities for formal didactic teaching and informal case-based learning with your NPPA and physician supervisors.
Each week, you will have multiple opportunities for neurologic and general medical education in the form of neuroscience grand rounds, neurology case of the week presentations, neurology APP journal club, neuro-oncology meetings and tumor board, and NPPA hospital grand rounds.
Clinical training and rotations
Your fellowship training will give you exposure to these areas:
General Inpatient Neurology
Inpatient Neurology Consultations
Cerebrovascular
Epilepsy
Headache
Autoimmune/MS
Neuromuscular
Movement Disorders
Cognitive/Behavioral
Neurology Oncology
Neuroinfectious Diseases
Neurointensive care
Neuroanatomy
Neuroradiology
Schedule and hours
For the majority of the fellowship, the learning schedule includes 10-hour days, five days a week. This will include some weekends. The schedule will vary depending on which subspecialty service the fellow is rotating on. All hours worked are in accordance with the Accreditation Council for Graduate Medical Education (ACGME) medical resident hour restrictions.
Department and faculty
Faculty members are chosen for their commitment to teaching, as well as their clinical practice and research. Many have published and lectured extensively and are highly regarded in their fields.
Visiting professors and lecturers
A hallmark of higher education excellence is the breadth and depth of information and experience provided to you by faculty and visiting experts. Each year, many prominent professors visit Mayo Clinic to lecture in their areas of medical and scientific expertise.
As a fellow of Mayo Clinic School of Health Sciences, you are encouraged to learn from these valuable resources by attending all relevant conferences, lectures and seminars prepared for students, residents, fellows, physician assistants, nurse practitioners and consulting staff.
Facilities
Mayo Clinic has two campuses in Arizona. The Mayo Clinic campus in Phoenix, Arizona includes the state-of-the-art Mayo Clinic Hospital, the first hospital entirely designed and built by Mayo Clinic. It has been recognized several times by Phoenix magazine as the Best Hospital in Phoenix. Services in numerous medical and surgical disciplines are provided, including outstanding programs in cancer treatment and organ transplantation.
Mayo Clinic's campus in Scottsdale, Arizona, is centered around a beautiful, five-story outpatient clinic. This modern facility contains extensive exam rooms, an outpatient surgery center equipped for general anesthesia, a full-service laboratory, a pharmacy, a patient education library, an endoscopy suite, and a 188-seat auditorium for patient, staff, and student education programs.
During the fellowship, the fellows' time will be split between the two campuses.
Evaluation
Mayo Clinic School of Health Sciences uses these evaluative tools:
Written examination
Demonstration of skills
Self-assessment exercises
Faculty reviews
Graduation and certification
After successfully completing the fellowship, you will receive a Certificate of Completion from Mayo Clinic School of Health Sciences.