Application Process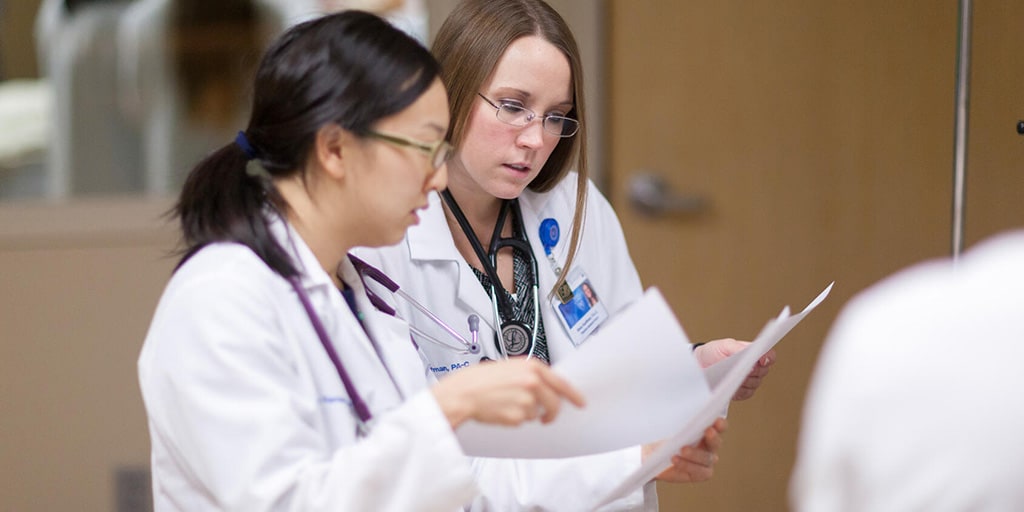 Positions and track options
Each year, four fellows are admitted across our two tracks.
| Track | Fellow(s) accepted per year |
| --- | --- |
| Traditional Hospitalist Track | 2 |
| Critical Care Medicine Track | 2 |
If eligible, applicants are able to apply for both tracks. Please refer to the application instructions for complete details.
Admission requirements
Prerequisites
To be eligible for this fellowship, you must have:
Graduated from an accredited physician assistant or nurse practitioner program
Graduated from an acute care specialty program (only applicable to NPs)
National board certification
Arizona state license
Current Drug Enforcement Administration (DEA) license
Current Basic Life Support (BLS) and Cardiac Life Support (ACLS) certifications
Note: If you have not yet graduated from your training program and not yet met all of the prerequisites, you may still apply for the fellowship. But to be successfully appointed to the fellowship, you must have graduated and met all of the prerequisites before the start of the program.
Admission policies
See Mayo Clinic School of Health Sciences admissions policy information.
Non-U.S. citizen applicants
Admission to Mayo Clinic School of Health Sciences is open to U.S. workers in the four categories below. Therefore, visa sponsorship is not available.
U.S. citizens
U.S. nationals
Lawful permanent residents
Asylees and refugees
Applicants whose primary language is not English must submit results from the Test of English as a Foreign Language Internet-based test (TOEFL iBT). Scores from the speaking portion of the exam are given particular consideration in admission decisions. Learn more about the exam and register online at the Educational Testing Service.
The Mayo Clinic School of Health Sciences code for the TOEFL iBT is 5784.
Educational transcripts from schools outside the U.S. must be translated (if they are not already in English) and evaluated for U.S. equivalence by an accredited credential evaluation service company prior to submission. Please refer to the National Association of Credential Evaluation Services for a list of qualified companies. The applicant pays for the examination and credential-evaluation services.
Acceptance factors
Candidates are selected based on grades, work and volunteer experiences, leadership qualities, and representation of individual qualities and skills.
How to apply
Disability accommodations
Mayo Clinic School of Health Sciences values diversity and welcomes applicants with disabilities. If you are anticipating or experiencing disability related barriers in accessing this application, please contact Disability Compliance Advisors at rfaccommodations@mayo.edu.
Application timeline
The application cycle opens Nov. 1 and closes April 7 of the year in which you wish to begin the program. Your application and all supporting documentation must be received by April 7.
The program begins in October and runs through October the following year.
| Application window | Program start date | Apply |
| --- | --- | --- |
| Nov. 1 - April 7 | Mid-October | Online application |
Application instructions
Complete the following steps to apply:
Create an account to begin the online Application for Admission
Select - Mayo Clinic School of Health Sciences
Select - NP PA Hospital Internal Medicine Fellowship (ARZ)
Complete each section of the application and submit
After submission, view the required Supplemental Items and Documents
Upload each required item in the Supplemental Items section
Complete the Recommendation Request section
Additional required items
CV/resume.
Three letters of recommendation are required and must be completed in the Recommendation Request section. Each recommender will receive an email with a link to complete a rating form and upload a letter.
Personal statement.
Official transcripts from your Physician Assistant training program will be accepted electronically via a secured site; use the subject line "Attention Judy Cimochowski," and send to mcamshs@mayo.edu (this is the preferred method). Official transcripts can also be mailed directly from the institution to:
Judy Cimochowski
Education Coordinator
Mayo Clinic School of Health Sciences
13400 E. Shea Blvd.
Scottsdale, AZ 85259
Track application details
Applicants are able to apply for both tracks. Please complete the application for the track you are most interested in, and if you would like to also be considered for the other track, indicate your interest at the end of your personal statement.
Interview process
The selection committee carefully reviews each application. Applicants considered for acceptance are invited for an in-person interview.
Acceptance
Candidates selected for the fellowship will be contacted by phone, followed by an acceptance letter, by mid-May. If you receive an acceptance letter, your reply is expected within 10 days.