Curriculum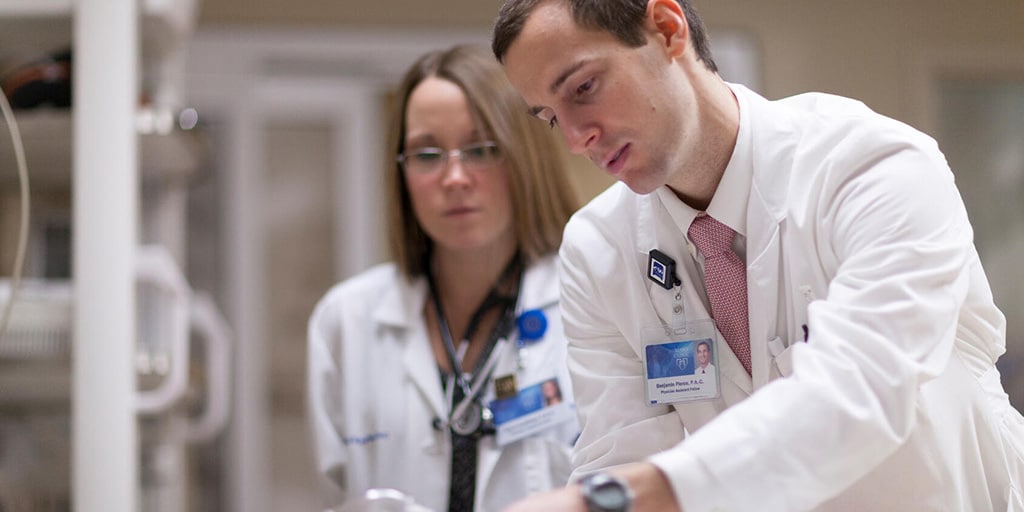 The Nurse Practitioner or Physician Assistant Hospital Internal Medicine and Critical Care Fellowship prepares you for professional practice in hospital medicine.
Trainee experience
Our curriculum is designed in a diverse format that accommodates all learner types. It includes formal didactic instruction, journal club and case review, and project-based learning through hands-on experience. You complete various medical specialty rotations that are two to four weeks in duration. The Critical Care Medicine Track offers up to 16 weeks of training in their fields in addition to the core rotations offered in the Traditional Hospitalist Track.
Curriculum areas
Our curriculum is based upon core competencies as determined by the Society of Hospital Medicine and expands into many skills, procedures, and knowledge areas.
These include knowledge, skills, and understanding of health care areas:
Acute coronary syndrome
Acute renal failure
Alcohol and drug withdrawal
Asthma
Cardiac arrhythmia
Care of the critically ill patient
Cellulitis
Chronic obstructive pulmonary disease
Community-acquired pneumonia
Delirium and dementia
Diabetes mellitus
Gastrointestinal bleed
Heart failure
Hematologic disorders and malignancies
Hospital-acquired pneumonia
Pain management
Perioperative medicine
Sepsis syndromes
Shock
Solid tumor malignancies
Stroke
Urinary tract infection
Venous thromboembolism
By the end of the fellowship year, you will have experienced performing the following skills and procedures:
Point of Care Ultrasound
Chest radiograph interpretation
Electrocardiogram interpretation
Focused patient presentation to supervising faculty
Lumbar puncture
Paracentesis
Problem-focused physical exam
Thoracentesis
Vascular access
By the end of the fellowship year, you will have a working knowledge and understanding in the following health care areas:
Care of the elderly patient
Care of vulnerable populations
Communication
Diagnostic decision-making
Drug safety, pharmacoeconomics and pharmacoepidemiology
Equitable allocation of resources
Evidence-based medicine
Hospitalist NP/PA as a consultant
Hospitalist NP/PA as a teacher
Information management
Leadership
Management practices
Nutrition and the hospitalized patient
Palliative care
Clinical training and rotations
The Nurse Practitioner or Physician Assistant Hospital Internal Medicine and Critical Care Fellowship is composed of 12 rotations in the various specialty areas. Elective rotations are available if the NP or PA fellow has a strong interest in a specialty that is not included in their track.
Clinical rotations in the Traditional Hospital Track include:
Hematology/medical oncology
Palliative medicine
Cardiology Emergency medicine (elective)
Hepatology
Hospital internal medicine consult service
Hospital internal medicine night service
General hospital internal medicine
Pulmonary medicine
Critical care medicine
Nephrology
Neurology
Heart Failure/Heart Transplant
Interventional Radiology
Clinical rotations for the Critical Care Medicine Track include:
General hospital internal medicine
Anesthesia
Cardiovascular diseases
Heart failure/heart transplant service
Bone marrow transplant
Emergency medicine
Surgical subspecialties (general surgery, ENT, transplant surgery, cardiothoracic surgery)
Critical care medicine
Trauma and burn
Nephrology
Pulmonary medicine
Schedule and hours
For the majority of the fellowship, your learning schedule includes 10- or 12-hour days, five days a week, including weekends and nights.
Hours while on subspecialty rotations vary depending on the requirements and needs of the particular service. All hours worked are in accordance with the Accreditation Council for Graduate Medical Education (ACGME) medical resident hour restrictions.
Department and faculty
The Nurse Practitioner or Physician Assistant Hospital Internal Medicine and Critical Care Fellowship is coordinated and taught by the clinical, scientific, and technical staff of Mayo Clinic. Faculty members are chosen for their commitment to teaching, as well as their clinical practice and research. Many have published and lectured extensively and are highly regarded in their fields.
You have direct access to these individuals throughout your training, giving you the opportunity to learn from experienced practitioners from Mayo Clinic's Division of Hospital Internal Medicine in Arizona.
Facilities
Mayo Clinic has two campuses in Arizona. The Phoenix campus includes the state-of-the-art Mayo Clinic Hospital, the first hospital entirely designed and built by Mayo Clinic. It has been recognized several times by Phoenix magazine as the Best Hospital in Phoenix. Services in numerous medical and surgical disciplines are provided, including outstanding programs in cancer treatment and organ transplantation.
The Scottsdale campus is centered around a beautiful, five-story outpatient clinic. This modern facility contains extensive exam rooms, an outpatient surgery center equipped for general anesthesia, a full-service laboratory, pharmacy, patient education library, endoscopy suite, and a 188-seat auditorium for patient, staff, and student education programs.
Evaluation
Mayo Clinic School of Health Sciences uses evaluative tools that include:
Written examination
Demonstration of skills
Self-assessment exercises
Faculty reviews
Specifically, fellows are evaluated using these assessment tools:
End-of-rotation evaluations
End-year project
Midyear and end-year formal comprehensive evaluations
Competency checklist components completed by end of fellowship training
End project for core competency "modules" with various assessment tools
End-year Summative Portfolio