Curriculum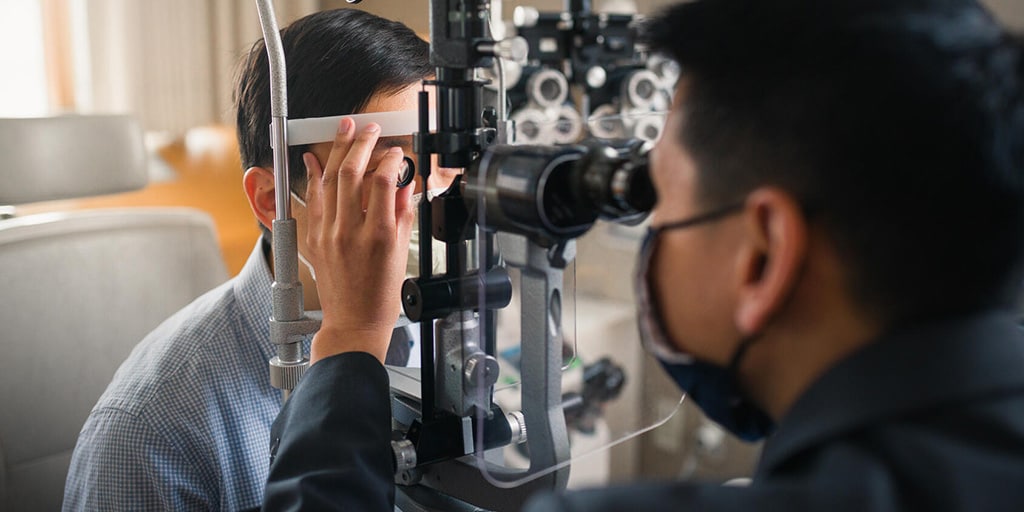 256
hours in the lab/lectures
Trainee experience
The Ophthalmic Assistant Training Program is an eight-month program designed to give students a combination of lecture, lab, and clinical learning. The first two months focus on classroom and lab education, with the remaining six months designated for clinical rotations.
Classroom learning will be conducted through a series of online lectures with worksheets, and quizzes. Prior to training in the clinic with experienced technicians, students will practice their new skills on faculty, technicians, and each other. Once students are prepared, they will be paired with experienced technicians to work in the clinic and master their new skills.
For the majority of the program, the learning schedule includes eight-hour days, five days per week. While the training program allows for time to work on assignments, additional time may be required for homework or assignments.
Coursework
The following shows the list of courses for each term of the eight-month Ophthalmic Assistant Training Program.
Fall/winter term

Introduction to Ophthalmology
Clinical Optics
Patient Intake 1
Patient Intake 2
Supplementary Testing 1
Keratometry

Winter/spring term

Eye Disease and Treatment
Refractometer
Ophthalmic Imaging
Clinical Equipment and Maintenance
Surgical Procedures
Contact Lenses
Supplementary Testing 2
Faculty
Courses will be taught by current ophthalmic technicians and world-renowned ophthalmologists and optometrists at Mayo Clinic in Rochester. You have direct access to these individuals throughout your training, giving you the opportunity to learn from experts in the field of ophthalmology.
Learn more about Mayo Clinic's Department of Ophthalmology and the faculty and ophthalmologists in Rochester.
Grading
All required courses in the Ophthalmic Assistant Training Program are designated as pass/fail with an online format.
Mayo Clinic School of Health Sciences uses these evaluative tools: online quizzes and examinations, online self-assessment exercises, lab and clinical activities, investigative projects and assignments, competency assessment and demonstration of skills, faculty reviews and affective-behavior evaluation.
Mayo's system of evaluation provides students and faculty with a comprehensive look at individual performance. This allows faculty and administrative staff to direct students who are experiencing academic difficulty to the appropriate support resources, including tutoring programs and counseling opportunities. A competency-based evaluation system is used to assess clinical performance.
Graduation and certification
After successfully completing the Ophthalmic Assistant Training Program, you receive a certificate of completion from Mayo Clinic School of Health Sciences.
Graduates will be eligible to take the Certified Ophthalmic Assistant test through the Joint Commission of Allied Health Professionals in Ophthalmology once all criteria have been met.