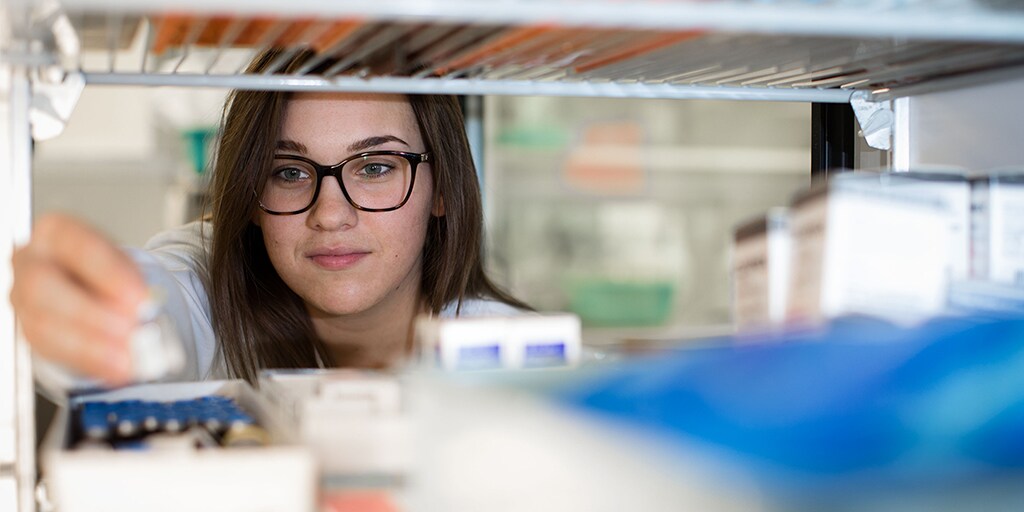 Curriculum
Hospital/inpatient setting
Individuals selected for the internship in the hospital/inpatient practice setting will rotate through two areas of Mayo Clinic Hospital — Rochester. These include the central pharmacy at either the Methodist Campus or Saint Marys Campus and the Emergency Department.
Interns have the opportunity to participate in a variety of experiences that may include:
Obtaining medication histories from patients being admitted to the hospital from the Emergency Department
Preparing and labeling of medications
Delivering medications to automated dispensing machines located in patient care areas
Working with automated dispensing machines and bar code label machines
Clinic/outpatient setting
Individuals selected for the Pharmacy Internship in the clinic/outpatient practice setting rotate through six outpatient pharmacies located on the Rochester campus of Mayo Clinic. Interns have the opportunity to participate in a variety of experiences that may include:
Providing patient counseling on medication
Working alongside a pharmacist preceptor to gain hands-on experience with reviewing prescription orders and participating in pharmacists' interventions
Providing drug information to health care providers
Assisting in the preparation and dispensing of prescription orders
Mini-rotations
Throughout the summer, you have the opportunity to work with residents or pharmacist preceptors in a variety of clinical specialties in the hospital and ambulatory care practice settings. Interns may participate in up to three separate two-day mini-rotations. Depending on intern schedules and preceptor availability, additional shadowing experiences may be possible.
Professional development series
A longitudinal series of lectures and discussions designed to enhance the professional development of pharmacy students is an additional component of the Pharmacy Internship.
Examples of previous events include:
"Ask the resident" and "ask the residency director" sessions
A curriculum vitae review session
Tips for preparing a formal presentation
How to prepare for a formal interview
Formal presentation
Each intern is expected to prepare a 25-minute presentation for their colleagues during the final week of the internship. The presentation topic is typically at the discretion of the intern. Written and oral feedback is provided to the intern by the audience. Additional instructions and guidance are provided throughout the program.
Work areas
Inpatient practice
Mayo Clinic Hospital — Rochester is composed of the Saint Marys Campus (1,265 beds) and Methodist Campus (794 beds). In the hospital environment, pharmacists work collaboratively with the interdisciplinary health care team to optimize patient outcomes.
Pharmacists, residents and students are longstanding, integral members of a team that continually advance the pharmacy profession. Pharmacists at Mayo Clinic Hospital — Rochester process nearly 11,000 computerized physician orders each day and document approximately 15,000 electronic medication-related interventions a month.
Outpatient practice
Mayo Clinic has a very large outpatient practice — more than 1.4 million visits each year — with care provided in virtually every specialty. Nearly 3,500 prescriptions are filled each day at Mayo Clinic outpatient pharmacies.
Pharmacists support this large practice through multiple pharmacy locations, including primary practice, hospital dismissal, a communication center and an automated processing center. Medication therapy management services in a variety of specialties are provided to optimize patients' regimens.
Message from Lisa K. Buss Preszler, Pharm.D., R.Ph.
You are at an exciting time in your journey toward your future career as a pharmacist. Over the last one to two years, you have built a foundation of pharmacy knowledge through class work. Participation in an introductory pharmacy practice experience or a professional organization has perhaps provided a glimpse of how that knowledge translates into clinical practice.
As your pharmacy experiences continue to grow, so do your options of potential career paths and future practice sites.
Mayo Clinic, one of the largest integrated medical centers in the world, is the practice site for about 240 pharmacists on the Rochester, Minnesota, campus. Pharmacists at Mayo Clinic practice in a variety of areas that support Mayo's commitment to patient care, education and research.
Our pharmacists serve as integral members of the interdisciplinary team in both the ambulatory care and inpatient practice environments. Mayo's commitment to education is demonstrated by the number of preceptors who are dedicated to helping the clinical and professional growth of our interns.
As an intern at Mayo Clinic, you have an opportunity to strengthen your knowledge base through participation in the day-to-day operation of our pharmacies. You also witness how every individual at Mayo Clinic contributes to our primary value, which is "the needs of the patient come first."
Our interns also participate in mini-rotations, which are designed to allow them to explore potential career paths. Other activities, such as journal clubs and presentations, are incorporated into the summer to enhance and expand your pharmacy knowledge base.
We are fortunate to have an outstanding team of interns join our department every summer. Our alumni have established successful careers throughout the United States. In recent years, more than 85 percent of our previous interns have gone on to complete a PGY-1 residency upon graduation from pharmacy school. Several have chosen to return to Mayo Clinic to complete a residency, work as a pharmacist or both.
We invite you take a look at our website and consider the opportunities that await you as a pharmacy intern at Mayo Clinic.
Best regards,
Lisa K. Buss Preszler, Pharm.D., R.Ph.
Program Director
Pharmacy Internship