Curriculum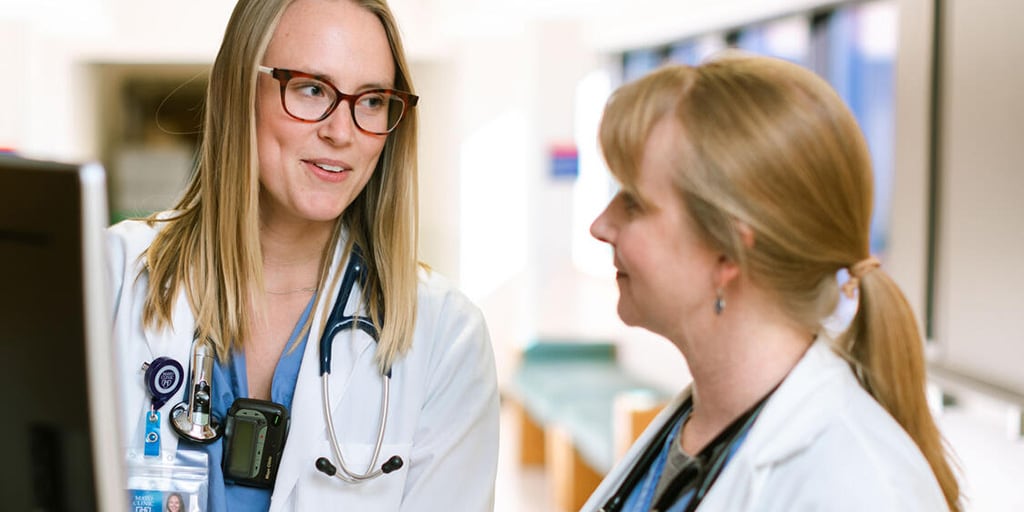 Clinical training and rotations
During the Acute Care Physical Therapy Residency, residents provide patient care within Mayo Clinic Hospital in Arizona under the mentorship of core faculty. Rotations include, but are not limited to, acute care management of orthopedic conditions, neurology, cardiovascular diseases, hematology, oncology, general surgery, solid organ transplant, progressive care, intensive care, emergency room, and observation unit.
Didactics, mentorship, and patient care are the key components to the Acute Care Physical Therapy Residency. Each year, curriculum is designed to be applicable to clinical rotations and align with the Physical Therapist Acute Care Practice Analysis (Gorman 2010), identifying the skills, knowledge, and behaviors underlying efficacious performance in this setting.
Below is a sample of the curriculum content. The sequence may vary according to clinical team assignments.
Track I: IP Core Competencies
Track II: Neuro
Track III: General medical
Track IV: Cardiovascular, pulmonary, and critical care
Track V: Other learning activities
Lab values - treatment strategies for the medically complex patient
Post-op orthopedics - amputee, fracture, pain management, and satellite operating room
Readmission risk
Spinal and neurosurgery
Assessment and management of falls (emergency department focus)
Understanding frailty
Bariatrics - special considerations
Applications of clinical decision-making in the emergency department
Stroke Rehabilitation Assessment of Movement (STREAM) and early interventions
Central and peripheral vestibular dysfunction
Parkinson's disease
Seizure disorders
Differential diagnosis for neuro disorders (Functional movement disorder, normal pressure hydrocephalus, and postural orthostatic tachycardia syndrome)
Acute TBI assessment and management
Cognitive assessment; delirium
Renal insufficiency, renal failure, dialysis
Post-surgical evaluation and treatment for urology, gynecology, and gastroenterology
Solid organ transplant
Integument - assessment for injury risk and prevention
Lymphedema - early identification and management strategies
Plastics/ENT
Acute management of the cancer patient
Lines, leads, tubes, and drains - managing patients safely in the ICU
Understanding heart disease: cardiomyopathy, coronary artery disease, arrhythmia, valve disease, and heart failure
PE, DVT, venous insufficiency diagnosis, and indications for safe exercise
Functional assessment and management of chronic obstructive pulmonary disease
Functional assessment and management of acute respiratory distress syndrome and COVID (including ECMO)
Post-Intensive Care Syndrome (PICs)
Ethics
Professionalism
Diversity, Equity, and Inclusion (DEI)
Pediatrics
NICU
Education methods are varied and incorporate both internal and external resources.
Didactic lecture and lab (hands-on). Sessions including use of the Simulation Center environment
Grand rounds and journal clubs (in-person and recorded). Provided within therapy services and throughout other interprofessional teams such as nursing, respiratory therapy, internal medicine, stroke education center, cardio-thoracic surgery, pain medicine, critical care teams
Online learning. Internally developed curriculum, APTA Learning Center, MedBridge Education (allows learners self-paced, timed, and place of assigned work)
Blended learning. Learning with the integration of online activities to interactive classroom or resident:faculty or resident:resident simulation, discussion, and reflection learning experiences.
Observation and training activities with other multidisciplinary teams. Other multidisciplinary teams include wound team, LVAD team, and the diabetic nurse educator (endocrinology).
Attendance to APTA Combined Sections Meeting.
Participation in internal continuing education. Offerings include the annual physical medicine and rehabilitation conference and clinical care conference.
Mayo Clinic required competencies and procedural training.
Schedule and hours
The residency is considered a full-time position; 70 percent of a typical week is spent on patient care in the specific clinical setting as the resident rotates through the areas of practice within the curriculum. A weekend rotation is required. Mentorship accounts for four hours per week along with ongoing academic activities (such as independent study, readings, assignments, interprofessional learning experiences) and twice monthly lecture/lab sessions This accounts for a minimum of 12 hours weekly of "residency activities" (30 percent) as the balance of the full time position.
Department and faculty
All faculty members are Mayo Clinic therapy or allied health staff with demonstrated expertise and experience that exemplify the core values of physical therapy professionalism and patient care. Mentors are clinicians who focus their practice in each setting and are neurologic, orthopedic, oncology, and geriatric board-certified specialists. Staff with additional credentials in lymphedema and vestibular rehab contribute to instruction as well.
More than 80 clinicians have achieved academic rank in the Mayo Clinic College of Medicine and Science, and 30 are American Board of Physical Therapy Specialties-certified clinical specialists. The staff also has a multitude of various specialty certifications. Ten clinicians are members of the Academy of Educational Excellence.
Visiting professors and lecturers
A hallmark of higher education excellence is the breadth and depth of information and experience provided to students by faculty and visiting experts. Many prominent professors visit Mayo Clinic each year to lecture on their areas of medical and scientific expertise.
As a resident of Mayo Clinic School of Health Sciences, you are encouraged to learn from these valuable resources by attending all conferences, lectures, and seminars prepared for students, residents, fellows, and consulting staff.
Facilities
Mayo Clinic has two main campuses in Arizona and five additional clinic sites. The Phoenix campus includes the state-of-the-art Mayo Clinic Hospital, the first hospital entirely designed and built by Mayo Clinic. It has been recognized several times by Phoenix magazine as the Best Hospital in Phoenix, and has been named the best hospital in the nation by U.S. News & World Report.
The Phoenix campus includes a 3,000-square-foot multidisciplinary simulation center, which simulates real-life patient care situations, enabling learners to practice on sophisticated mannequins in a no-risk environment. Experiential learning enhances patient safety and improves competency assessment of learners through new modes of simulation-based education.
This campus also includes a state-of-the-art education and conference center, which has a 330-seat auditorium and adjacent meeting rooms. The facility serves all types of learners engaging in lifelong learning. Services in numerous medical and surgical disciplines are provided, including outstanding programs in cancer treatment and organ transplant.
The Mayo Clinic campus in Scottsdale is centered around a beautiful, five-story outpatient clinic. This modern facility contains extensive exam rooms, an outpatient surgery center equipped for general anesthesia, a full-service laboratory, pharmacy, patient education library, endoscopy suite, and a 188-seat auditorium for patient, staff, and student education programs. The Arizona branch of the Mayo Clinic Alix School of Medicine is located on this campus along with extensive research facilities.
There are an additional four family medicine centers in the metro Phoenix area to serve our patients, including lab and imaging services, two of which provide therapy services. Mayo Clinic Department of Family Medicine in Arizona offers primary care services for people of all ages.
The state-of-the-art Sports Medicine Facility in Tempe provides a coordinated, multidisciplinary approach to the evaluation, diagnosis, and treatment of injuries sustained by recreational, amateur, and professional athletes including preventive care promoted through wellness, fitness, and performance-enhancement consultations.
Evaluation
Mayo Clinic School of Health Sciences uses these evaluative tools within the residency program:
Written examinations
Demonstration of skills
Self-assessment exercises
Learning outcomes and assignments from didactic sessions
Faculty reviews
Terminal project
Mayo Clinic's system of evaluation provides students and faculty with a comprehensive look at individual performance. This allows faculty and administrative staff to direct students who are experiencing academic difficulty to the appropriate support resources, including tutoring programs and counseling opportunities.