Curriculum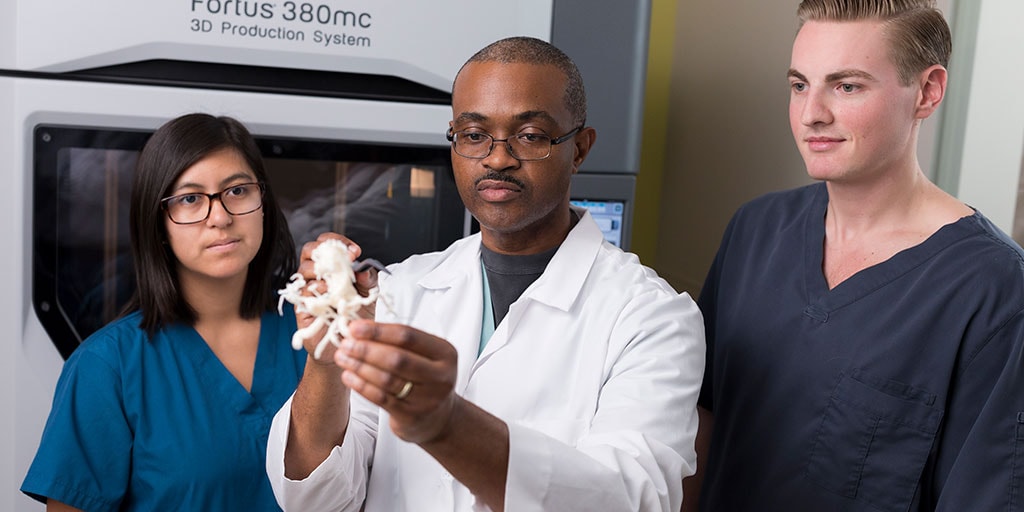 Trainee experience
The Neurosurgery Physician Assistant Fellowship includes a competency-based curriculum with didactic and practical modules based on the medical model.
During the program, learning experiences allow you to:
Gain a greater understanding of neuroanatomy and physiology
Become proficient in taking a detailed history and performing a neurological exam
Develop and implement treatment plans
Manage critical care patients
Master operative first-assist techniques
Perform procedures under supervision
Diagnose and treat illnesses
Order and interpret tests
Counsel on preventive health care
Develop and pursue research opportunities
Clinical training and rotations
Neurosurgical clinical topics
Your fellowship training gives you exposure to these areas:
Cerebrovascular surgery
Neurosurgical oncology
Neurosurgical critical care
Pain management and physical medicine and rehabilitation
Infectious disease
Surgery of the peripheral nervous system
Spinal surgery
Cranial and skull base surgery
Stereotactic and functional neurosurgery
General and stroke neurology
Neuroradiology
Neurosurgical trauma
Pediatric neurosurgery
Curriculum enhancements
Mayo Clinic School of Health Sciences is committed to developing and maintaining the best education programs. The curriculum and other aspects of this program are routinely assessed and changed as necessary to ensure the highest quality training.
Schedule and hours
For the majority of the fellowship, your learning schedule includes 10-hour days, five days a week. You will take shared neurosurgery call a few times a month on average, including an overnight call and occasional weekend days/nights.
Department and faculty
The Neurosurgery Physician Assistant Fellowship is coordinated and taught by the neurosurgery consulting and physician assistant staffs of Mayo Clinic's Department of Neurologic Surgery. Faculty members are chosen for their commitment to teaching, as well as their clinical practice and research. Many have published and lectured extensively and are highly regarded in their fields.
Visiting professors and lecturers
A hallmark of higher education excellence is the breadth and depth of information and experience provided to you by faculty and visiting experts. Each year, many prominent professors visit Mayo Clinic to lecture in their areas of medical and scientific expertise.
As a fellow of Mayo Clinic School of Health Sciences, you are encouraged to learn from these valuable resources by attending all relevant conferences, lectures and seminars prepared for students, residents, fellows, physician assistants, nurse practitioners and consulting staff.
Facilities
Mayo Clinic has two campuses in Arizona. The Phoenix campus of Mayo Clinic includes the state-of-the-art Mayo Clinic Hospital, the first hospital entirely designed and built by Mayo Clinic. It has been recognized several times by Phoenix magazine as the Best Hospital in Phoenix. Services in numerous medical and surgical disciplines are provided, including outstanding programs in cancer treatment and organ transplantation.
Mayo Clinic's campus in Scottsdale is centered around a beautiful, five-story outpatient clinic. This modern facility contains extensive exam rooms, an outpatient surgery center equipped for general anesthesia, a full-service laboratory, pharmacy, patient education library, endoscopy suite, and a 188-seat auditorium for patient, staff, and student education programs.
Evaluation
Mayo Clinic School of Health Sciences uses these evaluative tools:
Written examination
Demonstration of skills
Self-assessment exercises
Faculty reviews