Curriculum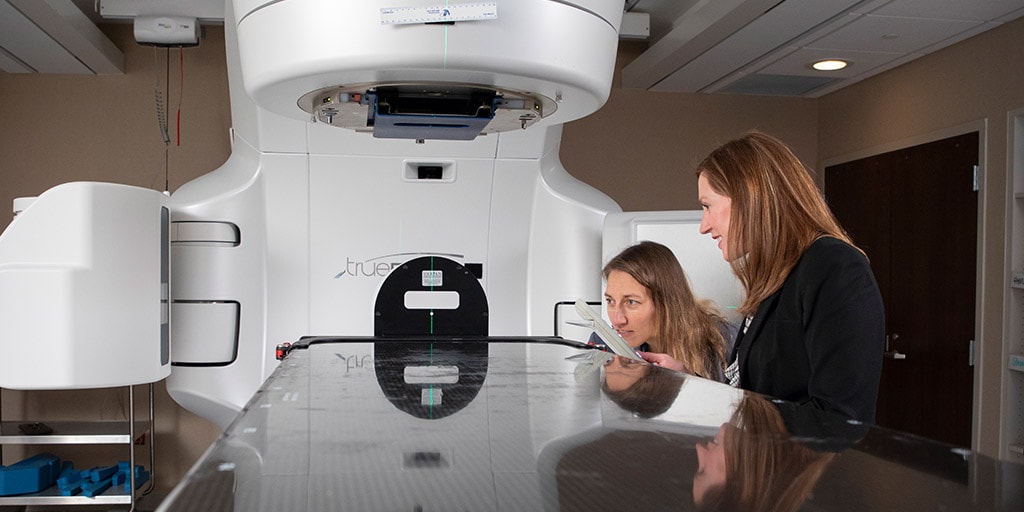 Trainee experience
The Radiation Oncology Medical Physics Residency will prepare you for professional practice in hospitals, clinics, and private practice. During the program, learning experiences allow you to:
Measure and calibrate a variety of treatment machines and imaging devices
Troubleshoot real-world problems with computers and equipment
Interact with a variety of other Department of Radiation Oncology staff, including physicians, therapists, dosimetrists, and nurses
Create, modify, and measure radiation therapy treatment plans and check them for quality assurance
Work on projects related to new technology or upgrades of existing technology
Interact with vendors, government agencies, and professional organizations
Prepare for board certification through practice and mentoring
Clinical training and rotations
The 12 modules that residents complete include eight modules designed to fit into rotations of two to six months. During these rotations, the resident concentrates in-depth on a particular topic. The resident is advised by a physicist who has a depth of knowledge specific to the topic at hand. Some of the observations and quality assurance tasks may occur at any time during the two year residency to accommodate patient volume or new equipment. Additionally, there are two continual modules which will continue throughout the residency and two independent modules.
R1: Orientation, simulation, and basic treatment planning
R2: Advanced 3D treatment planning and IMRT planning
R3: Quality systems and project management
R4: Dose measurements
R5: Brachytherapy
R6: Clinical project or research
R7: Special procedures
R8: Acceptance and commissioning (equipment and TPS)
These modules are spread out over two years:
C1: Quality assurance
C2: Education and teaching
These modules are milestone-based independently-paced projects:
I1: Shielding and radiation protection
I2: Professional duties including radiation safety
Schedule and hours
For the majority of the residency, your schedule will include eight-hour days, five days a week during normal business hours. There will be occasional times when data will need to be acquired on clinical equipment outside of treatment hours.
Department and faculty
The residency is coordinated and taught by the clinical, scientific, and technical staff members of Mayo Clinic. Faculty members are chosen for their commitment to teaching, as well as their clinical practice and research. Many have published and lectured extensively and are highly regarded in their fields.
You have direct access to these individuals throughout your training, giving you the opportunity to learn from experienced practitioners in radiation oncology.
Facilities
Mayo Clinic's campus in Jacksonville, Florida, is a comprehensive medical facility providing advanced programs in education and research that support the highest quality patient care. Campus activity is conducted in Mayo Clinic Hospital and the interconnected Davis, Mayo, and Cannaday buildings.
The ambulatory facilities provide clinical services ranging from primary to specialty care and advanced procedures. Mayo Clinic Hospital provides comprehensive inpatient services, including surgical and medical intensive care units, specialized solid organ transplant units, and advanced cardiac and neurosurgery facilities.
Medical physics residents will spend most of their time in the Department of Radiation Oncology in the Mayo building. Equipment includes Varian TrueBeam linear accelerators, Elekta GammaKnife, Elekta HDR brachytherapy, and Intra-Operative Radiation Therapy.
Evaluation
Mayo Clinic School of Health Sciences uses these evaluative tools:
Annual oral examination in the style of the American Board of Radiology
Annual written examination
Monthly panel-based assessment of knowledge by staff
Demonstration of skills
Self-assessment exercises
Faculty reviews
Our system provides students and faculty with a complete look at individual performance. Because programs are small, faculty members are partners in learning with students and closely monitor their progress. Assistance is provided whenever necessary to keep all students on track with the program's learning goals and outcomes.