Curriculum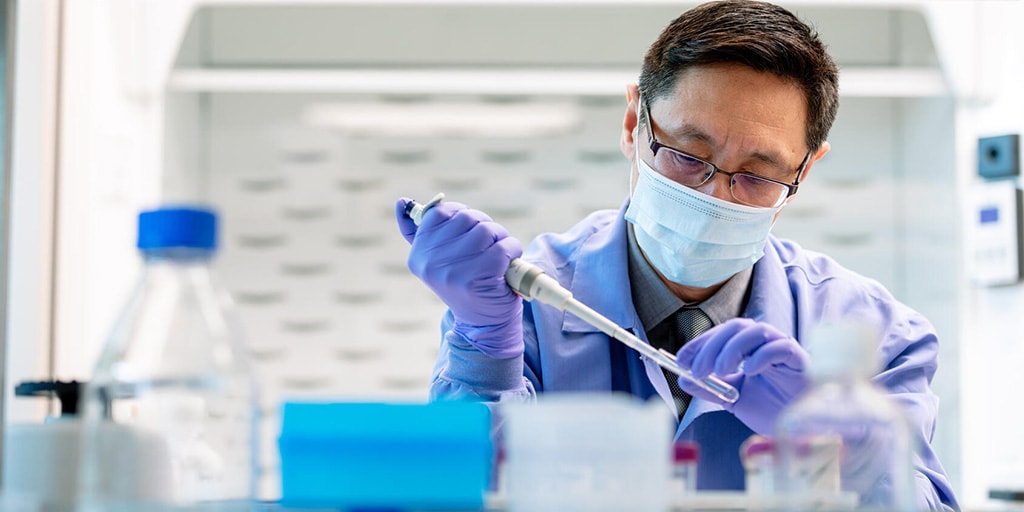 Trainee experience
The RN Cancer Care Fellowship follows the Oncology Nursing Society's Scopes and Standards of Practice. All of the curriculum and clinical rotations abide by the Oncology Nursing Society's position statement on the Oncology Nursing Specialty.
Asynchronous and synchronous virtual learning courses provide foundational hematology/oncology/cellular therapy knowledge to the learner.
Cancer Concepts 1

Cancer Overview and Diagnostic Evaluation
Goals of Treatment
Breast Cancer
Prostate Cancer
Colon Cancer
Lung Cancer
Nursing Considerations of the Hematology/Oncology/Cellular Therapy Patient

Cancer Concepts 2

Bladder Cancer
Skin Cancer
Testicular Cancer
Kidney Cancer
Gynecological Cancer
Pharmacologic Supportive Care for the Cancer Patient
Principals of Pain Management in Cancer Patients
Cancer Survivorship

Cancer Concepts 3

Leukemia
Multiple Myeloma
Lymphoma
Oncology Emergencies

Foundations of Cellular Therapy

Apheresis/Hematopoietic Progenitor Stem Cell Collection
Pharmacologic Management of the Stem Cell Transplant Patient
Total Body Irradiation (TBI)
Stem Cell Infusion
Blood Product Considerations
BMT Patient Assessment
Graft Versus Host Disease
Infections in BMT
End of Life Care
Haploidentical Transplants
Immune Effector Cellular Therapy

Oncology Nursing Society Fundamentals of Chemotherapy Immunotherapy Administration
Specialty lectures
Vascular access overview
End of life care in the hematology/oncology/cellular therapy patient
Self-care for the hematology/oncology/cellular therapy RN
Interdisciplinary communication in the hematology/oncology/cellular therapy specialty
Simulation and lab experiences
Chemotherapy Immunotherapy Administration Lab

Hematology/oncology/cellular therapy patient care simulation
Clinical training and rotations
The RN Cancer Care Fellowship includes observations throughout the cancer care service line at Mayo Clinic in Arizona, which may include:
Inpatient cellular therapy
Inpatient hematology/oncology
Ambulatory apheresis
Ambulatory breast clinic
Ambulatory bone marrow transplant coordinators
Ambulatory cellular therapy clinic
Ambulatory chemotherapy infusion center
Ambulatory hematology/oncology clinic
Ambulatory oncology nurse navigators
Ambulatory radiation oncology
Curriculum enhancements
Mayo Clinic School of Health Sciences is committed to developing and maintaining the best educational programs. The curriculum and other aspects of this program are assessed constantly and changed as necessary to ensure the highest quality training.
Schedule and hours
Schedule and hours will be based on the hiring department at the completion of the program. Schedules allow flexibility and can vary from 36 hours per week to 40 hours per week with 8-, 10-, or 12-hour shifts. Day or night shifts can be accommodated based on unit and applicant need.
Department and faculty
The RN Cancer Care Fellowship draws its faculty from Mayo Clinic's clinical, scientific, and technical staffs. Faculty members are chosen for their commitment to teaching, as well as clinical practice and research. Many have published and lectured extensively and are highly regarded in their fields.
You have access to these individuals throughout your training, giving you the opportunity to learn directly from some of today's best practitioners of care management.
The faculty, with assistance from community-based resources, direct and guide your clinical learning in an integrated system of practice and education. The program coordinators are clinically experienced certified nurses with master's degrees.
As a student of Mayo Clinic School of Health Sciences, you are encouraged to learn from these valuable resources by attending all conferences, lectures, and seminars prepared for students, residents, fellows, and consulting staff.
Facilities
Mayo Clinic in Phoenix, Arizona, is a high-acuity facility specializing in cancer care. The hospital is seven-stories with 316 licensed beds with expansion of a new seven story tower scheduled to begin opening 2023.
Mayo Clinic's bone marrow transplant team is recognized internationally for its expertise in comprehensive specialty treatment for people with blood and bone marrow diseases. Mayo Clinic is one of the largest providers of bone marrow transplants in the United States.
Mayo Clinic's Comprehensive Cancer Center is designated by the National Cancer Institute as a comprehensive cancer center. This means the clinic's renowned physicians, researchers, and scientists carry out team-based, patient-centered research to develop the latest technologies and treatments to address unmet patient needs. As a result, people who come to the clinic for cancer care have access to hundreds of clinical trials in all phases.
Evaluation
Mayo Clinic School of Health Sciences uses evaluative tools that include:
Online examinations
Case presentations
Demonstration of skills
Self-assessment exercises
Faculty review
Mayo Clinic's system of evaluation provides students and faculty with a comprehensive look at individual performance. This allows faculty and administrative staff to direct students who are experiencing academic difficulty to the appropriate support resources, including tutoring programs and counseling opportunities.