Curriculum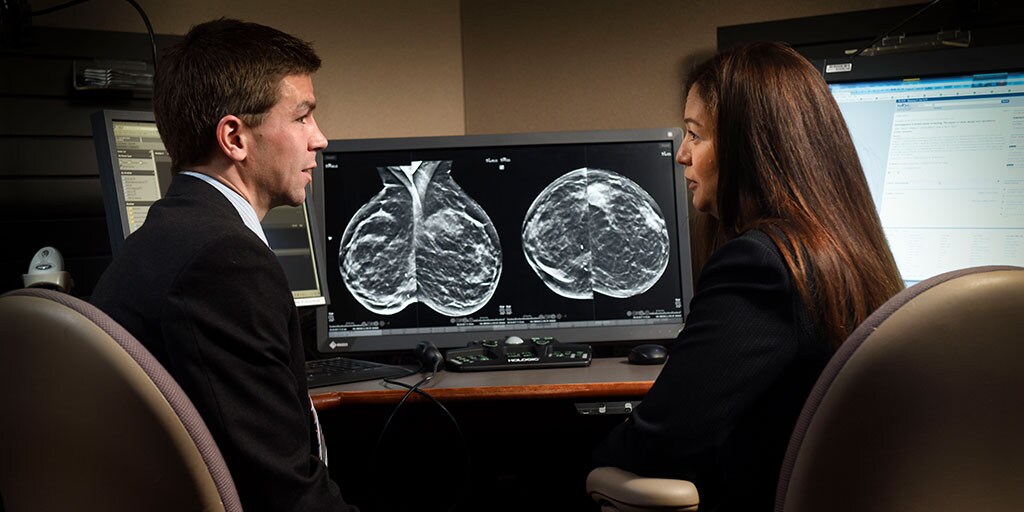 Clinical training
In order to become an excellent breast imager, learners must have access to direct patient care and one-on-one teaching at the reading workstations. Each of our fellowship rotations is designed with just that in mind.
Fellows are important members of the breast imaging team. They are tasked with evaluating each breast imaging case independently and arriving at a plan for additional imaging and/or follow-up care. Fellows present each case directly to one of our expert breast attendings who together arrive at an optimal next step in management.
Fellows are expected to interact directly with allied health staff, including breast imaging technologists and breast care nurses, as well as referring breast surgeons, oncologists and women's health clinicians.
Fellows are immediately introduced to all aspects of breast intervention and practice all techniques when on the breast intervention rotation. They perform all breast procedures, gaining independence and expertise throughout fellowship training. It is unheard of to not have gloves on day one!
Highlights of our curriculum include fundamental training that is balanced between routine breast imaging studies and advanced techniques that are often difficult to find at other breast fellowship programs.
Your clinical breast imaging time includes training in the following:
2-D and 3-D screening mammography
2-D and 3-D diagnostic mammography
Diagnostic ultrasonography
Breast MRI
Molecular breast imaging (MBI)
Contrast-enhanced digital mammography (CEDM)
2-D stereotactic biopsy
3-D stereotactic biopsy
Ultrasound-guided biopsy
MRI-guided biopsy
Radioactive seed localizations
Sentinel lymph node injections
In addition to training in breast imaging, fellows are expected to spend a minimum of two weeks following our breast care colleagues in surgery, oncology, and/or pathology. This affords fellows the opportunity to understand how our imaging interpretations affect care and management of our breast patients.
Elective opportunities
The breast imaging fellowship year is broken down into 13 four-week blocks. Fellows are given the opportunity to spend up to two of these four-week blocks in elective areas outside of breast imaging.
Rotation
Block minimum*
*Minimum number of four-week blocks required to participate in this elective area
Abdominal Radiology CT
1 block
Abdominal Radiology MRI
2 blocks
Cardiothoracic
1 block
Diagnostic ultrasound
1 block
Musculoskeletal
2 blocks
Neuroradiology
2 blocks
PET/CT and nuclear medicine
2 blocks
Ultrasound-guided procedures
2 blocks
Elective descriptions
Abdominal Radiology CT. Includes training in CT colonography, liver donor evaluation, dual-energy technique, and other advanced CT techniques.
Abdominal Radiology MRI. Abdominal, pelvic, and vascular MRI are covered.
Cardiothoracic. Routine and high-resolution CT imaging of the chest, thoracic radiography, as well as cardiac CT and MRI are included.
Diagnostic ultrasound. Includes all types of diagnostic ultrasound evaluations.
Musculoskeletal. All facets of musculoskeletal imaging and intervention.
Neuroradiology. All areas of head, neck, and spine imaging as well as fluoroscopically guided lumbar spine interventions.
PET/CT and nuclear medicine. Teaches how to interpret, set up, and administer a successful PET/CT laboratory, including understanding billing and coding issues. Depending on individual interests, training may include PET/MRI and traditional nuclear medicine studies.
Ultrasound-guided procedures. Covers targeted visceral biopsy, liver biopsy, renal biopsy, head and neck fine-needle aspiration (thyroid, lymph node, and parotid), soft tissue tumor biopsy, liver and renal ablation procedures, saline infusion sonohysterograms, radiotherapy marker placements, and pseudoaneurysm thrombin therapy, among others.
Conferences
During the Breast Imaging Fellowship, you participate in these recurring conferences:
Multidisciplinary breast conference. In this weekly conference, breast specialists representing various aspects of medicine meet to discuss patients recently diagnosed with breast cancer in order to determine the most appropriate course of treatment and imaging. Conference attendees include radiologists, surgeons, pathologists, medical oncologists, radiation oncologists, medical geneticists, nurses, physician assistants, and even the hospital chaplain.
Breast radiology-pathology conference. In this monthly conference, the breast-imaging team (radiology residents, fellows, technologists, nurses, and faculty) meet with pathology to learn imaging and pathology correlation.
Breast-imaging educational conferences. Every two weeks, the breast-imaging division hosts didactic conferences or case-based conferences for residents and fellows.
Additionally, you can participate in multiple conferences offered by the other radiology subspecialty areas.
Research training
Mayo Clinic's breast-imaging division in Arizona is actively involved in clinical research. You are expected to participate in one or more projects with the breast-imaging staff during your fellowship year.