Curriculum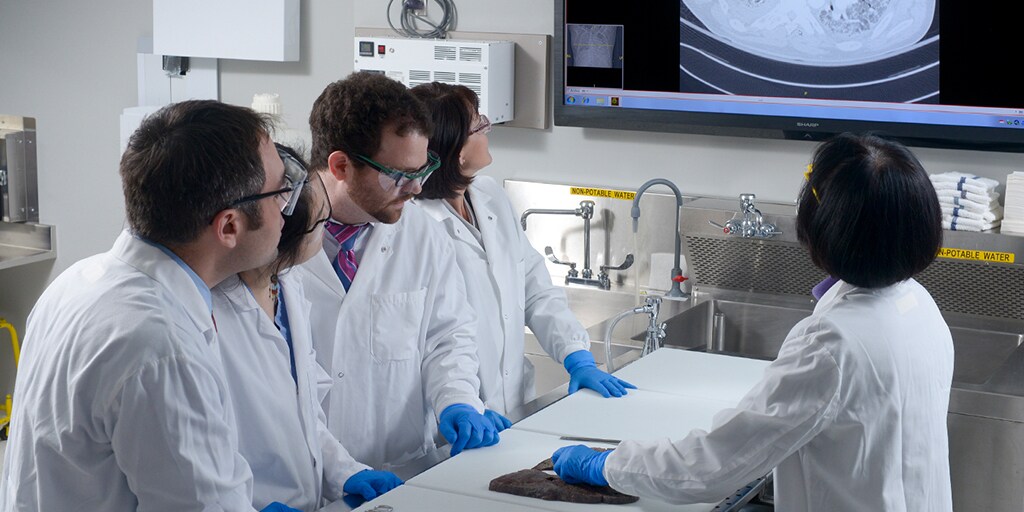 Weekly multidisciplinary gross conference where interesting specimens from the autopsy and surgical services are evaluated and correlated with clinical and radiologic findings.
Rotation schedule
This sample rotation schedule for the Cardiovascular Pathology Fellowship has 13 four-week rotations.
8 rotations (32 weeks)
2 rotations (8 weeks)
2 rotations (8 weeks)
1 rotation (4 weeks)

Cardiovascular consultation
Endomyocardial biopsy (transplant and nontransplant)
Cardiovascular surgical pathology

Autopsy — congenital heart disease
Elective and research
Molecular genetic pathology of cardiovascular disease
Rotation descriptions
Cardiovascular training
The curriculum for the Cardiovascular Pathology Fellowship consists of four-week rotations in cardiovascular surgical pathology, cardiovascular consultation, with additional exposure to transplant and nontransplant endomyocardial biopsy and with the possibility for elective time in other areas.
Autopsy training
Both forensic and hospital autopsies are performed under the direct supervision of a consultant. The autopsy service is also staffed by a laboratory supervisor, six full-time autopsy technicians and nine rotating pathology assistants. The newly renovated, state-of-the-art facilities are spacious and include two autopsy rooms, a separate gross dissection room, an X-ray room, a resident work area, digital photography equipment, storage freezers, and a unique custom-built heart-lung perfusion fixation apparatus.
You formulate a complete autopsy report incorporating all relevant clinical information, autopsy findings and supplemental studies. The autopsy rotation is an excellent rotation to learn systemic pathology, gross anatomic pathology and histopathology.
Didactic training
To supplement your "on-the-job" learning that occurs on specific rotations, you also utilize the cardiovascular pathology teaching collection, composed of both gross heart specimens and microscopic slides.
You also have the opportunity to participate in teaching activities for the Cardiovascular Unit of the Pathophysiology Course in Mayo Clinic Alix School of Medicine as well as other institutional conferences. In addition, you may spend short periods of time in the Cardiac Catheterization Laboratory and the Echocardiography Laboratory.
Research training
You participate in various research projects dealing with cardiovascular disorders from a pathology and clinical perspective.
Teaching opportunities
You have the opportunity to interact and teach medical students, allied health staff (echocardiography and histotechnology programs), residents (pathology, radiology and internal medicine), and fellows (cardiology).
Evaluation
To ensure that you acquire adequate knowledge and develop the appropriate technical skills to meet program expectations, your performance is monitored carefully during the Cardiovascular Pathology Fellowship. You are formally evaluated by supervising faculty members at the completion of each rotation and meet with the program director to review these evaluations. In addition, you regularly evaluate the faculty to confirm that your educational needs are being met.