Curriculum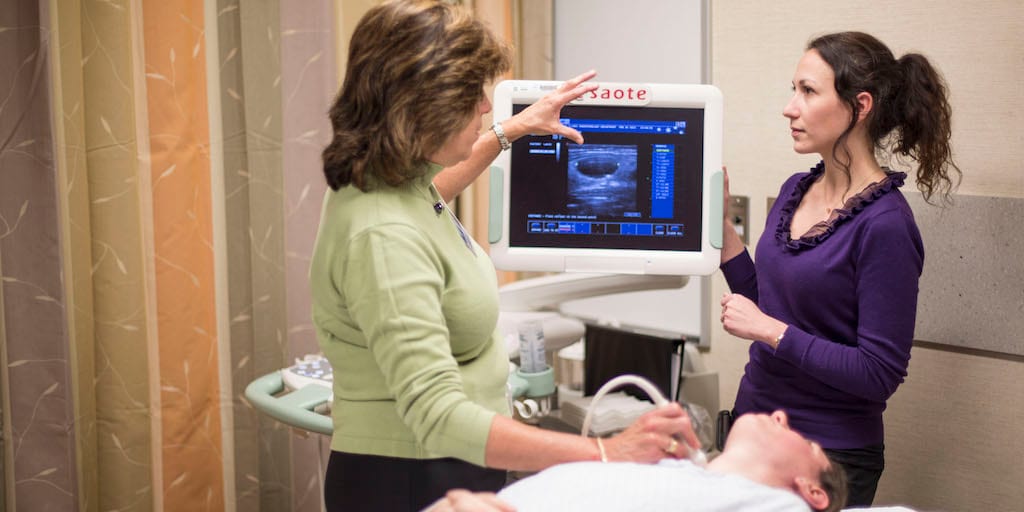 Clinical training
The curriculum for the Endocrinology Fellowship varies for the National Institutes of Health (NIH)-Sponsored Track or the Clinical Scholar Track. Importantly, the third year of training for those in the Clinical Scholar Track varies depending on their career goals. However, all clinical training includes patient care, procedures, elective rotations, didactic training, and teaching opportunities.
Rotation descriptions and highlights
Inpatient endocrine, diabetes, and nutrition consultation
For your initial rotations on the inpatient endocrinology and diabetes consulting service, you manage straightforward to complex cases of inpatient diabetes with senior fellow and faculty supervision. A large team of nurse practitioners and physician assistants manages the vast majority of inpatients with diabetes — over 5,000 consults annually — allowing you to select the most educational cases from which to learn.
You return to the hospital in the second half of the first year and again as a third-year fellow. In this role you provide consultation for a wide range of inpatient endocrine pathology, while you supervise and teach internal medicine residents learning inpatient diabetes management.
You spend two weeks on an inpatient nutrition support service (parenteral and enteral nutrition) to enhance your skills for managing metabolic disorders in the hospitalized patient.
Outpatient subspecialty clinics
During the outpatient rotations, you rotate weekly through subspecialty clinics where you focus on pragmatic and scholarly approaches to diagnostic and therapeutic endocrinology. These subspecialty clinics include:
Diabetes technology clinic
Diabetes and lipid clinic
Metabolic bone disease clinic
Pituitary, gonad, and adrenal clinic
Outpatient nutrition clinic
Thyroid clinic and thyroid nodule clinic
Transgender and intersex specialty care clinic
Transplant endocrinology clinic
Endocrine surgeons and neurosurgeons come to these clinics to speak directly with you and see your patients. You primarily see new consultations, working one-on-one with faculty who are subspecialists. You remain the primary endocrinologist for most patients for the duration of the evaluation at Mayo Clinic and may choose to continue to care for these patients in their weekly continuity clinic.
Endocrine procedures
Your training involves hands-on diagnostic thyroid ultrasound and ultrasound-guided fine-needle aspiration (FNA) supervised by thyroidologists. The thyroid nodule clinic is structured such that the final pathology is ready to be communicated to the patient the same day. You perform an average of 70 thyroid FNAs during the fellowship.
Interpretation of bone density by dual energy X-ray absorptiometry (DXA), insulin pump and continuous glucose monitor is integrated into the outpatient clinic rotations. You will readily meet requirements for competence in endocrine procedures as required for American Board of Internal Medicine (ABIM) endocrine board eligibility.
Rather than teaching by lecture, additional rotations are available that allow you to directly encounter disciplines ancillary to clinical endocrinology:
Clinical laboratory medicine
Endocrine testing center
Nuclear medicine
Thyroid FNA cytopathology
Wound care clinic (lower extremity complications of diabetes)
Elective time
Based on your career goals or to round out your clinical experiences, you may arrange to work one-on-one with faculty. You see a concentrated subspecialty patient calendar, including patients with rare disorders who are followed long term by faculty.
Elective rotations outside the division, including off-site that are aligned with career goals, are facilitated by the program. An elective rotation may include a longitudinal community-based endocrinology practice experience in the third year.
Finally, the Mayo International Health Program coordinates and provides support for you to travel to established, underserved international sites for one month.
Didactic training
Staff endocrinologists perform bedside instruction and one-on-one informal teaching as a key teaching method on all rotations. Clinical case and topical conferences and research seminars presented by fellows, small discussion groups with expert faculty, and journal clubs are integral parts of the Endocrinology Fellowship.
Workshops and lectures are used to introduce basic concepts of diabetes technology, thyroid ultrasound, communication and professionalism, quality improvement, cross-cultural medicine, medical education skills, manuscript preparation, and grant writing.
The program scheduling, curriculum, and evaluation are all managed by MedHub. Extensive electronic resources, including e-books and online journal access, are provided by the Mayo Clinic Libraries. You can expect most, if not all, of the educational resources you'll need to be provided by the program.
Conferences
In addition to conferences in the Division of Endocrinology, Diabetes, Metabolism, and Nutrition, you may find topics of special interest in the dozens of other conferences given daily at Mayo Clinic. Many of these are available as video on demand.
The division's weekly conference schedule includes:
Monday — Fellows' case discussion with an expert faculty member or monthly clinical journal club*
Tuesday — Endocrine research seminar
Wednesday — Endocrine grand rounds (morning) and medical grand rounds (noon)
Thursday — Core curriculum lecture series
Friday — Fellows' conference*
*Fellows present at these conferences.
Research training
The Division of Endocrinology, Diabetes, Metabolism, and Nutrition is known internationally for the breadth and depth of its research activities, with expertise in practically every area of these fields. As a result of our research efforts, we had more than 272 peer-reviewed articles published by faculty in 2016.
Basic science support is provided in physiology, biochemistry and molecular biology, pharmacology, microbiology, genetics, immunology, cell biology, epidemiology, statistics, and other areas. The integration of basic and clinical research into practice is one of the division's strengths.
At Mayo Clinic, your research mentor closely supervises protocol development, the conduct of the study, data analysis, presentation, and final manuscript preparation. Mayo fellows present their work at national meetings and publish two or more first-author papers.
See faculty profiles and endocrine research programs in which clinical fellows may choose to conduct research.
Teaching opportunities
You have the opportunity to lecture and facilitate small group discussions in the Mayo Clinic Alix School of Medicine endocrine physiology block. You also routinely teach internal medicine residents rotating through our inpatient consulting service and outpatient endocrine clinics.
In addition to feedback after formal conference presentations, time is blocked for you to attend a workshop on how to give effective presentations. And in addition to an annual workshop on teaching presented by experienced medical educators and education scholars, mentorship is available if you are seeking to develop a career in medical education.
Evaluation
To ensure that you achieve your greatest potential, and to meet Accreditation Council for Graduate Medical Education requirements, your progression toward competence and beyond is assessed regularly during the Endocrinology Fellowship.
In addition to informal face-to-face feedback, you are evaluated by your supervising faculty member after completing each rotation. Evaluations include direct observation using a video-camera-equipped examination room in the clinic, chart review, objective structured clinical examination (OSCE), multisource evaluations, and an in-training examination.
You meet at least semiannually with the program director to review these evaluations. Endocrinology fellows typically progress to limited supervision in the third year based on these evaluations.
In addition, you regularly evaluate the faculty to confirm that your educational needs are being met.