Curriculum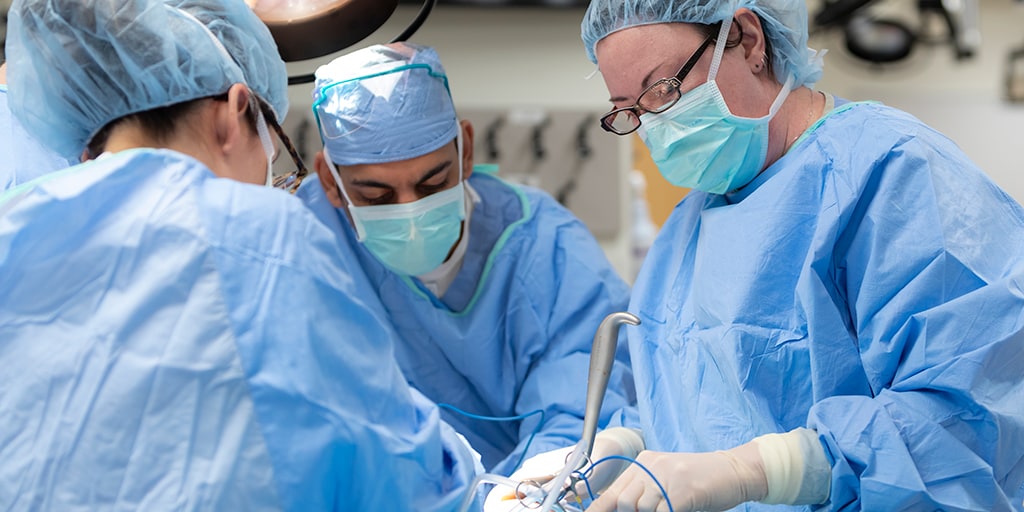 The focus of your first year of the Mayo Clinic Gynecologic Oncology Fellowship is research. This consists primarily of gynecologic-related translational science research and didactic course work taken in the context of a Master of Science degree (see Didactic Training section below). Mayo Clinic is a leader in gynecologic cancer research and maintains active federally funded research programs in endometrial and ovarian cancer research. Mayo Clinic has one of only a small number of National Cancer Institute SPORE grants in ovarian cancer.
Year 1
You will enroll in one of two master's degree programs which encompass hands on research. The traditional option has been a lab-based research year which includes a master's degree in biomedical science, gynecologic oncology.
Examples of recent fellows' research include:
Investigation of the role of microbiome in endometrial cancer
Use of patient derived xenografts to study novel targeted therapies in ovarian cancer
Testing of a novel monoclonal antibody against a cell-surface receptor in ovarian cancer
Recognizing that not all fellows have a strong interest in lab-based research training for their career development, the program now offers an alternative to the lab-based training by incorporating a Master in Clinical and Translational Research (CCaTS). This program has a strong focus on research methodology, study design, and the development and conduct of translational research. It is much more heavily focused on didactic training the first six months.
Examples of projects from recent years include:
Defining molecular characteristics of vulvar cancer and development of a prospective treatment protocol
Validation of a risk/prediction model of ovarian cancer therapy
Through this program you will tailor your training toward areas including outcomes, individualized medicine, and quality improvement which we believe is the future of clinical research for many in gynecologic oncology. Mentors for the research year are chosen from investigators actively working in gynecologic cancer. For research that is lab-based, we use dynamic labs with a strong focus on translational aspects of gynecologic cancer. Labs/mentors are selected based upon available projects and the trainee's prior interest or experience (when such experience exists).
For either tract of research, your focus is on development of a research project that is worthy of investigation, will generate a testable hypothesis, and coordination of the technology necessary to test your hypothesis. The work done during your research year is designed to serve as your thesis for your oral American Board of Obstetrics and Gynecology (ABOG) examination in gynecologic oncology and will meet all ABOG and ACGME research requirements.
In addition to the above research you will conduct during your first year, you will begin some clinical research projects carefully chosen with the fellowship director to provide mentorship and dovetail with other commitments. During the last two quarters of the first year, you will spend approximately an hour a week working with radiation oncology to learn about basic approaches and techniques in radiation therapy for gynecologic cancer.
Years 2-3
During the final two years, the focus is on clinical training in gynecologic oncology, advanced gynecologic surgical oncology, radiotherapy, and chemotherapy. Gynecologic oncology surgical rotations are organized on a quarterly schedule. You are assigned to a preceptor with a specific interest in gynecologic oncology, but you also have the opportunity to work with all of Mayo's gynecologic surgeons. You will typically develop additional clinical research during these two years under close mentorship.
Rotations
Fellows
Summer quarter
Fall quarter
Winter quarter
Spring quarter
1st year Fellow #1
Research
Research/limited Rad Onc experience
Research/limited Rad Onc experience
Research/limited Rad Onc experience
1st year Fellow #2
Research
Research/limited Rad Onc experience
Research/limited Rad Onc experience
Research/limited Rad Onc experience
2nd year Fellow #1
GYN Surgery/Med Onc
GYN Surgery*/Critical Care Service**
GYN Surgery*/Colon & Rectal Surgery
GYN Surgery*
2nd year Fellow #2
Med Onc/GYN Surgery
Critical Care Service**/ GYN Surgery*
GYN Surgery*
Colon & Rectal Surgery/GYN Surgery*
3rd year Fellow #1
GYN Surgery*
GYN Surgery*
GYN Surgery*
GYN Surgery*
3rd year Fellow #2
GYN Surgery*
GYN Surgery*
GYN Surgery*
GYN Surgery*

*Gynecologic Oncology fellows continue to see patients with a medical oncologist one afternoon every other week when they are on a GYN Surgery quarter.

**Fellows function as a junior resident when on the Critical Care Service (CCS) rotation and are responsible for having Basic Life Support (BLS) and Advanced Cardiac Life Support (ACLS) certification up to date prior to this rotation.
Clinical training
Mayo Clinic rotations typically consist of both clinical and surgical days, generally evenly divided during the week. This outline shows a typical weekly schedule:
Nonsurgical days
Hospital work rounds (a.m.)
Staff teaching rounds
Outpatient services
Chemotherapy clinic
Hospital work rounds (p.m.)
Surgical days
Hospital work rounds (a.m.)
Gynecologic surgery
Pathology and tumor board reviews
Brachytherapy (operating room insertion)
Intraoperative irradiation cases
Hospital work rounds (p.m.)
On nonsurgical days, you conduct early morning hospital work rounds at Mayo Clinic Hospital, Methodist Campus, evaluating the preoperative and postoperative status of patients and formulating management plans. You then join a consulting staff member and revisit all inpatients for teaching rounds. During these rounds, you discuss the patients' conditions and modify your management plans if necessary.
The balance of the day is spent in clinic seeing and evaluating new cancer patients and returning and postoperative patients. This includes the new and return patients to the Gynecologic Chemotherapy Unit and postoperative patients needing adjuvant treatment planning. You complete the day with final hospital work rounds.
On surgical days, you conduct early morning and late afternoon hospital work rounds as described above. You begin with a surgical team briefing at 7:30 a.m. and surgery at 7:45 a.m., working one-on-one with the staff surgeon to provide ample opportunity for learning, growing independence in surgery, and receiving daily feedback on progress.
There is an emphasis on surgical experience — including laparoscopic, robotic, and open surgical procedures — for gynecologic cancers and complex pelvic operations, including radical upper abdominal debulking of ovarian cancer. These cases also include intraoperative radiation therapy, brachytherapy, and the surgical management of complications resulting from radiotherapy.
Assignments
You will work closely with a staff gynecologic oncologist for each three-month rotation in the program. We use a mentored preceptorship model which provides the opportunity to develop a close relationship with faculty and to tailor your educational goals and enhance progress. Clinical teams always include a staff, fellow, nurse, NP/PA, and operating room personnel.
The degree of independence you have in any given case is determined by your experience and surgical expertise as well as the complexity of the surgery required to care for the patient. Overall responsibility increases commensurate with your growth during the fellowship. For example, you will function largely in the first assistant role to familiarize yourself with advanced retroperitoneal and upper abdominal anatomy as well as Mayo Clinic's approach and techniques relevant to gynecologic oncology. This transitions naturally such that the expectation is that by the last six months of training, you will be able to function as surgeon in most cases. This same process should also occur in the outpatient and inpatient settings. We utilize cadaver and procedural labs (see below) as a critical adjunct to clinical teaching to learn anatomy and rapidly allow you to progress as a surgeon. These labs also allow you and faculty to track progressive independence and competency.
In addition to oncology procedures, the staff gynecologic oncologists at Mayo Clinic perform some complex benign surgery, as will most gynecologic oncologists in practice, so you are exposed to many different types of gynecologic procedures during your assignments. These include:
Rectovaginal, vesicovaginal and colovaginal fistulas
Vaginal and perineal reconstructive procedures
Vaginal hysterectomies
Emergent cesarean hysterectomy for abnormal placentation (percreta)
Didactic training
As noted above, you are required to complete either the Master of Biomedical Science degree program through Mayo Clinic Graduate School of Biomedical Sciences or the Center for Clinical and Translational Science (CcaTS) master's degree program. Didactic courses in areas including biostatistics, research protocol development, and pelvic anatomy are completed during the first year of training and are required for the fellowship. Advanced anatomy courses in retroperitoneal and upper abdominal anatomy are completed during the two clinical years. A written thesis and oral thesis defense along with a written examination are required to complete the master's program.
You attend at minimum one annual meeting of the Society of Gynecologic Oncology (SGO) while you are in this training program and one meeting of NRG Oncology (formerly Gynecologic Oncology Group), a cooperative group. These occur irrespective of whether you have a presentation or not. In addition, you are strongly encouraged to develop research abstracts for presentation at national meetings. The fellowship program will reimburse expenses up to Mayo Clinic School of Graduate Medical Education (MCSGME) policy limits for you to present this research; we anticipate that most fellows will present research annually. During the past year, fellows have presented at all major meetings in gynecologic cancer including Society of Gynecologic Oncology (SGO), Western Association of Gynecologic Oncologists (WAGO), American Association for Cancer Research (AACR), International Gynecologic Cancer Society (IGCS).
Unique training experiences
Consistent with our focus on surgical experience, we utilize several unique training formats to increase the surgical skills of our fellows. These include annual training in pelvic and upper abdominal anatomy and fresh (non-embalmed) procedure-based cadaver labs for our fellows. These consist of one-on-one dissection with the fellowship director and one other faculty member.
The first lab occurs just prior to entering clinical training and is focused on learning relevant anatomy and procedures. Subsequent labs (two or three) are designed to be evaluative labs where the fellow operates with one assistant and one scrub nurse to perform mock procedures relevant to complex gynecologic oncology surgery.
The fellow is independently evaluated by two faculty and given feedback and areas to focus on for improvement during the subsequent surgical rotations. Faculty and fellows find these incredibly helpful to assess training and help to identify areas of mastery and areas in need of additional cognitive or procedural development. It is expected that fellows will achieve mastery by the completion of the program.
Additionally, a robotic nerve-sparing hysterectomy lab is conducted using fresh cadaver for the fellows. This allows a detailed review of the procedure using videotapes and lecture culminating in a hands-on cadaver lab to allow the fellows to independently perform the procedure with faculty assistance.
All fellows complete a didactic and hands-on training program in both standard laparoscopy and robotic-assisted laparoscopy (including use of the virtual trainer) prior to beginning the clinical rotations.
Conferences
The complete conference, seminar and lecture schedule at Mayo Clinic includes approximately 100 presentations or discussions each week. While staff, fellows, and residents are encouraged to attend as many of these as appropriate, it must be balanced with their commitments to course work, patient care, research, family life, and outside interests.
You are required to attend these conferences:
Gynecologic Oncology Multidisciplinary Conference (weekly)
Department of Obstetrics and Gynecology Grand Rounds (weekly)
Gynecologic Oncology Tumor Board (weekly)
Gynecologic Oncology Fellowship Conference (weekly)
The Gynecologic Oncology Fellowship Didactic conference is a cornerstone of your education and occurs weekly throughout the three-year training. The curriculum has evolved in an iterative process to enhance your education, develop the necessary skills for life-long learning and an evidence-based approach to gynecologic cancer. We currently use a Problem Based Learning format (PBL). This allows a focused lecture on a specific topic to be followed with specific case-based assignments for the subsequent week. Fellows work alone or in teams and the following week's session is spent with faculty, reviewing best care with a strong focus on the evidence supporting this care. This type of curriculum is literally ground breaking in gynecologic oncology fellowship training and we have spent considerable effort to develop it. We firmly believe this is a superior approach to traditional pure lecture or small group discussion formats.
Tumor Board is an opportunity for the fellows to lead the multidisciplinary development of treatment plans. The team includes radiologists, pathologists, surgical and medical oncologists and radiation oncologists. Fellows call upon evidence from the literature and expert opinion from the participants. This allows firm rooting in the basis for development of comprehensive treatment plans using best evidence.
Experts in gynecologic oncology visit Mayo Clinic on a regular basis for named lectureships, Oncology Society Lectures and department grand rounds. Fellows are encouraged and provided time to interact with these national and international experts. Recent visitors have included:
Javier Magrina, M.D., Mayo Clinic in Arizona
Richard Barakat, M.D., Memorial Sloan-Kettering Medical Center, New York
Shingo Fujii, M.D., Ph.D. – Tazuke Kofukai Foundation, Medical Research Institution, Kitano Hospital, Osaka, Japan
David Cohn, M.D. – The Ohio State University College of Medicine, Cleveland
Edward Partridge, M.D. – University of Alabama-Birmingham
You present several formal lectures throughout the academic year to groups within the department and at interdepartmental meetings. For example, you are responsible for selecting timely cases and leading tumor board and quality and safety conferences that include representatives from gynecologic pathology, therapeutic radiology, medical oncology, and gynecologic oncology.
You may receive requests from other departments to present lectures about pertinent issues in gynecologic oncology. You are encouraged to accept these invitations. Additionally, fellows have the opportunity to participate in didactic teaching for medical students and residents in obstetrics and gynecology.
Learn more about the Gynecologic Oncology Fellowship competency-based goals.