Curriculum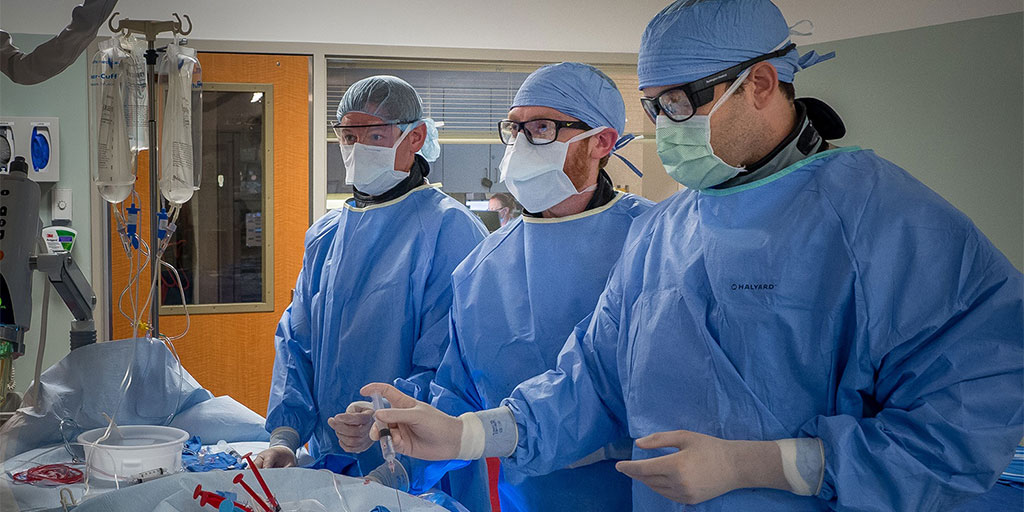 Clinical training
During the Interventional Radiology Integrated Residency, clinical training covers all subspecialty areas of diagnostic radiology. You participate in radiologic examinations, interpretations and interventional procedures while on rotations in every subspecialty.
Rotation schedule
Each PGY year is separated into 13 four-week rotations. See a full five-year rotation block diagram.
PGY-2, PGY-3 and PGY-4. Thirty rotations of diagnostic radiology experience are provided during the PGY-2 through PGY-4 years. Eight rotations are focused on interventional radiology, research and elective time. An additional rotation block is reserved for participation in the American Institute for Radiologic Pathology (AIRP) course in Silver Springs, Maryland.
PGY-5. Ten rotations of fellow-level interventional training are provided. A single rotation is spent in the intensive care unit, as required by Accreditation Council for Graduate Medical Education (ACGME) guidelines. The additional two rotations in PGY-5 are reserved to maintain American Board of Radiology (ABR) requirements for mammography and nuclear medicine.
PGY-6. This is a clinical year similar to that of prior fellowship education and includes time spent in vascular surgery, as well as a trauma rotation at University of Florida Health, Jacksonville.
Call frequency
Your call schedule is different for each rotation. Mayo Clinic follows the recommendations of the Accreditation Council for Graduate Medical Education.
Didactic training
Clinical conferences, formal courses, seminars, small discussion groups, journal clubs and one-on-one instruction are all integral parts of the Interventional Radiology Integrated Residency.
Didactic opportunities include:
Introductory course for PGY-1 residents
Noon didactic and case conferences (five days a week) given by residents, staff and visiting professors, with an additional Friday morning case conference weekly
Physics and radiobiology course
American Institute for Radiologic Pathology course
Faculty-assisted research seminars
Multiple weekly and monthly subspecialty multidisciplinary conferences
Board review course
Diagnostic radiology library (American College of Radiology and Mayo Clinic teaching files, texts, periodicals and electronic educational media) with interactive study stations
Physics education
There are several components to the physics education program for residents:
Imaging and radiation safety orientation. A course that presents basic principles of each imaging modality and radiation safety.
Radiologic physics course. A course covering radiation physics, diagnostic imaging, radiation biology and radiation protection. The Department of Radiology's faculty medical physicists teach the course.
Physics board review. A series of interactive review sessions offered to residents prior to taking the American Board of Radiology Core Exam.
Informal physics consultation. The Department of Radiology's medical physicists are available to residents for consultation and assistance regarding topics such as clinical imaging principles, research project design and implementation, and radiation safety issues.
Radiology Teaching File and library
The Mayo Clinic Radiology Teaching File contains pathologically proven cases that are worked up, researched and entered into the permanent file for resident education. The American College of Radiology teaching file is included as part of the electronic teaching file system. The department's library contains computers for residents and fellows, proprietary database search software, extensive audiovisual materials, and a large collection of pertinent journals and textbooks.
Conferences
PGY-2 to PGY-4 interventional radiology residents attend the:
7 a.m. conference on Monday, Tuesday, and Friday
Daily noon conference
Diagnostic radiology resident conference: residents prepare and present three to four didactic lectures for this conference
PGY-5 and PGY-6 residents attend the:
Monthly Monday 7 a.m. morbidity and mortality conferences.
Hepatobiliary oncology conference, which is the critical conference to discuss and plan oncologic therapies for the hepatobiliary system. Interventional radiology residents present imaging findings to the multidisciplinary team and participate in discussion and recommendation as experience allows.
Dialysis access conference and prepare cases for presentation. Nephrology and vascular surgery staff and residents also attend this conference. The interventional radiology resident's experience is multidisciplinary.
PGY-5 and PGY-6 residents may also attend the Thursday morning pulmonary tumor board conference.
Research training
All interventional radiology residents are required to present two seminar projects during their residencies. Seminar projects are focused on topics of their choice. The seminar is a 30-minute lecture and presentation prepared under the direction of a consulting staff adviser.
These seminars usually are based on a review of Mayo Clinic's experience with a particular disease or the investigation of a new technology as it relates to a particular problem. Recent seminar topics have included:
Accuracy of enhanced MRI in detection of recurrent lumbar disks
Diagnosis of pulmonary embolism by fast CT
Hepatic cavernous hemangioma: Re-evaluation of CT criteria
Magnetic resonance flow measurements to screen for chronic mesenteric ischemia
Intraoperative ultrasound after carotid endarterectomy
You also participate in additional research projects and are expected to have at least one publication or presentation during their training. In addition, you participate in a practice quality improvement project.
Teaching opportunities
You have the opportunity to teach Mayo Clinic Alix School of Medicine students, visiting students from other medical schools, junior residents, and other residents spending elective time in diagnostic and interventional radiology.
The interventional and diagnostic radiology rotations are highly collaborative in nature and interaction between residents is both encouraged and facilitated. There is ample opportunity to impart knowledge and teaching on more junior residents on service.
Specific teaching opportunities include discussing cases from the Radiology Teaching File, assisting with daily assignments in film interpretation and instruction of minor procedures pending completion of procedural competencies.
Evaluation
To ensure that you acquire adequate knowledge and develop the appropriate technical skills to meet program expectations, your performance is monitored carefully during the Interventional Radiology Integrated Residency. You are formally evaluated by supervising faculty members after each clinical rotation and meet with the program director to review these evaluations. In addition, you regularly evaluate the faculty to confirm that your educational needs are being met.
The Department of Radiology's program evaluation committee continually monitors the Interventional Radiology Integrated Residency. Elected junior and senior resident representatives are active members of this committee.