Curriculum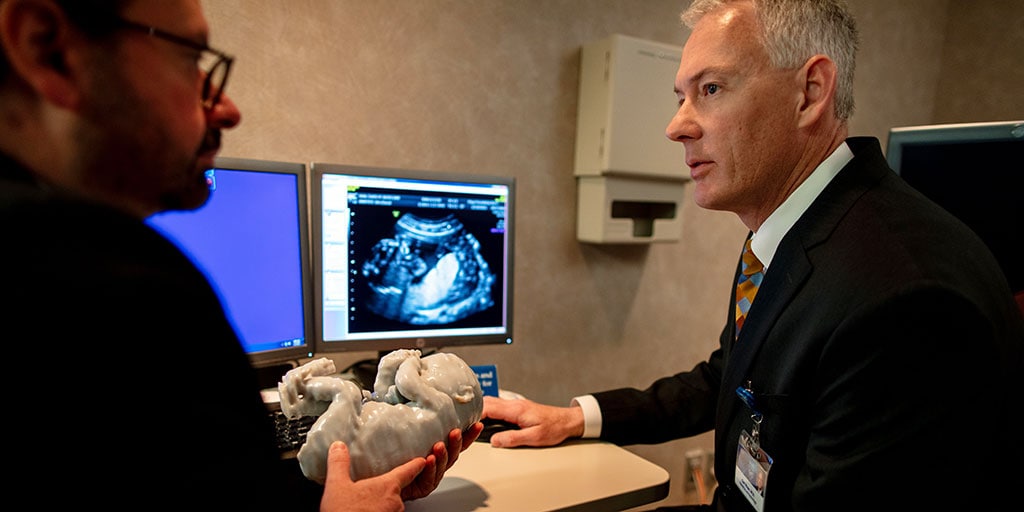 Year one
Year two
Year three
During the first year of the Maternal Fetal Medicine Fellowship, your initial five months are spent on the specialty service so that you can get to know the Mayo Clinic obstetrical staff and gain proficiency using the electronic medical record system.
You also spend time on the antepartum service, maternal fetal medicine (MFM) consultative service, and in the ultrasound unit. Mayo Clinic has five high-end sonography machines, with one ultrasound room dedicated to education. You care for your own ultrasound patients and learn to perform an efficient and thorough targeted scan, including fetal echocardiography.
You spend five months initiating your research project. During your research time throughout your three years of training, you spend a half day a week performing ultrasounds or high-risk consults to maintain your skills.
During the second year of the fellowship, you have a three-month block on the maternal fetal medicine service, as well as genetics and labor and delivery rotation blocks and a six-month block of research time.
Your third year of the fellowship is spent finalizing your research, completing elective rotations, as well as completing your final labor and delivery rotation block and final MFM clinical rotation blocks.
Elective rotations may include:
Adult congenital cardiac
Fetal therapy
Neonatal intensive care unit
Pediatric cardiology
Obstetric anesthesia
During the clinical maternal fetal medicine block rotations, you gain hands-on experience in evaluating, diagnosing and managing a wide variety of maternal and fetal problems encountered during pregnancy.
Call frequency
In-house and maternal fetal medicine call is rotated with the staff consultants. Call is via pager (home call) and is generally taken for one week out of every four with a maternal fetal medicine staff physician as your backup.
In-house call is for obstetric-maternal fetal medicine patients and occurs approximately two times a month on average. Mayo Clinic follows the recommendations of the Accreditation Council for Graduate Medical Education (ACGME).
Moonlighting
You may moonlight with program director approval. Moonlighting should not interfere with the required learning and must not violate the work-hour rules of the Accreditation Council for Graduate Medical Education (ACGME) or visa regulations.
Didactic training
A master's degree in clinical and translational science is offered through a collaboration with Mayo Clinic's Center for Clinical and Translational Science (CCaTS) and is highly recommended. This program prepares you for a career in research through intensive studies in research design, execution and analysis.
Students must complete 24 credits, which are approved by the CCaTS Postdoctoral Programs Executive Committee with a minimum GPA of 3.0 (on a 4.0 scale) as required by Mayo Clinic Graduate School of Biomedical Sciences.
The curriculum consists of 16 required credits and eight elective credits from either the Clinical and Translational Science Course (CTSC) electives or any other course listed in the catalog.
Elective courses outside the CTSC discipline need approval by the CCaTS Postdoctoral Programs Executive Committee. At least one-half of the credits taken and included in the degree program must be graded under the A-F system. It is expected that a minimum of one year is devoted to research.
The course schedule for your degree is outlined in the core curriculum schedule for the fellowship.
Research training
In addition to the master's degree in clinical and translational science, if you have a desire to pursue basic science research, we offer several opportunities both within and outside our department. Department of Obstetrics and Gynecology basic science researchers have been focusing on placental endocrinology and invasiveness using a variety of markers particularly as related to preeclampsia.
Members of our department have been remarkably active in giving four to five presentations yearly at major association meetings — for example, Society for Maternal-Fetal Medicine, American Institute of Ultrasound in Medicine, Society for Reproductive Investigation, Society for Obstetric Anesthesia and Perinatology, Association of Professors of Gynecology and Obstetrics, and Council on Resident Education in Obstetrics and Gynecology.
Whether you are pursuing clinical, animal or basic science research, the goal is to provide an organized approach — developing a research question, generating a hypothesis and identifying the necessary technology to test your hypothesis. Generally, several manuscripts are expected during the course of your three-year fellowship.
Teaching opportunities
You have opportunities to teach Mayo Clinic Alix School of Medicine students, obstetrics and gynecology residents, and visiting students from other medical schools through bedside instruction and formal didactic lectures.
Evaluation
To ensure that you acquire adequate knowledge and develop the appropriate technical skills to meet program expectations, your performance is monitored carefully during the Maternal Fetal Medicine Fellowship. You are formally evaluated by supervising faculty members on a quarterly basis and meet with the program director to review these evaluations. In addition, you regularly evaluate the faculty to confirm that your educational needs are being met.