Curriculum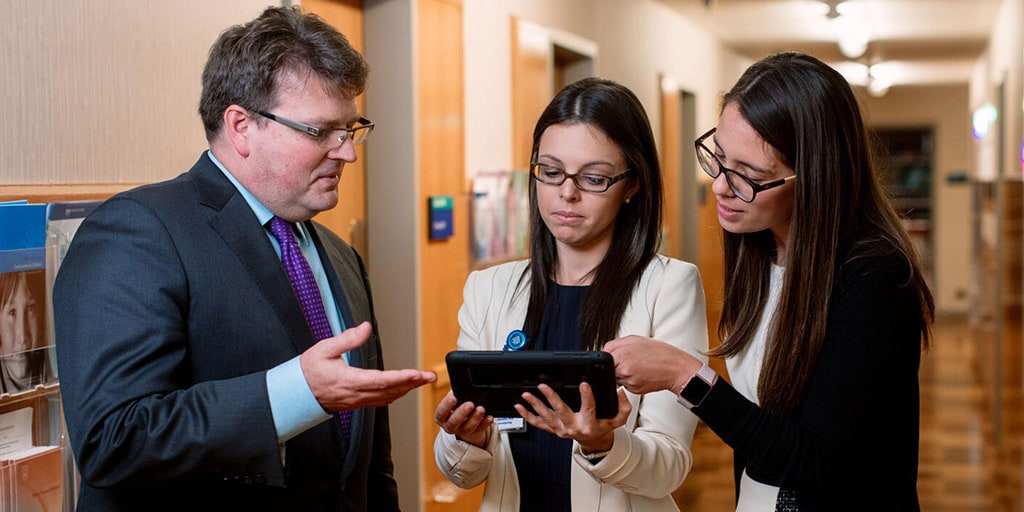 Clinical training
The Pediatric Gastroenterology Fellowship provides you with extensive clinical experience in general pediatric gastroenterology in both inpatient and outpatient ambulatory settings. Training in a variety of endoscopic procedures, as well as other diagnostic and therapeutic techniques, also is included. Length of research time depends on whether you choose the Clinical Scholar Track or the National Institutes of Health (NIH)-Sponsored Track.
Patient care
During the inpatient service, we serve as a consult service to our pediatric colleagues at Mayo Clinic Hospital — Rochester, Saint Marys Campus. Requests typically come from the general floor, Pediatric Hematology/Oncology, Neonatal ICU, Pediatric ICU, and coronary care unit, but may also come from our physical medicine and rehabilitation unit, Newborn Nursery, and psychiatric unit.
You participate in the postoperative management of patients who have had a liver transplant. You serve as a first assistant to the staff and learn how to manage many types of cases, from the straightforward to the complex. Procedures are performed on hospitalized patients.
During the progression of the Pediatric Gastroenterology Fellowship, you are expected to serve in a junior faculty-type role, directly supervising and guiding medical residents rotating on the team, together with the staff physician.
During the outpatient department rotation, you rotate through our subspecialty clinics — aerodigestive, celiac, liver and liver transplant, and inflammatory bowel disease (IBD) — where you work directly with expert staff gastroenterologists. In the outpatient practice, the same focus on pragmatic and scholarly approaches to diagnostic and therapeutic gastrointestinal problems exists. In all rotations, you work directly with a supervising staff gastroenterologist. Additional rotations include pathology, radiology, and nutrition.
Trainees are enrolled in several classes to enhance communication skills. You use the Mayo Clinic Multidisciplinary Simulation Center to practice scenarios unique to the care of our patients with complex gastrointestinal and liver diseases.
Procedures
All procedures are performed under the direct supervision of Mayo Clinic staff gastroenterologists. Procedural training includes upper endoscopy, esophageal dilation, variceal banding, esophageal pH readings, and colonoscopy.
Through collaboration with our adult gastroenterology colleagues, the endoscopic experience includes exposure to electrocoagulation, hemoclip application, variceal banding and various stenting procedures, endoscopic retrograde cholangiopancreatography, and endoscopic ultrasound. You also have opportunities to learn about gastrointestinal motility, the dynamic assessment of pancreatic, hepatobiliary and gastrointestinal function, and other procedures.
Didactic training
Clinical conferences, journal clubs and formal coursework in the Center for Clinical and Translational Science, as well as one-on-one instruction, are integral parts of the Pediatric Gastroenterology Fellowship. You work one-on-one with staff gastroenterologists during all aspects of your training. Bedside instruction and other informal teaching methods also are part of the fellowship.
Conferences
A variety of conferences are held each week. A core curriculum is given early each academic year, and you are enrolled in formal coursework in the Center for Clinical and Translational Science. The Division of Pediatric Gastroenterology and Hepatology holds a weekly conference, as do the Pediatric Inflammatory Bowel Disease Interest Group and Aerodigestive Interest Group.
You may also find topics of special interest in other conferences sponsored by the Department of Pediatric and Adolescent Medicine, Division of Gastroenterology and Hepatology, and Department of Clinical Genomics.
On a monthly basis, we have a combined pediatric gastroenterology, surgery, and radiology conference that highlights challenging cases in a multidisciplinary fashion. Each month, you also attend a pediatric subspecialty conference focusing on aspects of improving communication and presentation skills, ethics, and aspects of pediatric research.
The weekly schedule may include:
Monday
Pediatric gastroenterology didactic conference*
Gastroenterology and Hepatology Grand Rounds
Tuesday
Pediatric IBD Interest Group*
Wednesday
Celiac Interest Group
IBD Interest Group
Liver transplant selection conference
Thursday
Liver pathology conference
Pediatric residency noon conference
Gastroenterology and Hepatology Grand Rounds
Friday
Pediatric Grand Rounds
Pediatric gastroenterology sign out
Hepatobiliary Interest Group
*Fellows make presentations at these conferences.
Research training
The research experience is typically 12 to 18 months in the Clinical Scholar Track and is 24 months in the NIH-Sponsored Track.
At Mayo Clinic, research mentors closely supervise protocol development, the conduct of the study, data analysis, and final manuscript preparation. Our division's statistician is available to review methodology and statistical considerations. Our fellows have been successful in publishing at least one first-authored manuscript and have typically presented several posters at national meetings.
If you are interested in clinical research, you have the opportunity to obtain a diploma or master's degree through the Center for Clinical and Translational Science. The curriculum includes protocol development, epidemiology, statistics, ethics in pediatric research, survey development, and much more. The Rochester Epidemiology Project provides opportunities for population-based research, as does our involvement in national IBD registries.
Those pursuing an NIH-funded independent research career are mentored by an NIH-funded basic or translational mentor through collaboration with our adult gastroenterology or pediatric subspecialty colleagues.
Some major areas of research include:
Celiac disease
Eosinophilic esophagitis
Chronic liver disease
Enteric neuroscience
Fecal microbial transplant
Inflammatory bowel disease
Current new initiatives include epigenetics, microbial ecology, proteomics and genomics, and obesity.
Teaching opportunities
You have the opportunity to teach Mayo Clinic Alix School of Medicine students and pediatric residents through bedside instruction and formal didactic lectures. At the beginning of the Pediatric Gastroenterology Fellowship, you are taught how to give effective presentations, and feedback is provided after most presentations.
Evaluation
To ensure that you acquire adequate knowledge and develop the appropriate technical skills to meet program expectations, your performance is monitored carefully during the program. You are formally evaluated by supervising faculty members after each clinical rotation. The Clinical Competency Committee meets every six months to evaluate each fellow as well as the fellowship program.
The program director reviews these evaluations and meets with the fellows regularly. The Scholarly Oversight Committee meets with the fellows and their research mentors to ensure fellows receive the appropriate research training and successfully complete the required peer-reviewed manuscript to be able to take the pediatric gastroenterology subsection of the American Board of Pediatrics. In addition, you regularly evaluate the faculty to confirm that your educational needs are being met.
Call frequency
No in-house call is required on any rotation. During the three-year fellowship, you have three and a half months of home call and six months when you need to be available by pager at night for infrequent questions by residents or teams requesting consultations. Mayo Clinic College of Medicine and Science follows the recommendations of the Accreditation Council for Graduate Medical Education (ACGME).
NIH-sponsored track
If you are interested in a career with an even greater emphasis on medical research, a 3.5-year track is offered. The National Institutes of Health (NIH)-Sponsored Track prepares you for an independent investigation career in academic gastroenterology.
Through the ongoing Digestive Diseases, Multidisciplinary Training grant at Mayo Clinic's campus in Rochester, Minnesota, the NIH funds two-year projects in clinical and bench research. This allows you to pursue a focused research experience within digestive diseases, broadly encompassing projects relative to cell biology, molecular biology, physiology, or human investigations.
The overall objective of the NIH-Sponsored Track is to train highly qualified individuals for independent academic careers in research in the enteric and hepatic sciences. Mayo Clinic uses a multidisciplinary integrated approach involving faculty representatives from clinical and basic disciplines.
This track, therefore, combines 24 months of dedicated research experience with 18 months of clinical training. Within this track, you may participate in patient-oriented research projects and obtain a clinical research master's degree or perform disease-oriented, laboratory-based investigation. Opportunities exist to work with faculty investigators from the Division of Gastroenterology and Hepatology, the Department of Pediatric and Adolescent Medicine, or from other areas of Mayo Clinic.
NIH research training
The primary objective of this NIH-Sponsored Track is to better prepare you to function as an independent research investigator. Since the awarding of the initial training grant in enteric sciences to Mayo Clinic in 1966, the objective of this track has been to provide in-depth research training to qualified individuals to prepare them for independent academic careers.
You are introduced to a large number of investigative techniques, which you are expected to understand, master, and apply to your particular project under the close supervision of an established investigator and in conjunction with experienced research technicians and other research fellows supported by other sources. Independence is encouraged, creativity fostered, and emphasis given to a total research experience.
Although there have been modifications in faculty and facilities during the 40 years in which this training program has existed, the objective and general approach articulated above have remained unchanged.
Indeed, the soundness of this approach is supported by these general points:
Nearly 75 percent of individuals who completed training in this track in the past 10 years hold full-time faculty positions at universities or medical schools.
Many of these individuals have gone on to achieve prominence in academic gastroenterology, as evidenced by memberships on national or international committees, election to prestigious societies, and positions as directors of academic divisions or departments.