Curriculum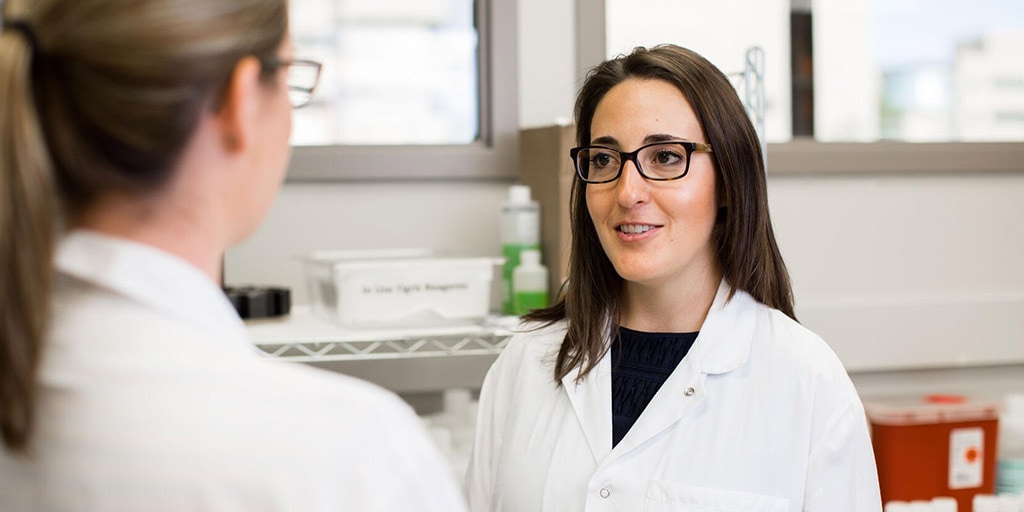 Clinical training
The majority of your first year is spent in clinical activities, including the inpatient and outpatient care of infectious diseases in children with complex medical and surgical problems. You provide care for many children with cancer or those undergoing stem cell or solid-organ transplantation, such as heart, liver, and kidney transplants.
You also rotate through the Olmsted County Tuberculosis Clinic, travel clinic, and the HIV clinic. In addition, two months during the first year is spent in the clinical microbiology laboratory.
During all months, you will have a one-half day per week community clinic in the outpatient setting.
Rotation schedule
A typical rotation schedule for the three years includes:
| Rotation | Length |
| --- | --- |
| Clinical microbiology course | 2 months |
| Pediatric infectious diseases hospital service | 8 months |
| Pediatric infectious diseases outpatient clinic | 3 months |
| Antimicrobial stewardship/Infection prevention and control/Public health | 1 month |
| Research | 18-24 months |
| Electives | 4 months |
Electives
Elective time is available for additional training in:
Travel and tropical medicine
Microbiology
Adult infectious diseases
Transplant infectious diseases
Orthopedic infectious diseases
Off-campus clinical rotations
Molecular biology course
Didactic training
Mayo Clinic's Pediatric Infectious Diseases Fellowship has an extensive didactic training program that includes:
Core curriculum lecture series during the first several months of fellowship
Weekly clinical case conference involving current patients on the pediatric infectious diseases hospital service
Weekly case conference held jointly with the adult infectious diseases service
Weekly core curriculum for transplants
Weekly Pediatric Grand Rounds
Monthly Infection and Immunity Club dinner meeting with renowned invited speakers
Monthly global health lecture series "Travel the World"
Monthly pediatric subspecialty fellowship lecture series
Monthly primary immunodeficiency conference
Quarterly pediatric infectious diseases journal club
See the sample conference schedule to view a list of lecture series, case conferences, and other educational sessions available for fellows.
In addition, the three-day St. Jude/Pediatric Infectious Disease Society (PIDS) Transplant and Immunocompromised Hosts symposium and Research Conference is required once during the fellowship. The Pediatric HIV/AIDS training course is also required once during the fellowship.
There are also various certifications provided through the CDC and SHEA which are also required.
Research training
At Mayo Clinic, we believe research experience is integral to the training of an academic pediatric infectious diseases specialist.
The Mayo Clinic Graduate School of Biomedical Sciences course Principles and Practices of Pediatric Research meets for one hour every other week from January to June. This course is required for first-year pediatric infectious diseases fellows to prepare them for their research years.
You have the opportunity to choose between two tracks:
Patient-oriented or epidemiologic research. If you are interested in patient-oriented or epidemiologic research, you are encouraged to complete a postdoctoral master's degree through the Center for Clinical and Translational Science (CCaTS). Epidemiologic research has focused on community-acquired respiratory infections, nosocomial infections (including Clostridium difficile), and tuberculosis.
Laboratory-based research. If you are interested in laboratory-based research, you can choose a mentor based on your particular research interests. Major areas of laboratory-based research include molecular determinants of HIV disease progression, genetic determinants of immune response to vaccines, and the development of new diagnostic microbiologic tests.
Your research will lead to the development of a presentation at a national meeting and the preparation of a manuscript for publication in a peer-reviewed journal. This qualifies you to sit for the Subboard of Pediatric Infectious Diseases examination through the American Board of Pediatrics.
Call frequency
Fellows take call from home on the evenings and weekends that they are assigned to the hospital service. Fellows take call one weekend a month during their second and third years when not on hospital service.
Teaching opportunities
Fellows have ample opportunities for teaching pediatric care residents and medical students in the clinical setting. As a fellow, you will lead the Antibiotic of the Month lecture series for pediatric residents. You also participate in morning report and the weekly chief's conference while on hospital service. In addition, you are assigned to give one noontime lecture to the pediatric residents and one adult ID Case & Research conference yearly.
During the third year, fellows present their research at Pediatric Grand Rounds and a research conference.
Evaluation
At the end of each rotation, faculty members complete written evaluations for each fellow. Faculty members are encouraged to discuss these evaluations directly with the fellow. Fellows meet informally with the program director each month to monitor progress and discuss any programmatic issues of interest.
In addition, fellows meet with the program director twice yearly in a more formal meeting to go over faculty evaluations, review short-term and long-term goals, and address any areas of concern that the fellow or program director may have. The fellow meets on the same frequency with their research mentor to discuss the progress of the research project.