Department and Faculty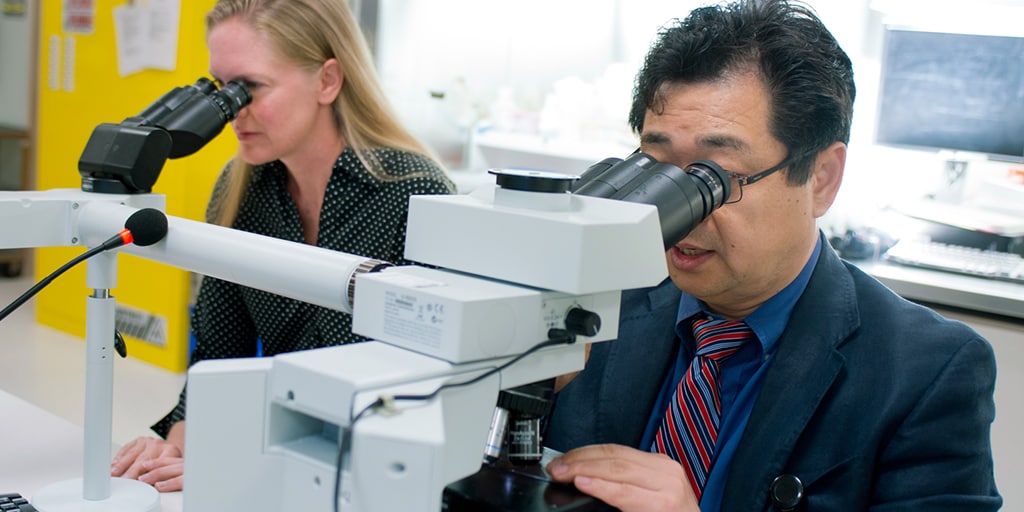 The Department of Laboratory Medicine and Pathology at Mayo Clinic in Jacksonville, Florida, actively supports the lung, gastrointestinal, esophageal, bowel, hepatology, breast, heart, hepatobiliary, and kidney subspecialties with pathology services and educational programs.
The hospital surgical pathology practice at Mayo Clinic uses a frozen section for diagnosis intraoperatively as well as heavy biopsy service, including transplant biopsies from lungs, kidneys, hearts, and livers. A busy consult service also is part of the department workload.
Faculty
Mayo Clinic's Department of Laboratory Medicine and Pathology in Florida has 13 surgical pathologists with subspecialty expertise covering many areas of pathology. Many of these pathologists have their own subspecialty areas such as breast, gastrointestinal, and lung. You have direct access to these individuals throughout the Surgical Pathology Fellowship.
From the director
It is with great enthusiasm that I welcome you to the Surgical Pathology Fellowship. Our program is relatively new, as we have had five fellows in the past five years. We are excited to share great cases with our fellows each year.
We have a wonderful team of experienced surgical pathologists with various subspecialty backgrounds, over 36,700 annual surgical pathology accessions, a wide variety of frozen sections, and over 3,000 consultation cases. As a fellow, you will be provided with an outstanding year of additional training in surgical pathology.
I have been at Mayo Clinic's campus in Jacksonville, Florida, for nearly 12 years and have appreciated the teamwork, not only in our department, but also throughout the institution. Our collaboration with Mayo Clinic campuses in Phoenix/Scottsdale, Arizona, and Rochester, Minnesota, only serves to enhance our experience. We all strive to incorporate the principles that were started by the Mayo brothers.
In addition to the various subspecialty areas that we offer, you will have the opportunity to teach residents and ancillary personnel, not only in pathology, but also in other specialties. We offer many weekly and monthly conferences in which you will play an integral part. Several of our surgical pathologists are involved in research in which you can participate as well.
We look forward to working with you and watching you become independent and a more mature pathologist as you navigate the journey through the fellowship.
Cherise Cortese, M.D.
Surgical Pathology Fellowship Director
Mayo Clinic in Jacksonville, Florida
Visiting professors
Many prominent professors visit Mayo Clinic each year. They present their work during lectures, participate in hospital rounds, and have informal discussions with trainees. You are encouraged to take full advantage of these educational opportunities.