Jennifer M. Boland Froemming, M.D.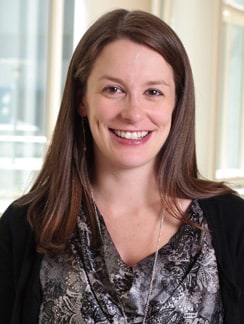 What attracted you to pathology?
I wasn't sure what specialty I would choose when I went to medical school. I loved my pathology course work second year, so I tried a surgical pathology elective during my clinical rotations and soon I was hooked. Each case is a new challenge. The pathologist has the unique ability to integrate the information gained from gross and histologic examination of the tissue with clinical and radiographic findings to arrive at a diagnosis. Surprises happen every day, and the pathologist is truly a key part of the health care team, helping to guide patient care management. I love my job and have never regretted my decision to specialize in pathology.
What attracted you to Mayo Clinic for fellowship training?
I completed my residency at Mayo Clinic and had no doubt from early on that I wanted to continue with the Mayo Surgical Pathology Fellowship. The unique collaborative and patient-centered culture at Mayo makes it a joy to come to work every day. I knew I would see unsurpassed variety and volume of cases in the Surgical Pathology Fellowship, which would prepare me for any career path I chose.
What makes the Mayo Clinic Surgical Pathology Fellowship unique?
The Mayo Clinic fellowship is indeed unique, with no program like it in the country. Since most surgical cases are signed out on the same day as surgery, the volume and diversity of frozen sections that fellows see in this program is unsurpassed. Gross and microscopic skills are strengthened daily, with an outstanding mix of routine and rare surgical specimens and pathologic diagnoses. In addition, the opportunity to review a high volume of consultation cases in a variety of specialties allows fellows to gain strength in common areas of diagnostic difficulty, as well as experience reviewing rare and esoteric cases.
Did anything surprise you about Mayo Clinic?
I am still always surprised by the efficiency and team spirit of those working in the frozen section labs, including consultants, residents, pathologist assistants and technologists. The lab runs like a well-oiled machine, even when the volume is very high.
What is living in Rochester like for you?
We have a young family and have found Rochester a wonderful place to live. It is a nice-size city, with convenient shopping, restaurants, and outdoor activities. But it also has a bit of a small-town vibe with affordable homes, great schools, close-knit communities and little traffic. Because there are a large number of other training physicians and young families in town, it is easy to find colleagues and friends with common interests.
What does your future look like right now?
After completing the Surgical Pathology Fellowship, I went on to complete the Pulmonary Pathology Fellowship at Mayo. Now I'm on staff at Mayo Clinic. My responsibilities include the frozen section lab, general biopsy sign-out, and specialty sign-out in both pulmonary and bone and soft tissue.