Taofic Mounajjed, M.D.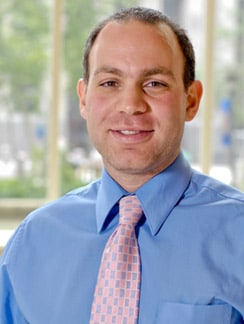 What attracted you to pathology?
When I started medical school, I wasn't sure where my career would go. During my second year, however, I was captivated by the field of anatomic pathology. My interest in visual imagery and problem-solving were both best satisfied by this field. As I embarked on my residency, I knew I had chosen the right field. In pathology, I found a lifelong path of learning about human disease and was fascinated by the daily exercise of putting the gross and microscopic findings together with the clinical picture to arrive at the correct diagnosis.
What attracted you to Mayo Clinic for fellowship training?
Previous graduates of my residency program had been Surgical Pathology fellows at Mayo Clinic, and they highly recommended joining the program. After interviewing at several places, I chose Mayo because, in my opinion, it offered the most well-rounded surgical pathology program, with an unsurpassed volume of cases, unique gross and microscopic correlation, and a very strong teaching staff.
What makes the Mayo Clinic Surgical Pathology Fellowship unique?
The Surgical Pathology Fellowship at Mayo Clinic is unique in many aspects. Frozen section evaluation of surgical cases is unmatched here. The fellow always gets immediate gross and microscopic correlation at the time of making the diagnosis. Also, the variety, volume and complexity of cases are exceptional. And finally, the consultants are experienced and highly knowledgeable in their fields.
Did anything surprise you about Mayo Clinic?
I'm always surprised by the collegial atmosphere and the approachability of both the consulting and supporting staff. I'm also surprised by the resources that are available.
What is living in Rochester like for you?
Besides having many of the desirable qualities of a small town — affordable housing, light traffic, friendly people — Rochester has many nice restaurants and offers many community activities. I'm a foreign medical graduate myself, and I find that the presence of a large international community here at Mayo Clinic makes it easy to meet interesting people from around the world.
What does your future look like right now?
I am now on staff at Mayo Clinic in the Division of Anatomic Pathology. My practice includes surgical pathology, including frozen section, and gastrointestinal and liver pathology. My time at Mayo so far has been very pleasant, and I look forward to a flourishing academic career here.