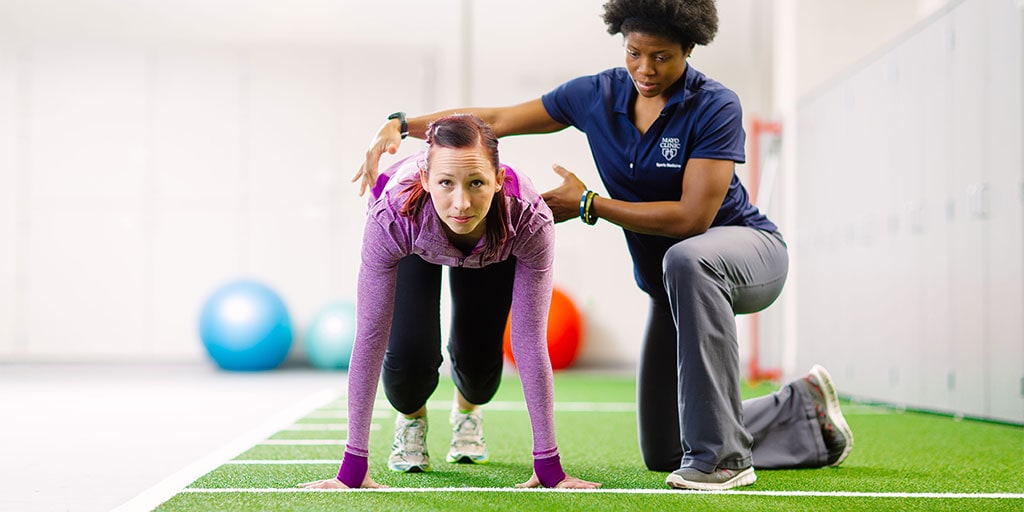 What does an athletic trainer do?
Athletic trainers, also known as ATs, specialize in the management, prevention, and recovery of injured athletes. Many times, athletic trainers are the first medical professionals on the scene after an injury. Athletic trainers collaborate with doctors to provide emergency and follow-up care and develop injury prevention and treatment programs for injured athletes.
Athletic trainers also provide a vital communication link between the injured athlete, the physician, the coach, and sometimes the athlete's family to determine when it's right to return to practice and competition.
Scope of practice
Athletic trainers are highly educated and skilled health sciences professional specializing in athletic health care. They work with coaches, doctors, and physical therapists.
On a typical day, the roles and responsibilities of an athletic trainer include:
Providing athletic training services
Applying tape, bandages, and braces to protect or prevent injuries
Evaluating injuries and providing first aid
Implementing rehabilitation programs for injured athletes and developing injury prevention programs
Performing administrative tasks, such as writing reports and instructions
Work environment
In cooperation with physicians and other allied health professionals, the athletic trainer functions as an integral member of the health care team in colleges and universities, K-12 schools, hospitals, fitness centers, doctors' offices, and for professional sports teams. Because of this, athletic trainers may work with patients of all ages.
What do athletic trainers do working at high schools?
Athletic trainers work to prevent and treat athletic injuries, which may happen during practice or competition. Athletic trainers may also teach at the high school during the day.
What do athletic trainers do working at sports medicine clinics?
Athletic trainers work with patients to provide treatment and rehabilitation, offer athletic training coverage for a high school or college, and present coaches' workshops and other sports medicine educational programs.
What do athletic trainers do working at colleges?
Athletic trainers cover practice sessions and home and away competitions, supervise the educational experiences of athletic training students, and may teach athletic training education classes.
What do athletic trainers do working for professional sports teams?
Athletic trainers work year-round with professional sports teams, such as football, basketball, baseball, hockey, and more.
In addition to sports teams, companies hire athletic trainers as a medical service to employers and their employees. Athletic trainers may even assist offices with ergonomics or preventing workplace injuries. Employment can also be found in the military, performing arts and dance companies, and medical sales.
Most athletic trainers work full-time. Many athletic trainers work outdoors in all types of weather. They may work evenings and weekends and may travel frequently if they work for sports teams.
Becoming an athletic trainer
When hiring athletic trainers, employers often look for candidates who are compassionate and detail-oriented and have strong decision-making and interpersonal skills. Many athletic trainers are passionate about sports and have great job satisfaction by working with athletes.
Higher education requirements
To become an athletic trainer, you need at least a bachelor's degree, though the National Athletic Trainers' Association reports that more than 70 percent of athletic trainers have a master's degree. Many employers prefer to hire athletic trainers with master's degrees. The curriculum and clinical training of athletic trainers follows a medical-based education model. You can expect to take courses in biology, anatomy, nutrition, sports medicine, and kinesiology. Almost all states require athletic trainers to be licensed or certified to practice.
After a high school education, the typical pathway to becoming an athletic trainer includes:
Obtaining a bachelor's degree (common majors are athletic training and exercise science)
Graduating from a Commission on Accreditation of Athletic Trainer Education (CAATE)-accredited athletic training education program
Passing the certification exam conducted by the Board of Certification to become a certified athletic trainer, or ATC
Once certified, like most health care careers, certified athletic trainers are responsible for maintaining certification through continuing education.
Career opportunities and outlook
The average annual salary for an athletic trainer is $48,420, according to the Bureau of Labor Statistics. This figure is dependent on experience, qualifications, and location. The field is relatively small so jobs are competitive, especially for positions with professional and college sports teams.
The Bureau of Labor Statistics expects employment of athletic trainers in the U.S. to grow much faster than average. One reason is due to an increased awareness of the effects of sports-related injuries. Secondly, the middle-aged and older population are remaining active, providing a need for athletic trainers.
With additional training and experience, an athletic trainer may become a head athletic trainer, an athletic director, a clinical practice administrator, or a physical therapist.
By the numbers
4-6
years of higher education
23%
job growth projected from 2020-2030