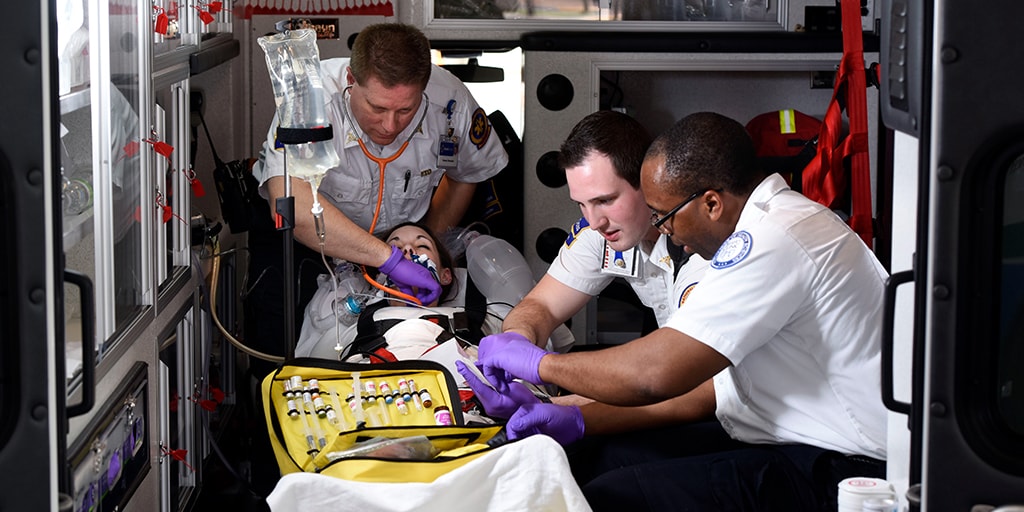 What does an emergency medicine paramedic do?
Paramedics respond to emergency calls and are often one of the first health care professionals to arrive at the scene of an emergency. They provide advanced life support to the sick and injured, and transport patients to medical facilities.
Because they have more education, training, and experience than emergency medical technicians (EMTs), paramedics are able to perform the same lifesaving measures as EMTs, but are also able to perform more advanced measures such as giving shots, starting IVs, and using advanced airway management devices to support breathing.
Scope of practice
Paramedics work with doctors, nurses, EMTs, and pharmacists, as well as patients of every age.
Common tasks and duties include:
Responding to emergency 911 calls
Driving ambulances and other emergency vehicles
Providing a wide range of emergency procedures such as using a defibrillator, giving medications, starting IVs, clearing airways, performing emergency tracheotomies, among others
Reading and interpreting medical tests and equipment
Communicating effectively with patients and their relatives or friends
Transporting patients to hospitals and other medical facilities
Relaying patient information, condition, and any treatments performed to hospital staff upon arrival
Emergency medicine paramedics vs. emergency medical technicians (EMTs)
The main difference between a paramedic and an EMT is the level of training and type of care each can role can provide. EMTs have entry-level health care training and can provide Basic Life Support (BLS). Paramedics are health care professionals who have been trained to provide Advanced Life Support (ALS).
Work environment
The work environment for a paramedic varies throughout each work shift and can include an ambulance, the scene of an emergency, a hospital, or a clinic. Paramedics work both indoors and outdoors, and have a very mentally, physically, and emotionally demanding job. Because emergencies can happen at any time of the day or night, paramedics may need to work nights, weekends, or holidays.
Becoming an emergency medicine paramedic
Working as a paramedic can be a very rewarding job, but it is not for the faint of heart. Due to the nature of the role, paramedics see a lot of serious injuries and death, which can be difficult to deal with emotionally. They must react quickly in emergency situations and feel comfortable working under pressure. It is a great role for people who love to help others and think very quickly on their feet.
Those interested in becoming a paramedic can prepare for their future role by taking courses in science, math, anatomy and physiology, and foreign languages. They may also benefit by getting certified in Basic Life Support (BLS).
Higher education requirements
To become a paramedic, you must first be nationally certified at the emergency medical technician (EMT) level. It is often preferred that paramedic students already have some EMT work experience prior to enrolling in a paramedic training program, as well. Students may choose to complete an Emergency Medical Technician – Paramedic (EMT-P) certificate program (one year) or associate degree program (two years).
Certification
After completing a paramedic training program, paramedics must be licensed to practice. This is a requirement in all U.S. states. To become licensed, paramedics must pass the National Registry of Emergency Medical Technicians (NREMT) certification examination. They also must complete continuing education credits and renew their license every two or three years.
Career opportunities and outlook
Paramedics can expect an annual median salary of $36,930. This can vary greatly depending on your location, experience, and education.
There will always be a great need for paramedics, as their skills are extremely important when responding to emergencies, natural disasters, and acts of violence. The Bureau of Labor Statistics expects employment of paramedics to grow faster than average.
With additional training, education, and experience, some paramedics may advance into an EMS instructor role. Paramedics also can transition into more advanced areas of health care and choose to train as registered nurses or doctors.
By the numbers
1-2
years of higher education
11%
job growth projected from 2020-2030
Emergency medicine paramedic programs at Mayo Clinic
Mayo Clinic offers a 20-month Emergency Medicine Paramedic Program in Rochester, Minnesota, to prepare students for a career as a paramedic.
Browse similar careers