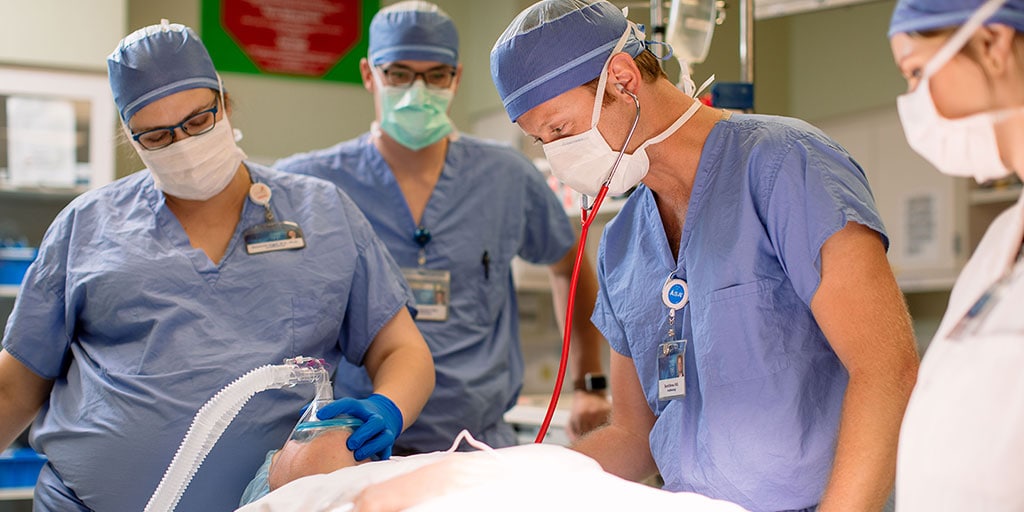 What does a nurse anesthetist do?
A nurse anesthetist provides pain medication (anesthesia) care for patients before, during, and after surgery. They administer medications to keep patients asleep or pain-free during surgery and constantly monitor every biological function of the patient's body.
Scope of practice
Nurse anesthetists work with anesthesiologists, doctors, and surgeons to provide anesthetics to patients of all ages, from infants to the elderly. Some common tasks and duties of a nurse anesthetist include:
Preparing patients for anesthesia, including physical assessment and preoperative teaching
Administering anesthesia to a patient
Maintaining anesthesia during an operation
Managing recovery from anesthesia
Nurse anesthetist vs anesthesiologist
Both nurse anesthetist and anesthesiologists administer anesthesia to patients, but their educational and career paths differ: a nurse anesthetist is an advanced nurse with a nursing educational and professional background, while anesthesiologist are doctors with a medical school and residency training background.
Work environment
Nurse anesthetists work in hospitals, doctors' offices, surgical clinics, the military, psychiatric institutions, respiratory therapy departments, emergency rooms, and outpatient care centers. The work schedule and on-the-job demands of a nurse anesthetist can vary greatly depending on where they work.
Becoming a nurse anesthetist
Nurse anesthetists enjoy a very rewarding career in terms of both personal and professional satisfaction. High school students can prepare for a career as a nurse anesthetist by taking math, science, and health courses like biology, chemistry, algebra, geometry, psychology, health occupations, or foods and nutrition.
Higher education requirements
Nurse anesthetists are Advanced Practice Registered Nurses (APRN). They are highly trained health care professionals, typically spending 6-8 years in higher education. Typically, their educational pathway includes:
Obtaining either an associate degree (ADN) or a bachelor of science in nursing (BSN) degree
Passing the National Council Licensure Exam (NCLEX-RN) and obtaining an RN license
Completing advanced training to become an APRN. This typically first requires at least one year of work experience as an RN. At the present time, most APRNs complete a master's of science in nursing (MSN) degree. However, new nurse anesthetists will be required to have a doctoral degree by 2025. While in your advanced degree program, you will need to administer anesthesia under supervision in a clinical setting a minimum of 600 times, and will complete around 2,500 clinical hours.
Certification process
After completing your advanced degree program, you must pass a national certification exam through the National Board of Certification and Recertification for Nurse Anesthetists (NBCRNA). You must also recertify every two years to maintain your license, which requires completing 40 hours of continuing education and having verifiable proof of working in anesthetics.
Career opportunities and outlook
Nurse anesthetists are some of the most highly paid nurses, and can expect a median salary range of $195,610.
Career opportunities for nurse anesthetists are outstanding. The Bureau of Labor Statistics expects employment of nurse anesthetists to grow much faster than average. This is due to an increase in demand for health care services, especially by the large, aging baby-boom population.
With additional training and experience, a nurse anesthetist may move into a managerial or administrative role or go into education.
By the numbers
$196k
median annual salary
6-8
years of higher education
45%
job growth projected from 2020-2030
Nurse anesthetist programs at Mayo Clinic
Mayo Clinic offers several opportunities to prepare students for a career as a nurse anesthetist, including:
Browse similar careers