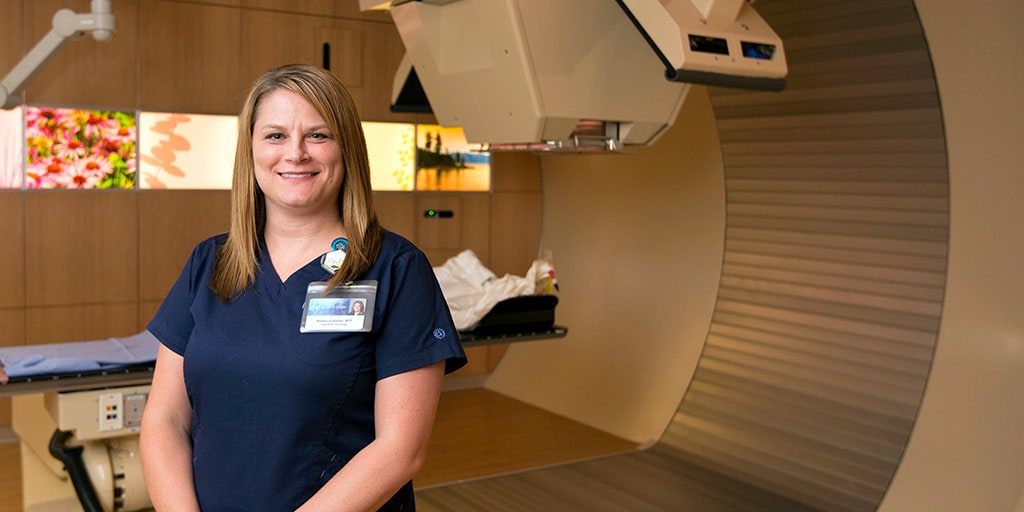 What does a radiation therapist do?
A radiation therapist is part of the care team that treats patients with cancer and other diseases through the use of radiation treatments. They work with doctors who specialize in radiation therapy (radiation oncologists) and oncology nurses who specialize in caring for cancer patients. Radiation therapy is used to treat cancer by shrinking or removing cancer or tumors.
Scope of practice
Radiation therapists work with radiation oncologists, nurses, and medical physicists to treat cancer patients of all ages, from infants to the elderly. Typical tasks and duties include:
Carrying out the treatment prescribed by radiation oncologists
Administering radiation treatments to patients with cancer and other diseases
Determining the exact location of the area needing treatment
Using the radiation machine to treat the patient
Monitoring patients for unusual reactions
Maintaining machines to ensure safety
Work environment
Radiation therapists work in hospitals, doctors' offices, universities, and outpatient centers. Most radiation therapists work full time, with daytime, weekday hours; however, radiation therapy emergencies can happen, and some therapists may need to be on call or work outside their normal schedule. They spend most of their work day on their feet, and need to be able to lift or turn patients.
Becoming a radiation therapist
Radiation therapists are detail oriented, enjoy working with people and technology, and are able to stand on their feet for long periods of time. The role can be physically and emotionally draining.
Higher education requirements
Typically, radiation therapists follow the below pathway to their career:
Completion of an associate or bachelor's degree
Completion of a certification program that specailizes in radiation therapy
Certification process
Certification and licensing requirements vary depending on the state, but many employers prefer certified radiation therapists. They must complete an accredited training program or work full-time for two years before they qualify to take the national certification exam from the American Registry of Radiologic Technologists (ARRT). Certification must be renewed annually.
Career opportunities and outlook
Radiation therapists can expect a median annual salary of $82,790.
The Bureau of Labor Statistics expects employment of radiation therapists will continue to grow at an average pace. With a large aging population and advances in radiation treatments, radiation therapists are in demand.
With additional training and experience, a therapist can become a certified medical dosimetrist. A dosimetrist calculates the correct dose of radiation treating cancer patients. Other therapists advance to administrative positions or to management positions such as chief therapist or education director.
By the numbers
2-4
years of higher education
9%
job growth projected from 2020-2030
Radiation therapist programs at Mayo Clinic
Mayo Clinic offers a 12-month Radiation Therapy Program in Rochester, Minnesota to prepare students for a career as a radiation therapist.
Browse similar careers