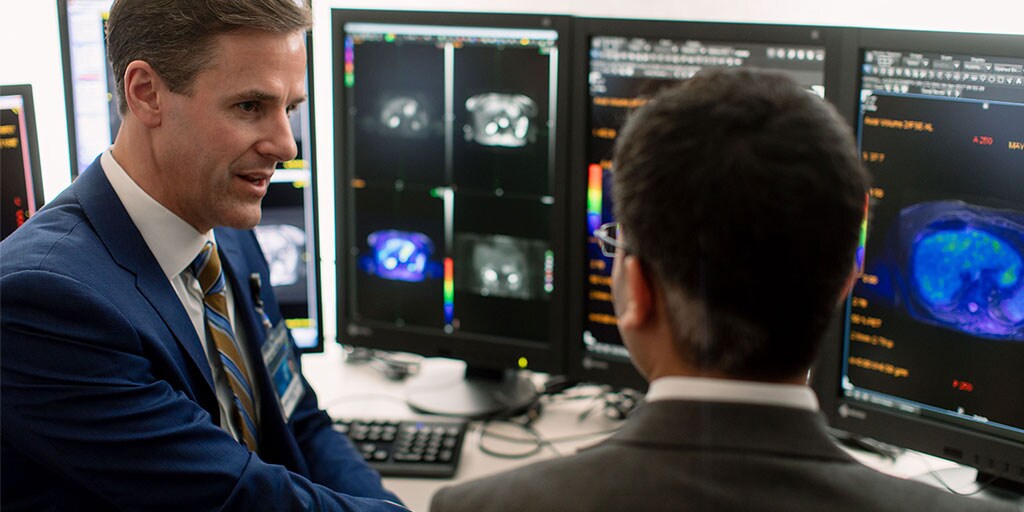 What does a positron emission tomography technologist do?
A positron emission tomography (PET) scan is an imaging test that helps reveal how a patient's tissues and organs are functioning. It can be used to detect or evaluate many conditions including cancers, tumors, heart disease, and brain disorders.
PET technologists use radioactive drugs for diagnosis and medical research. They prepare these radioactive drugs (radiopharmaceuticals) and give them to patients for diagnosis. Different organs, tissues, and parts of the body absorb the drugs at different rates. Technologists operate high-level imaging equipment which allows the medical team to study if the drugs are absorbed more quickly or slowly than expected, which leads them to diagnose an infection or disorder.
Scope of practice
PET technologists work with doctors, medical physicists, nuclear pharmacists, computer specialists, nurses and administrative staff to treat patients of all ages, from infants to the elderly. Common tasks and duties include:
Ensuring patient safety during procedure
Performing PET scans
Capturing high quality diagnostic images
Administering radiopharmaceuticals
Maintaining equipment
Work environment
Employers of PET technologists include hospitals, universities, medical clinics, imaging clinics, diagnostic labs, and research centers. Full-time work is typical for PET technologists, who may choose to work day time or evening shifts. A holiday and weekend schedule rotation may be required for this role as well.
Becoming a positron emission tomography technologist
Important qualities of a PET technologist include: empathetic, detail-oriented, and great communicator. Exceptional problem-solving skills are essential to the role, as the patient's scan must be thoroughly analyzed to provide an accurate diagnosis. High school students can prepare for a future role as a PET technologist by taking advantage of science, math, technology, and communication courses.
Higher education requirements
PET technologists begin their careers with higher education in nuclear medicine. Typically, most employers will require the following:
Completion of an associate degree or bachelor's degree
Completion of a certificate program that specializes in nuclear medicine technology
Completion of a certificate program that specializes in positron emission tomography
Certification process
To work as a PET technologist, individuals must first become certified as a nuclear medicine technologist through the American Registry of Radiologic Technologists (ARRT) or the Nuclear Medicine Technology Certification Board (NMTCB). After completing their certification, they can qualify for the NMTCB's PET credential through 700 hours of practical experience and passing a certification exam.
Career opportunities and outlook
PET technologists can expect a median annual salary of $78,760.
The nuclear medicine technology field has grown due to a demand for PET and the need for PET specialty-certified technologists is high. The Bureau of Labor Statistics expects employment of nuclear medicine technologists will continue to grow at an average pace. With the growth of the middle-aged and older adult populations, demand will increase for diagnostic procedures, including nuclear medicine testing. In addition, technological advancements will likely increase the diagnostic use of nuclear medicine.
With additional training and experience, a PET technologist may become a chief technologist, research technologist, an educator, or move into marketing and sales.
By the numbers
2-4
years of higher education
8%
job growth projected from 2020-2030