Curriculum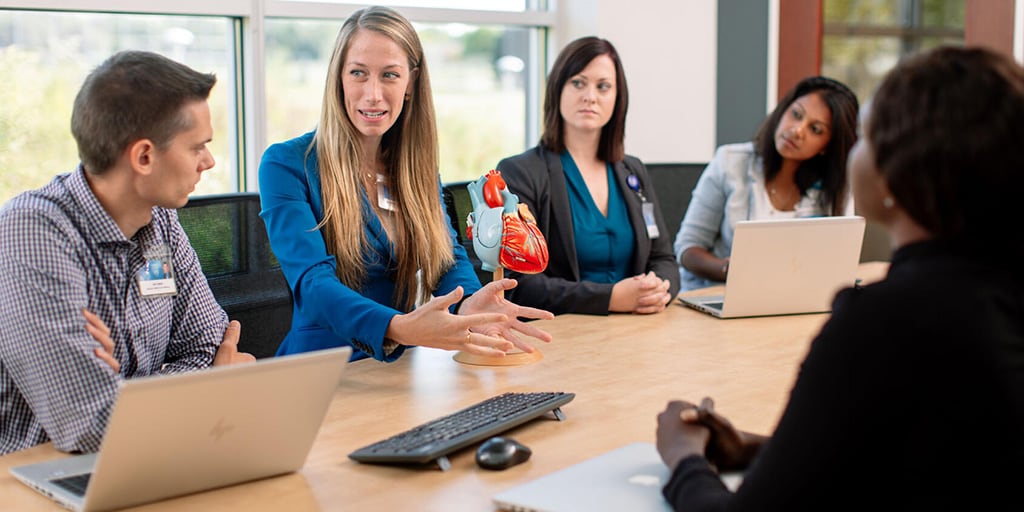 Trainee experience
The Cardiology Nurse Practitioner Fellowship prepares postgraduates of nurse practitioner (NP) programs to apply critical thinking skills and increase confidence to practice in cardiovascular specialty areas. The curriculum is based upon core competencies that include knowledge, skills and understanding of health care areas.
Clinical training and rotations
By the end of the fellowship, you will have rotated monthly and have a strong knowledge of evidence-based practices in these areas, within your scope of practice:
Cardiovascular risk and assessment
Cardiovascular diagnostics
General inpatient and outpatient cardiology
Interventional cardiology
Structural heart disease
Electrophysiology (arrhythmias, cardiac implantable electronic devices)
Advanced heart failure and mechanical circulatory assist devices
Adult congenital heart disease
Vascular heart disease
Cardiothoracic surgery and transplantation
By the end of the fellowship year, you will have experience performing cardiovascular-focused skills or procedures, within your scope of practice, that may include:
Physical exam
Chest radiograph interpretation
Electrocardiogram interpretation
Stress testing
Hand-held echocardiography
Interrogation of ventricular assist devices
Informal and formal interdisciplinary lectures and conferences
Quality improvement or research project
Curriculum enhancements
Mayo Clinic School of Health Sciences is committed to developing and maintaining the best education programs. The curriculum and other aspects of this program are routinely assessed and changed as necessary to ensure the highest quality training.
Schedule and hours
The program provides you with a variable on-site schedule to achieve the best learning opportunities to meet the program goals. The majority of the rotations include eight- to 12-hour days, four to five days a week, occasional weekends and one month of night shifts. No holidays are scheduled.
Schedules may vary during subspecialty areas and mentor preferences. Flexibility in scheduling ensures that you receive adequate rest and time off.
Department and faculty
Teaching faculty
The Cardiology Nurse Practitioner Fellowship is coordinated and taught by an interdisciplinary team, including nurse practitioner, physician assistant, allied health, and physician staff of Mayo Clinic in the Division of Cardiovascular and Thoracic Surgery.
Faculty members are chosen for their commitment to teaching, as well as clinical practice and research. Many have published and lectured extensively and are highly regarded in their fields.
You have direct access to these individuals throughout your training, giving you the opportunity to learn from experienced practitioners in cardiology.
Program director
Yeimi Rivera, APRN, D.N.P., F.N.P.
Associate program director
Michelle Alland, M.S.N., APRN, C.N.P., FNP-C
Medical director
Reza Arsanjani, M.D., F.A.C.C.
Visiting professors and lecturers
A hallmark of higher education excellence is the breadth and depth of information and experience provided to you by faculty and visiting experts. Each year, many prominent professors visit Mayo Clinic to lecture in their areas of medical and scientific expertise.
As a student at Mayo Clinic School of Health Sciences, you are encouraged to learn from these valuable resources by attending all relevant conferences, lectures, and seminars prepared for students, interns, residents, fellows, and consulting staff.
Facilities
Mayo Clinic has two campuses in Arizona. The Phoenix campus includes the state-of-the-art Mayo Clinic Hospital, the first hospital entirely designed and built by Mayo Clinic. It has been recognized several times by Phoenix magazine as the "Best Hospital in Phoenix."
The campus includes a 3,000-square-foot multidisciplinary simulation center, which simulates real-life patient care situations, enabling learners to practice on sophisticated manikins in a no-risk environment. Experiential learning enhances patient safety and improves competency assessment of learners through new modes of simulation-based education.
The campus also includes a state-of-the-art education and conference center, which has a 330-seat auditorium and adjacent meeting rooms. The facility serves all types of learners engaging in lifelong learning.
The Mayo Clinic campus in Scottsdale is centered around a beautiful, five-story outpatient clinic. This modern facility contains extensive exam rooms, an outpatient surgery center equipped for general anesthesia, a full-service laboratory, pharmacy, patient education library, endoscopy suite, and a 188-seat auditorium for patient, staff and student education programs. Services in numerous medical and surgical disciplines are provided, including outstanding programs in cancer treatment and organ transplantation.
Grading or evaluation
Successful completion of all clinical rotations' performance criteria, formal presentations, learning activities, and an academic manuscript or abstract is required for graduation.