Curriculum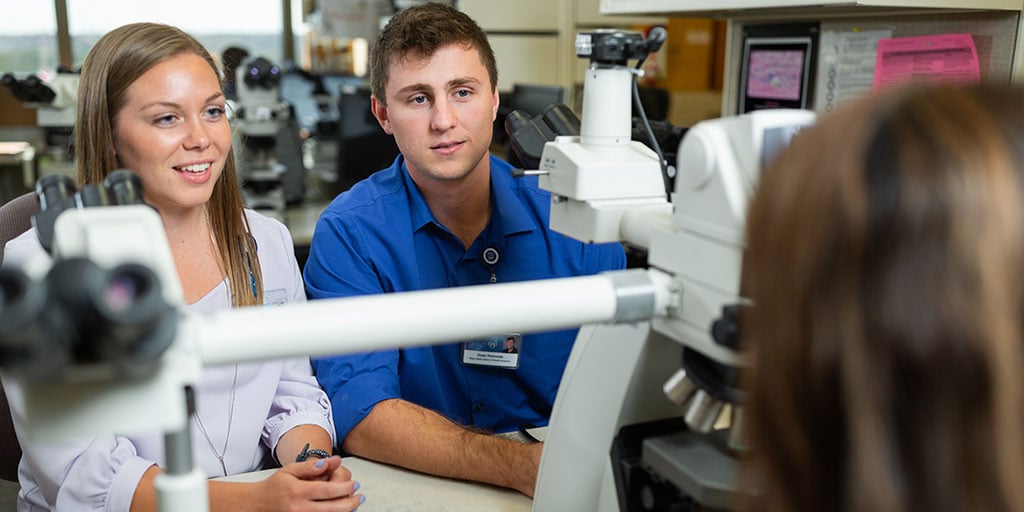 35%
time spent in clinical settings
30%
time spent in classroom
Student experiences
The Cytotechnology Program at Mayo Clinic School of Health Sciences prepares you for professional practice in hospital laboratories, universities and private laboratories. For the majority of the classroom instruction and clinical rotations, your learning schedule involves eight-hour days, four to five days a week.
Classroom learning
The first seven months of the Cytotechnology Program consist of formal didactic instruction, including lectures and demonstrations.
Labs
Students devote considerable time to the microscopic study of selected cytologic specimens. Students also practice preparing and staining slides as well as learn laboratory and specimen collection techniques.
Hands-on clinical rotations
During the final five months of the program, students learn how to screen cytologic specimens with maximum speed and accuracy. Individual research projects and scheduled rotations include areas of molecular cytology and imaging, histology, and cytopreparation.
Facilities and faculty
Mayo Clinic's campus in Rochester, Minnesota, includes an extensive outpatient complex, Mayo Clinic Hospital — Rochester, and substantial research and education facilities. This Mayo Clinic site is among the largest, most advanced medical centers in the world.
The Cytotechnology Program is coordinated and taught by the clinical, scientific and technical staffs of Mayo Clinic. Faculty members are chosen for their commitment to teaching, as well as their clinical practice and research. Many have published and lectured extensively and are highly regarded in their fields.
Students have direct access to these individuals throughout the training program.
Kara Hansing, M.S.Ed., SCT(ASCP)CM
Program Director
Kara Hansing is the director of the Cytotechnology Program and holds academic rank as an instructor in laboratory medicine and pathology at Mayo Clinic in Rochester, Minnesota, where she teaches cytotechnology students and pathology residents and fellows as they complete required and elective rotations in cytopathology. She also teaches a professional enhancement course for cytotechnologists currently employed at Mayo Clinic.
Before taking on her present role, Ms. Hansing was the education coordinator for the Mayo Clinic Cytotechnology Program for three years and the education specialist for the Mayo Clinic Cytopathology Laboratory for nearly five years. She received her master's degree in postsecondary and adult education from Capella University in 2013 and her specialist certification in cytotechnology from the American Society for Clinical Pathology (ASCP) Board of Certification in 2009.
Ms. Hansing currently sits on the ASCP Cytopathology Committee as well as the American Society of Cytopathology (ASC) CELL Committee, where she served as chair for two years. Ms. Hansing's academic interests include adult education and training in the health care setting. She was recently published in Cancer Cytopathology, a journal of the American Cancer Society.
Jessica Woodward, CT(ASCP)CM
Education Specialist
Jessica Woodward is a 2014 graduate of the Mayo Clinic School of Health Sciences Cytotechnology Program, completing her bachelor's degree in human biology from the University of Wisconsin-Green Bay the same year. Ms. Woodward remained at Mayo Clinic and has been on staff as a certified cytotechnologist for more than four years.
Before her role as Cytology Education Specialist, Ms. Woodward participated in various rotations including GYN, non-GYN, immunostains, acid-fast bacteria screening, and performance of on-site FNA adequacy assessments. Ms. Woodward transitioned into her current position in October 2017.
As Cytology Education Specialist, Ms. Woodward is dedicated full-time to the Cytotechnology Program. She works closely with the program director to develop and strengthen the curriculum. Her additional responsibilities include training medical residents on their cytology rotations. Ms. Woodward is active in the Minnesota Society of Cytotechnology and plans to pursue her master's degree in education.
Course sequence
There are a total of 32 credits in the program.
| Number | Course | Credits |
| --- | --- | --- |
| CYTO 4090 | General Principles of Cytology/Pathology | 2 |
| CYTO 4100 | Gynecologic Cytology | 4 |
| CYTO 4010 | Advanced Gynecologic Cytology | 3 |
| CYTO 4150 | Pulmonary Cytology | 3 |
| CYTO 4170 | Urinary Cytology | 2 |
| CYTO 4080 | Gastrointestinal Cytology | 1 |
| CYTO 4050 | Effusion Cytology | 2 |
| CYTO 4070 | Fine-Needle Aspiration Cytology | 6 |
| CYTO 4120 | Laboratory Operations & Preparation | 2 |
| CYTO 4110 | Professional Development | 2 |
| CYTO 4020 | Clinical Cytology | 5 |
Grading or evaluation
Mayo Clinic School of Health Sciences uses these evaluation tools:
Written examination
Demonstration of skills
Self-assessment exercises
Faculty reviews
Mayo Clinic's system of evaluation provides students and faculty with a comprehensive look at individual performance. This allows faculty and administrative staff to direct students who are experiencing academic difficulty to the appropriate support resources, including tutoring programs and counseling opportunities.
Graduation and certification
Upon successful completion of the Cytotechnology Program, you'll receive a certificate of completion from Mayo Clinic School of Health Sciences. If the program completes your undergraduate year at an affiliated institution, you will receive a bachelor's degree from that institution.
Graduates are eligible to take the American Society for Clinical Pathology Board of Certification examination upon completion of the program.