Overview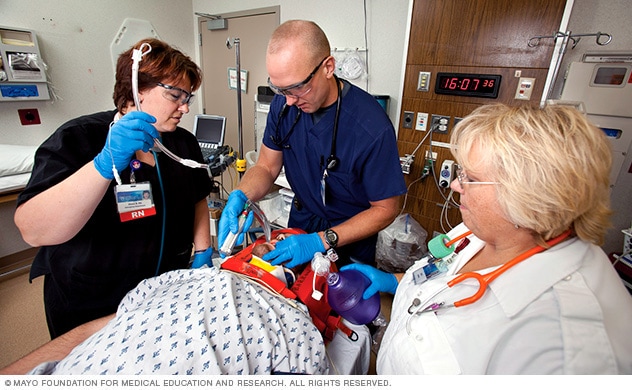 Program description
Mayo Clinic School of Health Sciences offers an 18-month postgraduate Nurse Practitioner or Physician Assistant Emergency Medicine Fellowship at Mayo Clinic's campus in Rochester, Minnesota.
This program trains highly qualified graduate nurse practitioners (NPs) and physician assistants (PAs) to become skilled, compassionate and efficient emergency medicine providers.
The curriculum contains diverse didactic instruction and direct patient care clinical experience embedded in the foundation of Mayo Clinic: excellence in patient care, education and research. The program provides the graduate NP or PA with the training needed to deliver the highest quality emergent care to patients.
Program goals
Develop a diverse differential diagnosis and respective diagnostic and treatment plan based on the patient's presenting symptoms along with evidence-based, cost-effective medical care
Advance competence in common procedures needed for treatment of emergency medicine patients
Cultivate leadership and process improvement skills
Increase the ability to effectively lead a multidisciplinary team in critical cases
Improve critical-thinking skills
Accreditation
See accreditation information for Mayo Clinic College of Medicine and Science.
Facilities
Mayo Clinic's campus in Rochester, Minnesota, includes an extensive outpatient complex, Mayo Clinic Hospital — Rochester, and substantial research and education facilities.
This Mayo Clinic site is among the largest, most advanced medical centers in the world.
Graduation and certification
Upon graduation, fellows receive a Mayo Clinic School of Health Sciences certificate documenting completion of an 18-month postgraduate fellowship in emergency medicine. This certificate verifies that each fellow has completed all the components listed in the syllabus. Such experience and training will allow fellows to be more competitive for emergent care provider positions.
Upon completion of the program, physician assistant graduates will have met the procedure, patient case and clinical requirements for the National Commission on Certification of Physician Assistants (NCCPA) Emergency Medicine Certificate of Added Qualification (CAQ).
Hours
For the majority of the fellowship, your learning schedule includes varying shift lengths and rotating shifts, weekend shifts, and holiday shifts. You spend about 40 hours each week in the emergent care setting. This does not include additional time spent on didactic and additional course work.
Class size
Each year, Mayo Clinic School of Health Sciences admits up to five students every six months to its Nurse Practitioner or Physician Assistant Emergency Medicine Fellowship. This ensures you receive one-on-one instruction and a comprehensive educational experience.