Curriculum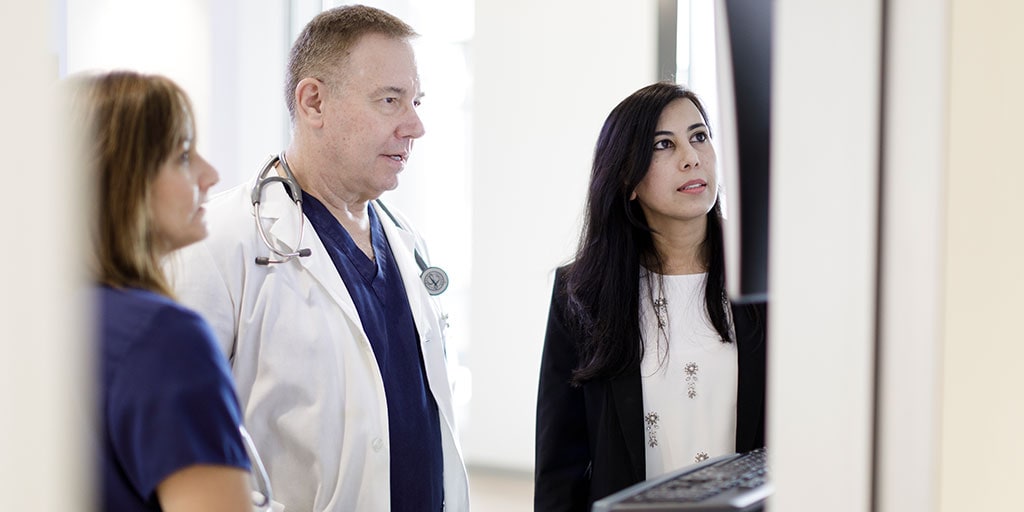 Trainee experience
The Nurse Practitioner or Physician Assistant Gastroenterology and Hepatology Fellowship is designed to prepare NPs and PAs to become compassionate, efficient, skilled, and confident providers in gastroenterology and hepatology.
During this program, learning experiences allow you to:
Enhance your knowledge and gain practical skills in the assessment, diagnosis, intervention, evaluation, and treatment of disorders of the luminal gastrointestinal system, including the liver, biliary tract, and pancreas
Increase critical-thinking skills
Develop self-directed skills to maintain updated clinical knowledge and practice guidelines
Demonstrate cultural competency and respect for diversity in all professional interactions
Promote the advancement of gastroenterology and hepatology through practice, education, and research
Foster leadership opportunities
The curriculum consists of didactics, dedicated research time, and mentored clinical rotations in the gastroenterology and hepatology outpatient clinics and inpatient setting. Also, fellows will rotate with additional medical and surgical specialties integral to the care of gastroenterology and hepatology patients.
Didactic responsibilities include required readings, online learning modules, skills training at the Mayo Clinic Multidisciplinary Simulation Center, journal club presentations, Grand Rounds, and educational conferences.
The curriculum includes dedicated research time to provide you with an opportunity to participate in a research project and authorship for publication. You will also have the opportunity to present your work. In addition, you'll receive comprehensive training and education in professionalism, quality, and leadership.
Fellows also have a travel allowance to attend a national gastroenterology and hepatology conference.
Clinical training and rotations
The fellowship includes these clinical experiences:
Core outpatient rotations:
Esophageal Clinic
GI Neoplasia Clinic
General GI Clinic
Hepatology Clinic
Inflammatory Bowel Disease Clinic
Motility Clinic
Pancreas Clinic
Celiac Clinic
Endoscopy and procedural clinics
Core inpatient rotations:
GI consult service
HB consult service
Additional required rotations:
Transplant Hepatology
Clinical Nutrition
Radiology
Neurology
Colorectal Surgery
Physical Medicine & Rehabilitation
Schedule and hours
For the fellowship, the learning schedule includes weekday hours with approximately 40 hours per week. This does not include additional time spent on didactic responsibilities.
You will have exposure to the care of adults in both outpatient and inpatient settings.
Department and faculty
The Nurse Practitioner or Physician Assistant Gastroenterology and Hepatology Fellowship is coordinated and taught by the clinical, scientific, and technical staff of Mayo Clinic in Rochester, Minnesota. Faculty members are chosen for their commitment to teaching, as well as their clinical practice and research experience. Many have published and lectured extensively and are highly regarded in their fields. Fellows will work closely with NPs and PAs, as well as M.D.s in subspecialty clinics and hospital rotations. You will have direct access to these individuals throughout the training program.
Visiting professors and lecturers
A hallmark of higher education excellence is the breadth and depth of information and experience provided to you by faculty and visiting experts. Many prominent professors visit Mayo Clinic each year to lecture in their areas of medical and scientific expertise.
As a student at Mayo Clinic School of Health Sciences, you are encouraged to learn from these valuable resources by attending all relevant conferences, lectures, and seminars prepared for students, interns, residents, fellows, and consulting staff.
Facilities
Mayo Clinic's campus in Rochester, Minnesota, includes an extensive outpatient complex, Mayo Clinic Hospital — Rochester, and substantial research and education facilities. This Mayo Clinic site is among the largest, most advanced medical centers in the world.
Evaluation
Mayo Clinic School of Health Sciences uses these evaluative tools:
Written examination
Demonstration of skills
Self-assessment exercises
Faculty reviews
Research participation, formal presentations, or publication
Mayo Clinic's system of evaluation provides students and faculty with a comprehensive look at individual performance. This allows faculty and administrative staff to direct students who are experiencing academic difficulty to the appropriate support resources, including tutoring programs and counseling opportunities.