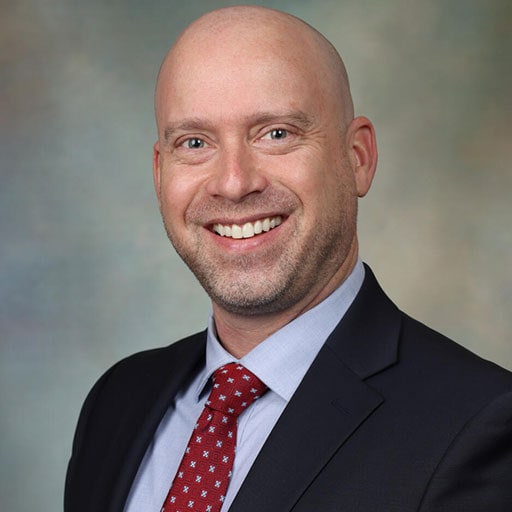 Andrew Gaspar, RPh, BCACP
Program Director
Supervisor-Outpatient Pharmacy
Instructor in Pharmacy, College of Medicine
Board Certified Ambulatory Care Pharmacist
Show more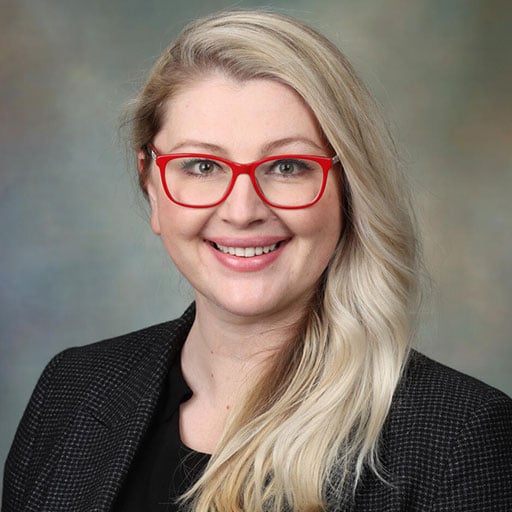 Adrijana Kekic, PharmD, BCACP
Assistant Program Director
Clinical Pharmacy Specialist
Instructor in Pharmacy, College of Medicine
Board Certified Ambulatory Care Pharmacist
Show more
From the Program Director
The pharmacy profession is constantly evolving. As the PGY-1 Community-Based Pharmacy Residency Program Director at Mayo Clinic Hospital — Arizona, my responsibility is to prepare each resident to meet today's patient care needs and anticipate tomorrow's possibilities.
Dr. Will Mayo's 1910 commencement speech led to our core value, "the needs of the patient come first." Over one hundred years later, this value is consistently demonstrated through incorporation of the interdisciplinary team approach across the spectrum of patient care practice.
Our core value, along with Mayo Clinic's three shields: patient care, education, and research, forms the foundation of our program. Throughout the residency, your pharmacotherapeutic knowledge base will be refined through participation in patient care visits in the pharmacy and clinic environment. Teaching seminars, precepting, and presenting to a variety of practitioners will strengthen your teaching skills while our research curriculum will enhance your research skills.
A PGY-1 residency is a yearlong commitment to personal and professional growth. With an additional emphasis on leadership, you will gain experience and confidence with clinical decision making and practice guidance. Our dedicated preceptors are here to support your growth and development while tailoring the experience to meet your individual needs and to prepare you for future health care team roles.
Andrew Gaspar, RPh, BCACP
Program Director
PGY-1 Community-Based Pharmacy Residency at Mayo Clinic Hospital — Arizona
Pharmacy services (Arizona)
Mayo Clinic is the first and largest integrated, not-for-profit medical group practice in the world. Every year more than 1.3 million people from all 50 states and nearly 150 countries come to Mayo Clinic, where the primary value is "the needs of the patient come first."
Mayo Clinic is consistently recognized on U.S. News & World Report's Best Hospitals list as one of the best hospitals in the nation.
Mayo Clinic's campus in Phoenix, Arizona, is ranked the No. 1 hospital in Arizona and is nationally ranked in 10 medical specialties. Mayo Clinic Hospital — Arizona, on the Phoenix campus, is the first hospital planned, designed and built by Mayo Clinic. Completed in the fall of 1998, the hospital is designed to deliver high-quality inpatient medical care in an efficient and friendly environment.
Pharmacy services provided include:
Outpatient dispensing
Sterile and nonsterile compounding
Meds-to-beds program
Transitions of care
Advanced care at home
Medication management services
Specialty clinic ambulatory care services
Collaborative practice agreements
Patient education programs
Infusion therapy center
In-service education and other scholarly activities
Drug information services
Central pharmacy distribution
Decentralized clinical pharmacy practice
Clinical pharmacy decision-support software
Investigational drug studies
Medication reconciliation
Perpetual inventory control
Pharmacokinetic monitoring and management
Pharmacy informatics and technology support
Pharmacy, therapeutics and formulary committee support
Dedicated preceptors
Dedicated preceptors provide direct patient care in a variety of community-based practice areas and are actively involved in resident teaching and other scholarly activities. The preceptors come from diverse backgrounds and share numerous years of experience, clinical knowledge and research interests. You have direct access to these and many more preceptors and mentors to optimize the learning experience.
All residency program preceptors meet the qualifications outlined by ASHP.
Practice areas
A broad range of pharmacy practice work areas are available at one of the world's preeminent medical institutions. Whether your interests lie in inpatient medication management and monitoring or outpatient services and consultation, you are afforded countless learning and teaching opportunities in a resource-rich environment.
Mayo Clinic Hospital — Arizona is composed of the 316-bed, seven-story hospital with 21 operating suites and an ER. In the hospital environment, pharmacists work collaboratively with the interdisciplinary health care team to optimize patient outcomes. Pharmacists, residents, and students are longstanding, integral members of a team that continually advances the pharmacy profession.
Mayo Clinic has a very large outpatient practice with care provided in virtually every specialty. Pharmacists support this practice through three outpatient pharmacy locations on the Phoenix and Scottsdale campus. In the ambulatory care settings, pharmacists and clinical pharmacy specialists work collaboratively with the interdisciplinary health care team to optimize patient outcomes.