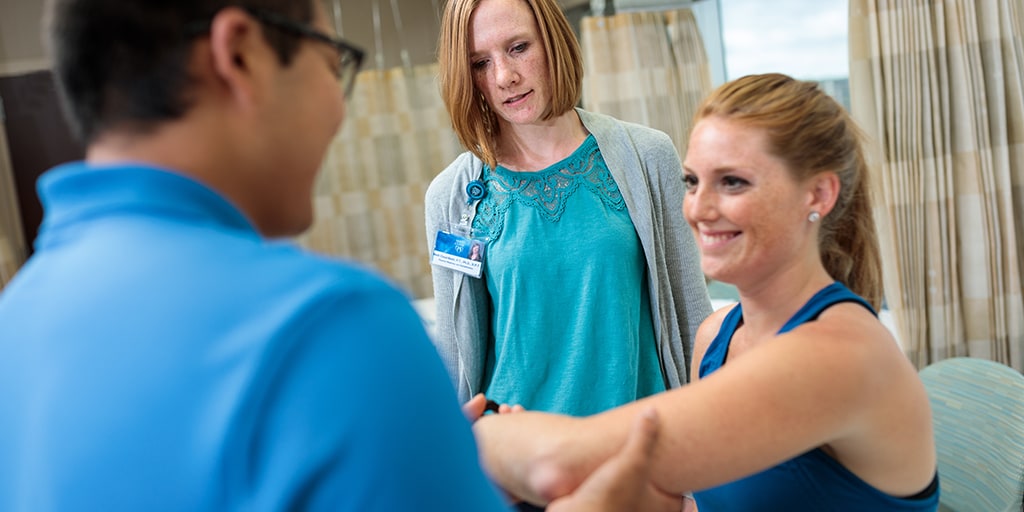 Program overview
Program length: 8-12 weeks
Class size: 20 students a year
Location: Jacksonville, Florida
This internship provides the high-quality clinical experiences you need to become a competent therapist in areas such as acute care and outpatient rehabilitation services.
Application process
Your application and all supporting documentation must be received at least 60 days prior to the start of the internship.
Prerequisites
To participate in the internship, you must be enrolled in a physical or occupational therapy program at one of these affiliated academic institutions:
Admission to the internship is prearranged by the academic coordinator from your college or university.
How to apply
Contact your school's academic clinical education coordinator or director of clinical education to arrange to participate in the internship. As a reminder, you must be enrolled in a physical or occupational therapy program at one of our affiliated academic institutions.
Online application
Once your participation is approved by both your academic clinical education coordinator and the Physical or Occupational Therapy Internship director, you will need to complete the Mayo Clinic School of Health Sciences online application (click "create account" to start your application).
Tuition and financial aid
Tuition rates are determined by and paid to the college or university at which you are enrolled. Mayo Clinic charges no additional fees.
You are responsible for your living accommodations and transportation.
You may hold outside employment during the internship if it does not conflict with your educational responsibilities.
Curriculum
Mayo Clinic offers physical or occupational therapy internship experience in:
Inpatient acute care
Outpatient care
Pain rehabilitation center
You gain experience in treating patients with special therapy needs, which may include:
Rehabilitation of musculoskeletal disorders
Rehabilitation of neurological conditions
Sports medicine and rehabilitation
Stroke rehabilitation
Vestibular rehabilitation
Transplant rehabilitation
Hand therapy
Oncology rehabilitation
Pain rehabilitation
Schedule
Internships vary between eight and 12 weeks, depending on the academic program's requirements.
During your internship, your learning schedule is usually 40 hours a week and might include additional projects, patient activities, and homework.
Accreditation information
The Physical or Occupational Therapy Internship at Mayo Clinic's campus in Florida works with affiliated schools that are accredited by the Commission on Accreditation in Physical Therapy Education or the Accreditation Council for Occupational Therapy Education.
See accreditation information for Mayo Clinic College of Medicine and Science.