Curriculum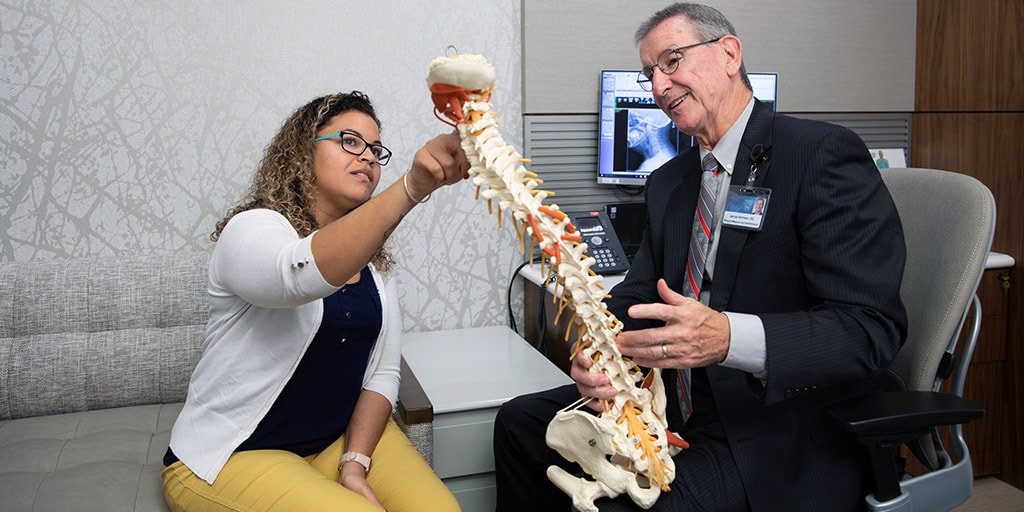 Trainee experiences
In the Physical Therapy Orthopaedic Residency you experience 1,500 hours of clinical practice, including 150 hours of individual mentored time from highly trained and board-certified physical therapists.
The program prepares you for advanced professional practice within orthopaedic physical therapy. The curriculum entails quarterly modules that will instill foundational principles and advanced examination and intervention patient management skills for the spine, upper extremity, and lower extremity.
During this program, learning experiences include:
Weekly and biweekly didactic instruction, motor skill labs, weekly mentorship with faculty, reflective learning assignments, interdisplinary observation opportunities, clinical research opportunities, resident and interdisciplinary journal club participation, and critically appraised topic assignments, and instructor/teaching opportunities
Didactic and laboratory education, including manual therapy psychomotor skill acquisition, is integrated throughout the curriculum and modeled after the orthopaedic physical therapy description of residency practice in module-based learning for foundational content, the spine, upper extremity, and lower extremity
Foundational content covers medical screening, diagnostic imaging, pharmacology, and basic sciences
Clinical training and rotations
Residents will have the opportunity to observe and or participate in the following settings:
Outpatient clinical practice
Inpatient orthopaedics
Pain rehabilitation clinic
Upper extremity clinic
General family practice
Surgical orthopaedic observation
Pain medicine
Sports medicine
Radiology
Spine
Elective specialty observation
Schedule and hours
For the majority of the residency, your schedule includes eight-hour days, five days a week. You will participate with approximately 30 hours a week of clinical care. Didactic education and other learning opportunities will occur in the remainder of the 40 hour week. Self-directed learning may occur outside of this time frame.
Department and faculty
The Physical Therapy Orthopaedic Residency is coordinated and taught by the clinical, scientific, and technical staff of Mayo Clinic. Faculty members are chosen for their commitment to teaching, as well as their clinical practice and research. Many are board-certified specialists in orthopaedics, and fellows of the American Academy of Orthopaedic Manual Physical Therapists. Additionally, they hold academic appointment within the Mayo Clinic College of Medicine. You will practice in the same facility alongside your faculty and mentors.
Facilities
Mayo Clinic's campus in Jacksonville, Florida, is a comprehensive medical facility providing- advanced programs in education and research that support the highest quality patient care.
The ambulatory facilities provide clinical services ranging from primary to specialty care and advanced procedures. Mayo Clinic Hospital provides comprehensive inpatient services, including surgical and medical intensive care units, specialized solid organ transplant units, and advanced cardiac and neurosurgery facilities.
As a resident, you will spend majority of your time at the outpatient orthopaedic and sports medicine clinic located at our Primary Care Gate Parkway location. You will also rotate through our main campus for brief clinical experiences in the upper extremity clinic, Pain Rehabilitation Center, and inpatient orthopaedic floor. Physician shadowing opportunities will be available at both locations.
Evaluation
Mayo Clinic School of Health Sciences uses these evaluative tools:
Written examination/Quizzes
Practicals
Two live patient exams
Final case report
Mentor feedback forms
Self-assessment exercises
Our system provides students and faculty with a complete look at individual performance. Because programs are small, faculty members are partners in learning with students and closely monitor their progress. Assistance is provided whenever necessary to keep all students on track with the program's learning goals and outcomes.