How to Apply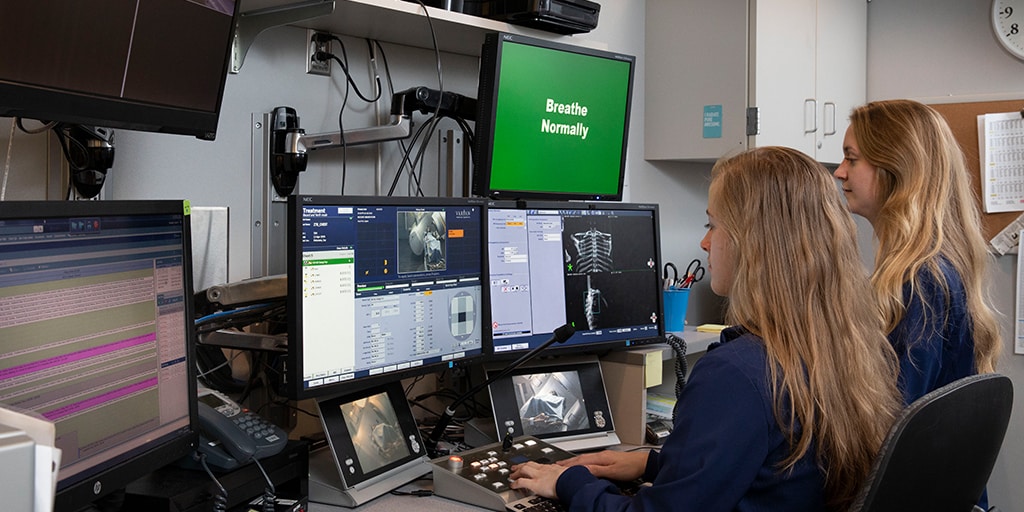 Admission requirements
Before you apply to the Radiation Therapy Program at Mayo Clinic, please review the full list of prerequisite information, technical standards (nonacademic criteria), and complete admission requirements. We review the many attributes and qualities that make up an applicant and look forward to reviewing your application!
Prerequisites of the Radiation Therapy Program includes:
Successfully completed an accredited radiography program with a GPA of 3.0 or higher
Be a certified Radiographer, R.T. (R) by start of program
Earned an associate degree or a more advanced degree prior to beginning the program
Documented observation experience in radiation oncology
The following college coursework (with a grade of a C or higher):

English composition
Speech or oral communications
College algebra
Anatomy and physiology I and II (with lab preferred)
In addition to these general standards, the Radiation Therapy Program has additional specific standards, as the duties of a radiation therapist are physically demanding. In order to perform regular duties, you must be able to:
Routinely lift 20 pounds over your head (treatment cones and other treatment devices)
Stand on your feet for more than 50% of the time
Push and pull, bend and stoop, and kneel or squat routinely
Push standard wheelchairs or carts, and assist in transferring patients onto and off treatment tables
Visually align patients and equipment while in dim lighting
Distinguish colors on computer screens and patient markings
Monitor patients during treatment visually and via audio monitors
Hear and identify various equipment and background sounds during equipment operations
Input patient treatment data into treatment consoles and computers using keyboards
Communicate effectively, orally and in writing, with patients and staff members
Work effectively in a team setting
Read and apply patient setup instructions as stated in treatment charts
Organize and accurately perform the individual steps in a simulation or treatment procedure in the proper sequence
Interact with immunosuppressed patients and patients who may have a communicable disease
Fabricate patient-shielding blocks, which may contain heavy metals and produce vapors that may cause skin rashes or respiratory irritation in hypersensitive individuals
Radiation therapists may be exposed to low levels of ionizing radiation during their careers.
Admission policies
Learn more and find complete details regarding Mayo Clinic School of Health Sciences admissions policy information.
Transfer students
The Radiation Therapy Program does not accept transfer students from other radiation therapy programs.
Non-U.S. citizen applicants
Admission to Mayo Clinic School of Health Sciences is open to U.S. workers in the four categories below. Therefore, visa sponsorship is not available.
U.S. citizens
U.S. nationals
Lawful permanent residents
Asylees and refugees
Applicants whose primary language is not English must submit results from the Test of English as a Foreign Language Internet-based test (TOEFL iBT). Scores from the speaking portion of the exam are given particular consideration in admission decisions. Learn more about the exam and register online at the Educational Testing Service.
The Mayo Clinic School of Health Sciences code for the TOEFL iBT is 5784.
Educational transcripts from schools outside the U.S. must be translated (if they are not already in English) and evaluated for U.S. equivalence by an accredited credential evaluation service company prior to submission. Please refer to the National Association of Credential Evaluation Services for a list of qualified companies. The applicant pays for the examination and credential-evaluation services.
Application process
Positions
Eight to ten students are selected on a competitive basis each year for the Radiation Therapy Program at Mayo Clinic's campus in Rochester, Minnesota.
Application timeline
| Application window | Program start date | Apply |
| --- | --- | --- |
| Nov. 1 - Feb. 1 | Early September | Online application |
Applications may be submitted between Nov. 1 and Feb. 1. The online application will only be available to view, complete, and submit during this open application window. Your application and all supporting documentation, including recommendations, must be received by Feb. 1 of the year you wish to begin classes.
The program begins in early September.
Application instructions
Complete the following steps to apply:
Create an account to begin the online Application for Admission

Select - Mayo Clinic School of Health Sciences
Select – Radiation Therapy Program

Complete each section of the application and submit
After submission, view the required Supplemental Items and Documents
Upload each required item in the Supplemental Items section
Complete the Recommendation Request section
Additional required items
Complete the essay questions and upload them to the Supplemental Items section.
Three letters of recommendation are required and must be completed in the Recommendation Request section. Each recommender will receive an email with a link to complete a rating form and upload a letter.

Academic: Radiography clinical instructor
Program director: Radiography program director
Professional: Work reference

Complete and upload the Prerequisites and Observation Experiences document in the Supplemental Items section.
Upload radiography program transcripts including both your university affiliate transcript and hospital/clinical site transcript, along with unofficial transcripts from all colleges attended. All unofficial college transcripts, as well as radiography program transcripts listing both clinical and didactic grades, may be uploaded in the Supplemental Items section for application purposes. If accepted to the program, official transcripts must be mailed from each institution directly to:
Mayo Clinic School of Health Sciences
Radiation Therapy Program
Jacobson Building, LO_210RAD
200 First St. SW
Rochester, MN 55905
Interview process
If you are considered for acceptance, you will be invited to visit Mayo Clinic for a personal interview (at your own expense) with the admissions committee. Due to the COVID-19 pandemic, virtual interviews may be conducted. Only the top-ranked applicants will be invited for an interview.
Acceptance
Letters will be mailed approximately April 1. Your reply is requested within 10 days of receiving your acceptance letter.