How to Apply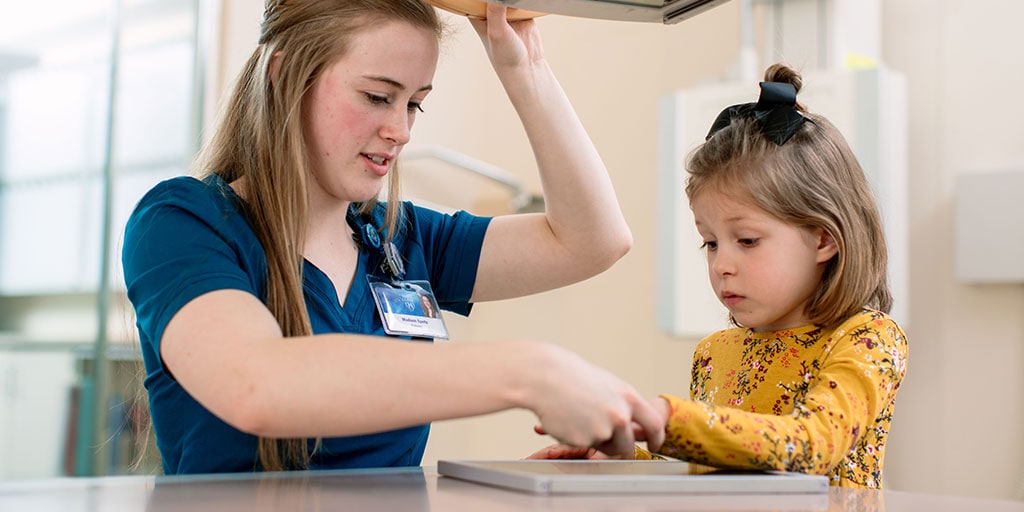 When it comes to applicants, we look at more than test scores and grades. While those numbers are important, we also care about your career aspirations and goals. We've designed this program to have three pathways to admission. This application pathways infographic details the possible pathways. Discover what comes next on your path to becoming a radiologic technologist.
Enrollment options
Affiliated bachelor's degree options
Students seeking a bachelor's degree are eligible to apply to the Radiography Program after completing the required coursework at one of our affiliated academic institutions. We've worked with the below affiliated institutions to ensure you're getting the exact prerequisite education you need to be a strong candidate for our program.
Once you complete the required coursework, you'll apply for the Radiography Program through Mayo Clinic School of Health Sciences. Typically, students will apply during their sophomore or junior year.
Affiliated associate degree option
Certificate pathway
If you have already completed an associate or bachelor's degree and the prerequisites before the start of the program, you may be eligible to apply for the Radiography Program.
The certificate option will grant you a certificate of completion from Mayo Clinic School of Health Sciences and allow you to sit for the credentialing exam directly after completing the Radiography Program.
Transfer student policy
St. Cloud State University (SCSU), Saint Mary's University (SMU), Mount Marty College (MMC), Minot State University (MSU), Rochester Community and Technical College (RCTC), University of Mary (UMary), University of Minnesota Rochester (UMR), University of Sioux Falls (USF), and University of Wisconsin - River Falls (UWRF) may accept transfer credit for previous general college coursework. Refer to those institutions to learn about their transfer policies.
Transfer students from other radiography programs are not accepted.
PSEO and advanced placement credits
Students considering Advanced Placement (AP) and Post-Secondary Enrollment Options (PSEO) when completing program prerequisite coursework should refer to the college granting credits for questions regarding credit awards.
Prerequisites and technical standards
Learn what you need to have completed and what requirements you need to meet before applying.
Prerequisites and minimum admissions requirements
To be eligible for the Radiography Program, you must:
Have a minimum cumulative GPA of 2.75 on a 4.0 scale
Complete at least four hours of job shadowing in a general radiology department (this can be done at Mayo Clinic or another health care institution)
Be currently enrolled at one of the program's academic affiliates and be on track for degree completion or have already earned an associate degree (or higher)
Be at least 18 years of age before starting the program
Complete the following prerequisite college coursework with a C or higher prior to the program start date
| Subject | Minimum requirements |
| --- | --- |
| English | One semester of college-level English composition |
| Mathematics | One semester of college algebra; a higher-level math course also satisfies this requirement |
| Anatomy and physiology | Two semesters of college-level anatomy and physiology with a lab component |
| Physics | One semester of college-level physics with a lab component |
| Speech or Interpersonal Communications | One semester of college-level speech or interpersonal communications |
| Chemistry | One semester of college-level chemistry with a lab component |
| Ethics | One semester of college-level ethics or medical ethics |
In addition to the prerequisite courses listed above, some affiliates may have additional degree requirements or prerequisites.
Competitive applicants
Students will be most competitive if they meet the following criteria:
Have a GPA of at least 3.0 on a 4.0 scale, including courses in mathematics and sciences
Have completed the prerequisite coursework within five years of applying
Have previous patient care or customer service experience
Demonstrate genuine interest in the radiography profession
Technical standards
Candidates must meet the technology standards for the Radiography Program (Minnesota) (with or without reasonable accommodation) necessary to acquire or demonstrate competence in health professions. To seek exceptions to these standards, students accepted for admission must initiate a request at least six weeks before the program begins.
Application process
Students pursuing the Bachelor of Science in Health Professions (BSHP) degree option at UMR should complete this UMR application for admission. If appointed to the Radiography Program, BSHP students are jointly admitted to UMR and Mayo Clinic School of Health Sciences.
All students who are not seeking a degree through the University of Minnesota Rochester should refer to the application instructions below.
| Application window | Program start | Apply |
| --- | --- | --- |
| Dec. 1, 2019 - Jan. 15, 2020 | June 2020 | Online application |
Application instructions
1. Create an account. Prior to submission of an application, you must create an account. Note the following as you create an account and begin completing an application:
On the Create an Account page:

For School of Study → select School of Health Sciences
For Location → select Rochester, MN
For Area of Interest → Radiography Program
For Start Date → Choose date

On the My Account page:

Scroll down to Next Steps → select "Start an Application"

On the Online Application page:

Verify that the program listed is what you want.
Click "Continue with Application Selected Above"

On the Application Listing page:

Select "Start a New Full Application"
2. Complete the online application. Once you have created an account, you will be able to continue with the application. The sections below are located in the application. You may complete them in order or click on the section you want using the navigation menu on the left.
Program of interest:

Review populated data for accuracy.
Complete "Reapplying and Education Completed" questions.

Personal information:

Review populated data.
Complete any other fields.
If you didn't enter an address or phone number before, you will be required to enter it now.

Demographic data:
Education:

Be sure to input as much information as possible.
All students pursuing an associate degree through RCTC must also submit official high school transcripts.

Employment:
Standardized testing:

Please input information regarding the ACT, SAT, and/or GRE as they apply to you. Please check your program website to see if these are required.

Professional licensing and registration:

Enter any professional licenses you hold.

Essay:

Refer to the questions on the application to complete the essay.

Signature and submit

Certify and sign your application.
Submit your application.
3. Complete the recommendations and supplemental items. After submitting the application, select "Click here to upload program-specific supplemental item(s)" and upload all supplemental items under the "Supplemental Items" box:
Resume. Upload your resume in the application system. Your resume is a chance to highlight your experiences and skills.
Recommendations. Submit two references by entering email addresses for recommendations under the "Recommendation Requests" section. A minimum of one reference must be an educational reference.


Educational reference. Choose a person familiar with your educational qualifications and your potential for success in the field of radiography. References may include current or former teachers or professors.
Work reference. Choose a person familiar with your professional qualifications and your potential for success in the field of radiography. References may include employers, teachers, or supervisors.
**If you do not complete these at the time of submission, please visit your "My Account" page and navigate to your application for a link to complete.
4. Submit transcripts. All transcripts must be postmarked by Jan. 15 and should be sent directly to the address below. Submit a transcript from every college and university you have attended. If appointed to the program, official transcripts must be mailed directly to Mayo Clinic School of Health Sciences from each educational institution. All students pursuing an associate degree through RCTC must also submit official high school transcripts.
Send your transcripts to:
Radiography Program
Mayo Clinic School of Health Sciences
Siebens Building, 11th Floor
200 First St. SW
Rochester, MN 55905
Note: Incomplete applications, or applications postmarked or electronically submitted outside of the Dec. 1 to Jan. 15 time frame, may not be processed. Program information and application materials are updated each year and therefore are not valid for subsequent applications.
Any updates or changes to the published information that affect applicants for the next class are made on this website before the application window opens.
What happens after I submit my application?
Interviews. Applicants considered for an appointment are invited to Mayo Clinic's campus in Rochester, Minnesota, at their own expense, for a personal interview.
Interviews will occur in January and February. Applicants who live more than 300 miles from Rochester may have the option of interviewing via webcam; please contact the program for information regarding this option.
Fluency in written and spoken English is essential for success in the program and to ensure patient safety. Applicants must demonstrate objective competency in English through the admission interview and may be required to submit results from the Test of English as a Foreign Language (TOEFL) examination or equivalent examination.
Acceptance. All appointment letters are emailed in March. Your reply is required within seven business days. Appointment is contingent upon successful completion of the occupational health review and background checks (federal and Minnesota). Students are responsible for the associated fee required to complete these requirements.
Enrolled students are required to be covered in a medical insurance plan throughout their educational program at Mayo Clinic. Students who do not have health care coverage should purchase a policy from an agency or company of their choice. Mayo Clinic School of Health Sciences does not endorse any particular plan or provider.
Non-U.S. citizen applicants
See the Mayo Clinic School of Health Sciences non-U.S. citizen applicant's policy.
Equal opportunity
Mayo Clinic School of Health Sciences upholds all federal and state laws that preclude discrimination on the basis of race, sex, age, religion, national origin, marital status, sexual orientation, disabilities, or veteran status.
For more information, visit the Office for Diversity.