Department and Faculty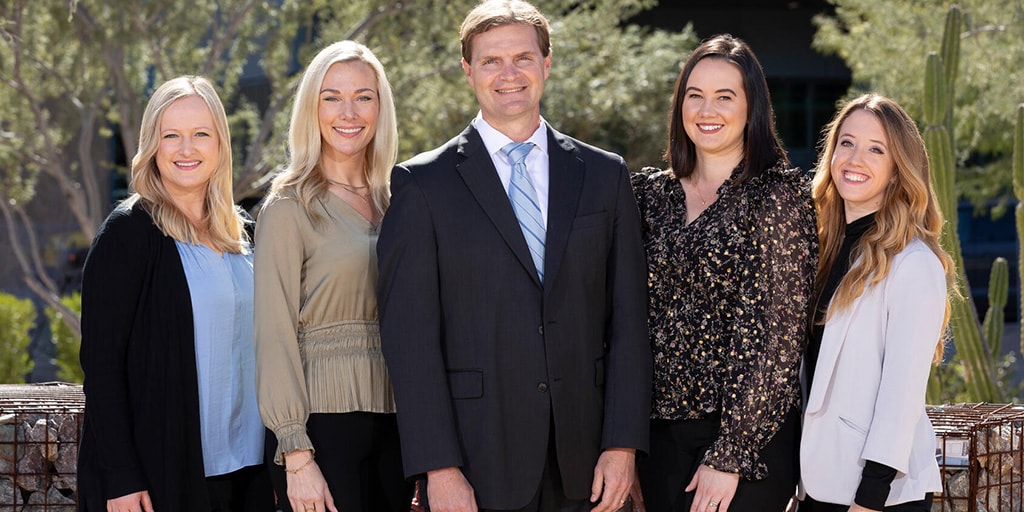 Meet the faculty
The Speech Language Pathology Clinical Fellowship is coordinated and taught by the speech pathologist staff and consulting staff from Mayo Clinic's Department of Otolaryngology. Faculty members are chosen for their commitment to teaching, as well as their clinical practice and research. Many have published and lectured extensively and are highly regarded in their fields.
Stacy Holyfield, M.S., CCC-SLP
Program director

Stacy Holyfield is a licensed speech-language pathologist with expertise in assessment and treatment of voice disorders including singing and professional voice. She practices as part of the interdisciplinary team in the Department of Otolaryngology at Mayo Clinic in Arizona. She holds a Bachelor of Music in Vocal Performance, and a Master of Science in Clinical Speech-Language Pathology from Northern Arizona University. She also earned post-graduate certification in Vocology through the National Center for Voice and Speech at the University of Utah.

She has experience singing a variety of styles in professional settings as a soloist, on national and international choir tours, and she is active in local musical theater. She participates in research with her exceptional colleagues at Mayo Clinic, and her academic interests center around physiology of normal and disordered voice production to inform and enhance clinical and behavioral treatment of voice. She is a mentor for the development of graduate clinicians through the student observership program at Mayo Clinic, and she has experience serving as a clinical supervisor for student externs.

She holds the Certificate of Clinical Competence in Speech-Language Pathology through the American Speech and Hearing Association. Professional affiliations include ASHA Special Interest Group for Voice and Voice Disorders (SIG 3), and she is an associate member of the Pan American Vocology Association (PAVA). Stacy is the director and clinical educator for the Speech Pathology Clinical Fellowship program.

Sara Charney, M.S., CCC-SLP

Sara Charney is a speech-language pathologist at Mayo Clinic in Arizona. Sara is an NCVS-trained vocologist who specializes in the professional and singing voice. Her other clinical interests include the management of upper airway disorders (chronic cough and inducible laryngeal obstruction) and swallowing and voice disorders related to head and neck cancer. Sara is dedicated to education and community outreach, serving as the Director of the student observership program at Mayo Clinic Arizona. She also co-hosts "Out of the Voicebox", a podcast aimed to educate graduate students, singers, and individuals in related fields by interviewing experts on a wide-range of voice-related topics. Sara has also been featured on several national platforms (e.g., ABC News) to discuss the impact of the COVID-19 pandemic on the field of speech-language pathology. Her research interests have focused on the investigation of rare clinical voice diagnoses, interdisciplinary education, and novel vocal therapeutic techniques.

Stephanie Cotton Zacharias, Ph.D.

Stephanie Cotton Zacharias, Ph.D., received her master's degree from Purdue University and doctorate degree from University of Cincinnati. She is a licensed speech-language pathologist and is currently an Assistant Professor at Mayo Clinic College of Medicine and Sciences, and a research scientist in Dr. Lott's Head and Neck Regenerative Medicine Lab. Dr. Zacharias is concurrently building a Pediatric Voice Clinic at Phoenix Children's Hospital. She has published and presented nationally and internationally on various topics of pediatric voice and voice disorders. Her research interests include use of high-speed videoendoscopy, pediatric voice development, and efficacy of voice therapy in children. Dr. Zacharias is currently the site PI of a NIH R01 titled "Towards Precision Assessment of Dysphonic Speech: From Vocal Fold Physiology to Perception."

Jessica Gregor, M.S., CCC-SLP

Jessica Wind Gregor is a speech-language pathologist with expertise in diagnostics and intervention of swallowing disorders in adults. She holds board certification through the American Board of Swallowing and Swallowing Disorders (ABSSD) since 2016. Jessica also specializes in prevention, management, and rehabilitation of speech, jaw opening, breathing, and lymphatics in the oncology population, including alaryngeal speech and pulmonary optimization in total laryngectomees. She established the first Multidisciplinary Swallowing Clinic within the Mayo Clinic system with her ENT and gastroenterology colleagues for best collaborative care of complex dysphagia cases. She runs Desert Voices, the largest total laryngectomee support group in the valley. Jessica obtained her bachelor of science in speech and hearing science at the University of Illinois at Urbana-Champaign in 2008 and her master of science in speech language pathology at Rush University in Chicago, IL in 2010. Previous employment highlights include the Veterans Healthcare Administration and Cleveland Clinic System. Jessica is a Florida Dysphagia Institute faculty member and international trainer of the McNeill Dysphagia Therapy Program (MDTP) since 2019. She is a clinical mentor for the Med SLP Ed and associated certification program. Jessica is passionate about interdisciplinary collaboration, patient education, and patient advocacy. Her research interests are the oropharyngeal and esophageal interplay as well chronic reflux-related changes in the anatomy and physiology of swallowing.

David Lott, M.D.
Medical director

David Lott, M.D. holds the academic rank of Professor of Otolaryngology at Mayo Clinic College of Medicine and Science. He serves as the Chair of the Division of Laryngology at Mayo Clinic in Arizona. His practice includes voice and swallowing restoration, laryngeal cancer, and laryngotracheal reconstruction.

Dr. Lott received his M.D. degree at the University of Iowa Carver College of Medicine and completed a residency in otolaryngology/head and neck surgery at the Cleveland Clinic Head and Neck Institute. He received further fellowship training in laryngeal surgery and professional voice at Harvard Medical School/Massachusetts General Hospital.

Dr. Lott is the Associate Director of the Mayo Clinic Center for Regenerative Medicine. He is faculty for both the Clinical & Translational Science and Regenerative Sciences tracks within the Mayo Clinic Graduate School of Biomedical Sciences.

In addition, he is the Director of the Head and Neck Regenerative Medicine Lab at Mayo Clinic. The primary goal of the lab is to establish safe and effective clinical translation of regenerative medicine technology. The lab is initiating a FDA-approved human clinical trial to evaluate the efficacy of the tissue-engineered technologies. Additionally, the efforts of this program have established the world's first UNOS-approved Larynx and Trachea Transplantation Program.

Dr. Lott has authored many publications on laryngeal regenerative techniques, including invited manuscripts on laryngeal transplantation and book chapters on laryngeal transplantation and larynx bioengineering. He has also given multiple presentations on the topic at various national and international professional meetings. Additionally, he co-authored the book, Contemporary Transoral Surgery for Primary Head and Neck Cancer.

Throughout his career Dr. Lott has received many awards and honors, including being named in the Top Voice Doctors in America by Billboard Magazine. He received the Transform the Practice Award conferred by Mayo Clinic. Additionally, he has been honored with the Mayo Clinic Distinguished Clinician Award.

He is very active in education, not only with Mayo Clinic's Department of Otolaryngology residents and fellows in Arizona, but also as medical director of the Arizona State University/Mayo Clinic Speech Pathology Voice Internship and the Mayo Clinic Speech-Language Pathology Clinical Fellowship.

Dr. Lott is involved with both national and international organizations and is an active member of the American Academy of Otolaryngology/Head and Neck Surgery, Triological Society, American Bronchoesophageal Society, American Laryngological Society, and the International Bronchoesophagological Society.
Campus and facilities
Mayo Clinic has two main campuses in Arizona and five additional clinic sites. The Phoenix campus includes the state-of-the-art Mayo Clinic Hospital, the first hospital entirely designed and built by Mayo Clinic. It has been recognized several times by Phoenix magazine as the Best Hospital in Phoenix, and has been named the best hospital in the nation by U.S. News & World Report.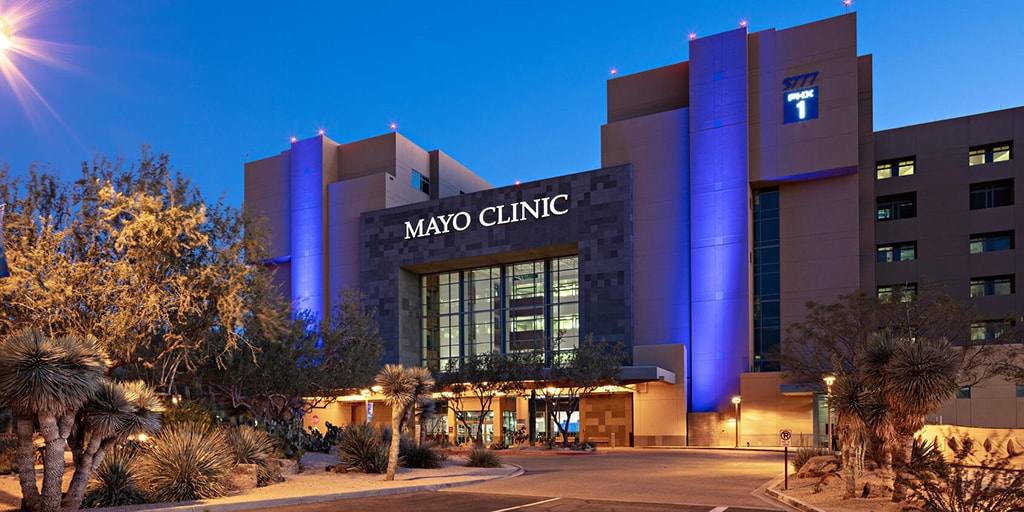 Mayo Clinic's campus in Phoenix, Arizona, includes a 3,000-square-foot multidisciplinary simulation center, which simulates real-life patient care situations, enabling learners to practice on sophisticated mannequins in a no-risk environment. Experiential learning enhances patient safety and improves competency assessment of learners through new modes of simulation-based education.
This campus also includes a state-of-the-art education and conference center, which has a 330-seat auditorium and adjacent meeting rooms. The facility serves all types of learners engaging in lifelong learning. Services in numerous medical and surgical disciplines are provided, including outstanding programs in cancer treatment and organ transplant.
Mayo Clinic's campus in Scottsdale, Arizona, is centered around a beautiful, five-story outpatient clinic. This modern facility contains extensive exam rooms, an outpatient surgery center equipped for general anesthesia, a full-service laboratory, a pharmacy, a patient education library, an endoscopy suite, and a 188-seat auditorium for patient, staff, and student education programs.
During the fellowship, the majority of your time is spent at the Phoenix campus, however you will have the opportunity to work at the Scottsdale campus and at the Glendale campus as well, one or two days per week.