Curriculum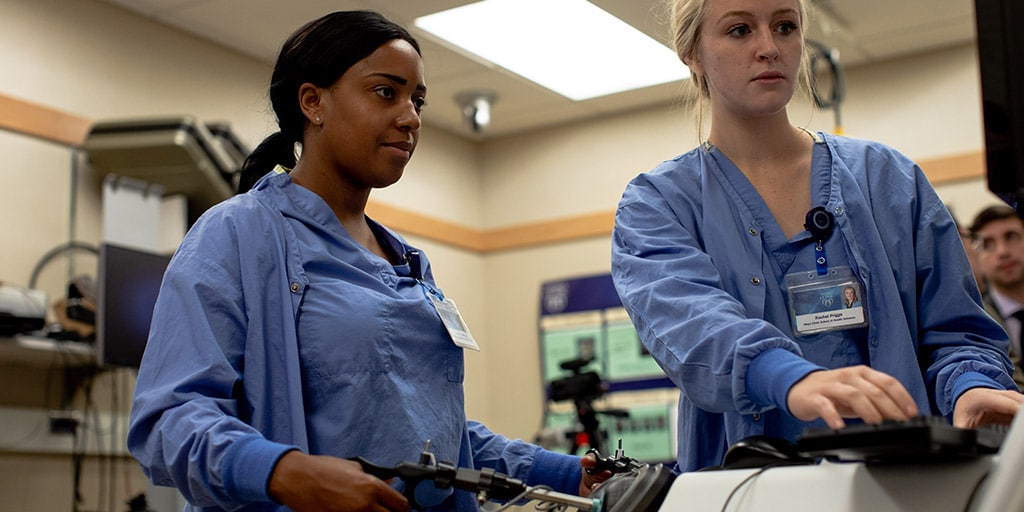 60%
time spent in clinical settings
40%
time spent in classroom
1,150
hours spent on surgical cases
Student experiences
Classroom learning
Through the coursework you will gain the knowledge and skills for professional practice in surgery. Classroom time is spent learning about the operating room culture and techniques, participating in an intensive anatomy review with the cadaver lab, and learning about expectations of the surgical assistant. Clinicals are conducted in the various surgical suites of Mayo Clinic Hospital — Rochester to obtain the necessary technical skills vital to this role. The opportunity to develop a research paper for publication is also offered.
During the program, learning experiences include:
Advanced human anatomy
Suture and tying skills
Hemostasis of the surgical field
Laparoscopic techniques
Casting and dressing applications
Robotic surgical procedures
Hands-on clinical rotations
The clinical rotations offered as part of the Surgical First Assistant Program require experience in a minimum of 240 cases (approximately 1,150 hours) and include these surgical areas:
General
Orthopedics
Neurosurgery
Trauma
Genitourinary
Plastics
Ambulatory
Robotics
Vascular
Cardiothoracic
In order to take the National Commission for the Certification of Surgical Assistants (NCCSA) examination, candidates are required to complete a minimum of 400 clinical hours and a minimum of 240 cases. The program's clinical experience will exceed these requirements.
Hours
The classroom portion of the program typically includes four or more hours per day, three to five days a week. Days and times vary based on availability of faculty and space.
The clinical schedule can vary but you will never work above 50 hours a week. The minimum case requirement will be discussed prior to entry of the surgical suite with the minimum hour requirement being 950 hours.
Outside work
You may hold outside employment if it does not conflict with your program responsibilities.
Facilities and faculty
Learn more about the facilities and faculty of the Surgical First Assistant Program.
Facilities
Mayo Clinic Hospital — Rochester is an extensive outpatient complex with substantial research and education facilities. This Mayo Clinic site is among the largest, most advanced medical centers in the world.
You spend time in the Mayo Clinic Multidisciplinary Simulation Centers and human anatomy lab, as well as clinical time in the surgical suites of Mayo Clinic Hospital — Rochester and the same-day surgical suites in the Gonda Building. Opportunities to rotate through Mayo Clinic Health System sites will be expected based on availability.
Mayo Clinic Hospital — Rochester has one of the largest surgical suites in the nation with more than 120 operating rooms. Each year, Mayo Clinic surgeons perform nearly 50,000 surgical procedures — about 200 a day — at the hospital's two campuses. The vast number and type of surgeries, in combination with a highly educated faculty, make Mayo Clinic an ideal educational setting for students in surgical training programs.
Teaching faculty
Sarah Penkava, Program Director
Sara Penkava started her nursing career in 1998 at Regions Hospital in St. Paul, Minnesota. Her first experience at Mayo Clinic (2002) was in surgery, specifically with pediatric airways in ENT, ophthalmology, plastic surgery, and oral surgery. Ms. Penkava went on to receive her Master's in Nursing in 2009.
In 2012, the Mayo Clinic School of Health Sciences approved a new program to educate and train Surgical Assistants. Sarah Penkava is the program director and has been with the Surgical First Assistant Program since its inception. She is a Silver Quality Fellow (Mayo Clinic Quality Academy) and received her Instructor of Nursing in 2014. Ms. Penkava is an active member of National Surgical Assistant Association (NSAA) , the Association of PeriOperative Registered Nurses (AORN), and the Association of Surgical Education (ASE).
Helga Olson
Helga Olson joined the faculty in 2012. Ms. Olson received her B.A. in counseling psychology and her M.A in liberal sciences from the University of Findlay and her graduate certification in surgical assisting from Eastern Virginal Medical School. Upon graduation from EVMS, she was hired at Mayo Clinic in the Cardiovascular Division in 2009. Ms. Olson continued her education and completed a master's degree in clinical anatomy from New York College.
Ms. Olson's teaches and coordinates courses in pre-surgical theory, principles of surgical assisting, advanced topics in surgery, and has experience teaching anatomy. She is pursuing additional training in the subject through the Anatomy Training Program (co-sponsored by the Anatomical Society and American Association of Anatomists).
Ms. Olson is an active member of the National Surgical Assistant Association for which she is the chair of the professional development and education committee board. She also serves as chair for the Accreditation Review Council on Education in Surgical Technology and Surgical Assisting (ARC/STSA) board. ARC/STSA provides national recognition for higher education programs in surgical technology and surgical assisting, in collaboration with the Commission on Accreditation of Allied Health Education Programs (CAAHEP), in order to promote quality surgical patient care through quality credible education.
Cassandra Broadwater
Cassandra Broadwater joined the program in 2015 after 10 years of working in gynecology surgery at Rochester Methodist Hospital. She graduated in 2007 with a degree in surgical technology from Northland in East Grand Forks, Minnesota. After graduation, she began working at Mayo Clinic as a certified surgical technician in gynecology and plastic surgery. In 2011, Ms. Broadwater received her bachelor's degree in applied health science and obtained a position as Certified Surgical Assistant at Mayo Clinic. She is pursuing a master's degree in educational leadership with an emphasis on curriculum building and instruction.
Ms. Broadwater's surgical interests include minimally invasive gynecology surgery including robotic and laparoscopic pelvic surgery. Her teaching approach includes a lot of hands on training, simulation scenarios, and situational labs.
Grading and evaluation
Mayo Clinic School of Health Sciences uses these evaluative tools: written exams, demonstration of skills, self-assessment exercises, and faculty reviews.
Our system provides students and faculty with a complete look at individual performance. Because programs are small, faculty members are partners in learning with students and closely monitor their progress. Assistance is provided whenever necessary to keep all students on track with the program's learning goals and outcomes.
Graduation and certification
Upon successful completion of the program, graduates receive a certificate of completion from Mayo Clinic School of Health Sciences. The program requires a grade of 70 percent or greater to pass a course. All courses and clinical work must be completed consecutively; deviation from scheduled coursework is not permitted.
During the last course of the program, you are required to take national certification exams:
These exams are offered on-site for the student upon completion of the required number of clinical cases and classroom credits.