Curriculum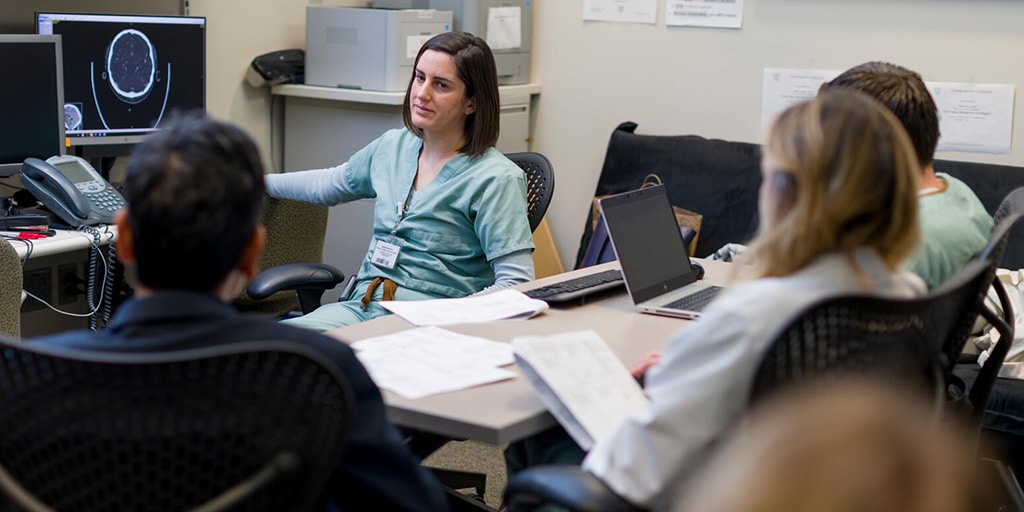 Neurology residents at Mayo Clinic's campus in Arizona participate in an integrated curriculum that includes courses taught by world-renowned neurologists, teleconferenced to each Mayo Clinic site. Our didactic program is one of the strongest in the nation because all faculty members are intimately involved in the training. Learn about our year-by-year model of curriculum and didactics.
Patient-centered clinical training
Clinical practice is as necessary to residency training as didactics. Every patient is unique, and it's through hands-on experience and supervision that both patient and educational needs are served. 
A highlight of Mayo Clinic's Adult Neurology Residency is its depth of clinical experience combined with an excellent mix of routine and esoteric neurological disorders. You're given ample time to see patients and discuss cases with the supervising physician. Close clinical supervision continues to foster the reciprocal learning between supervisors and residents that characterized the early days of Mayo Clinic's neurology program.
You're provided with graduated autonomy as you progress through your clinical training and function as junior attendings in your PGY-4 year.
Rotations
While the core clinical training and all subspecialty training are available at Mayo Clinic's campus in Arizona, you may choose to travel to Mayo Clinic's campuses in Rochester, Minnesota, or Jacksonville, Florida, sites for up to one elective each year. Elective rotations are available in many if not all the subspecialties.
Epilepsy Monitoring Unit (EMU)
Inpatient consult service
Neuro-ophthalmology
Neuroradiology
Neurosurgery
Mayo Clinic School of Medicine neuroscience course
Pain medicine
Palliative medicine
Phoenix Children's Hospital (PCH) outpatient rotations
Phoenix Indian Medical Center (PIMC)
Physical medicine and rehab
Research
Sleep medicine
Subspecialty clinic rotation
TeleStroke
Winslow Indian Health Care Center (WIHCC)
Moonlighting
Moonlighting is permitted for licensed residents only when they do not have clinical responsibilities (for example, during research time or vacation time).
Certification
You're required to become certified in Basic Cardiac Life Support (BCLS) and Advanced Cardiac Life Support (ACLS). ACLS courses are held during the last week of June, before the start of the academic year. An evening ACLS course also is offered every three months to facilitate re-certification.
All residents also complete the Emergency Neurological Life Support (ENLS) training course to gain proficiency in caring for neurological emergencies.
The resident comradery and the close faculty mentorship allowed by a small program make this program unique. We're exposed to a wide variety of pathology and work with attending neurologists at the top of their field. We have one morning a week reserved for learning which is protected time and we complete two months of dedicated EMG/EEG training. There is endless research opportunity available in a variety of subspecialties and great program support to attend conferences.
Molly Knox, M.D.
2021 graduate, Mayo Clinic neurology senior associate consultant