Curriculum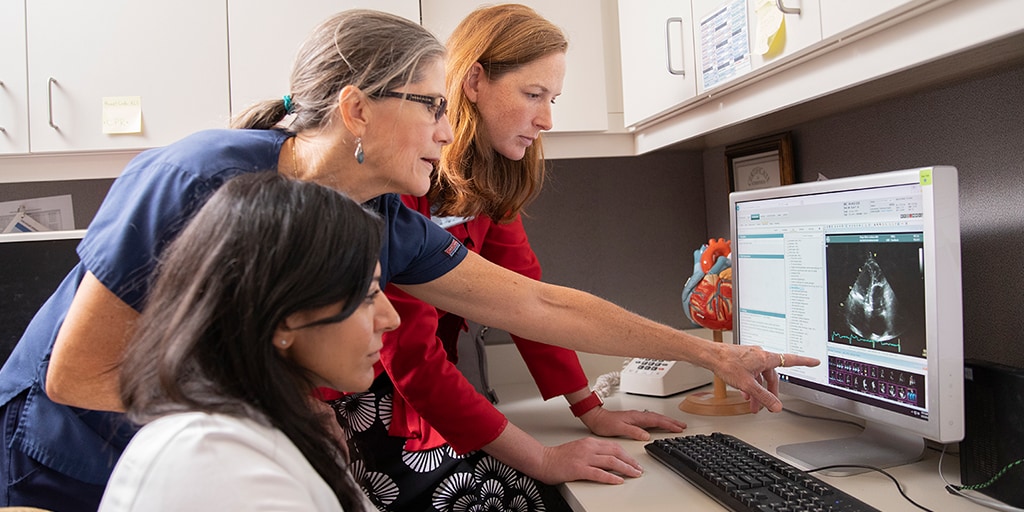 The first two years of your clinical training are spent in core rotations, where you obtain the basic knowledge and technical skills necessary to proceed to more advanced training in a subspecialty area. These years include rotations through the various subspecialty laboratories, and both inpatient and outpatient clinical arenas. We aim to produce exceptional cardiovascular clinicians who will be able to manage patients with various cardiovascular diseases and acuities independently.
Throughout the three years, fellows have 10 months of elective/research time to advance their clinical training while taking part in dedicated research. Various tracks are available, including, but not limited to, the following within the three year fellowship:
Imaging track. Echocardiography (level III), nuclear cardiology (level II), cardiac computed tomography (level II), and cardiac magnetic resonance imaging (level II).
Imaging/invasive track. Echocardiography (level II), nuclear cardiology (level II), cardiac computed tomography (level II), and catherization (level II).
Rotation schedule
The core rotation areas are:
| Rotation | Length (months) |
| --- | --- |
| Hospital service | 5 |
| Hospital consults | 3 |
| Heart transplant and advanced heart failure service | 2 or 3 |
| Echocardiography | >6 |
| Electrophysiology | 2 or 3 |
| Cardiac catheterization | 4 or 6 |
| Nuclear cardiology | 3 or 6 |
| Advanced cardiac imaging | 3 or 6 |
| Outpatient continuity clinic | 1 half day each week |
| Electrocardiography | Minimum of 3,500 ECGs over 3 years |
Rotation descriptions
Hospital service
You supervise the team of residents, interns, medical students, and advanced practice providers with different attending physicians each week.
Heart transplant and advanced heart failure service
Along with registered nurse coordinators and an advanced registered nurse practitioner, you supervise the service with oversight by a transplant cardiologist and, in the first year of fellowship, an advanced heart failure and transplant cardiology fellow.
Echocardiography
During your first and second year of training, the first three to four months of echocardiography training are exclusively in the outpatient setting. Thereafter, this rotation incorporates work in the hospital setting, once fellows have met specified milestones in the performance and interpretation of transthoracic echocardiography.
In the hospital setting, fellows gain experience with transesophageal and stress echocardiography.
Electrophysiology
This rotation includes inpatient and outpatient consultation, invasive electrophysiology, defibrillator and permanent pacemaker insertions, ambulatory ECG interpretation, and implantable device interrogation and programming.
Cardiac catheterization
You train in state-of-the-art labs with experienced interventional cardiologists. The lab is engaged in the full spectrum of diagnostic angiography, hemodynamic assessment, coronary artery interventions, endomyocardial biopsies, structural interventions, and peripheral arterial interventions.
Nuclear cardiology
During this rotation, you interpret a large volume of myocardial perfusion imaging studies including PET and occasional MUGA scans. You are exposed to principles of radioisotope preparation, dosimetry, and safety.
This rotation is combined with the advanced cardiac imaging rotation.
Advanced cardiac imaging
During this rotation, you are introduced to radiologic principles including instrumentation, image acquisition and processing, and interpretation of cardiac magnetic resonance images and cardiac computerized tomographic images.
You work with cardiologists and radiologists. These specialists work together and have specific expertise in advanced cardiac imaging. They collaborate in performing, analyzing, and interpreting studies.
This rotation is combined with the nuclear cardiology rotation.
Outpatient continuity clinic
On average, you see four to six patients per half-day clinic. You are supervised by a staff cardiologist. Fellows will also have the opportunity to work in the Sulzbacher Cardiovascular Clinic for the underserved, which is led by Mayo cardiologists and staff.
Electrocardiography
The minimum exposure is 3,500 ECGs over three years.
Electives
Opportunities are available in your area of interest, along with certain rotations at Mayo Clinic's campuses in Rochester, Minnesota and Phoenix/Scottsdale, Arizona. There are also various local, national, and international rotations that may be of interest to the fellow, including an international global health experience.
Didactic training
During the Cardiovascular Diseases Fellowship, you participate in a variety of lectures and conferences that include:
Weekly core curriculum lectures
Weekly heart failure conference
Weekly echo conference
Weekly cardiac transplant selection conference
Weekly cardiac pathology conference
Monthly clinical cardiology conference
Monthly cath conference
Monthly journal club
Monthly cardiology grand rounds
Monthly advanced cardiac imaging conference
Monthly research conference
The program provides funding for registration and travel expenses for attendance at one domestic cardiology meeting of your choice, with approval from the program director.
Research training
You have the opportunity to spend considerable time starting a research project in the first year, and continuing to move it towards presentation and publication during the three years. The program funds your participation in national and regional meetings at which your research is presented, upon program director approval. It is an exception to publish an original manuscript and various opportunities are available to mentor the thrainee. In addition to support with ideas, IRB, and manuscript submission, fellows will have assistance with database production and analysis. Quarterly to biannual research journal clubs at a faculties' home will also teach important research skills along with consistent mentoring sessions.
Production of a manuscript deemed worthy of publication by your research mentor is required for graduation.
Call frequency
Your call schedule varies by individual rotation. Mayo Clinic College of Medicine and Science follows the duty-hour recommendations of the Accreditation Council for Graduate Medical Education.
Moonlighting
Intramural and extramural moonlighting is allowed on a case-by-case basis, subject to program director approval. Moonlighting hours must be counted toward duty hours, and moonlighting activities cannot interfere with fellow education or clinical obligations.