Curriculum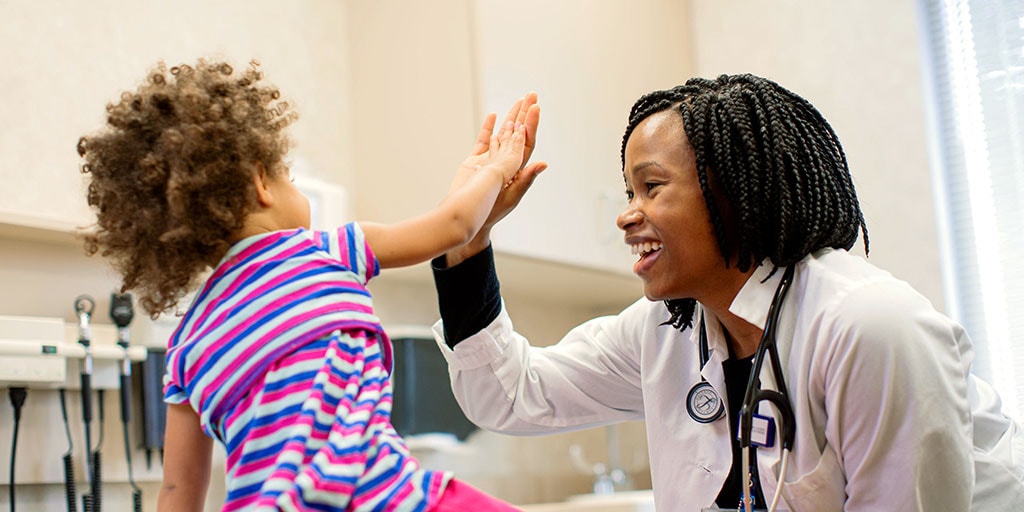 Clinical training
During the first two years, the American Board of Psychiatry and Neurology (ABPN) requires you to spend two years in preliminary training in an accredited program in the United States or Canada. This training will include one of the three following options:
Two years of general pediatrics training
One year of general pediatric training and one year of research in the basic neurosciences
One year of general pediatric training and one year of internal medicine training
The final three years of training are closely integrated with the Adult Neurology Residency. Residents spend 12 months on the Child Neurology consult and outpatient services, 12 months in Adult Neurology (maximum of six months inpatient service), and have mandatory rotations in clinical neurophysiology (two months), neuropathology (two months) and child psychiatry (one month). There is ample time (seven months) for elective rotations.
Early in your training, you spend an outpatient month working closely with faculty in the Department of Neurology's Section of Education, refining your skills of neurological examination, history taking, presentation and differential diagnosis.
As your experience increases through residency, you are given greater responsibility for patient management.
Residents participate in a weekly continuity clinic where they are the assigned Child Neurologist, providing primary consultative and long-term follow-up to patients, allowing them to gain appreciation for evolution of neurological conditions.
Residents are also encouraged to refer patients seen on the hospital consult service to this clinic. Our residents have found the patient mix of clinical responsibilities, staff supervision, and teaching to be ideal.
During hospital rotations, you provide neurological consultations for the general pediatric and adolescent medicine service, the pediatric medical subspecialties, emergency room and pediatric surgical subspecialties, such as otorhinolaryngology, urology, ophthalmology, cardiovascular surgery and orthopedics. You experience a wide variety of acute and subacute neurological diseases, from common to unusual pediatric neurological problems.
You also spend a portion of this time on the pediatric epilepsy monitoring unit and gain experience with inpatient video-EEG monitoring in children.
The child and adolescent neurology outpatient clinic serves both primary and consultative patients from other pediatric services. Under the supervision of an attending child neurologist, you have the opportunity to see and manage a broad spectrum of pediatric neurological problems and have access to all diagnostic capabilities except complex invasive procedures.
Starting in PGY-3 year, you hold a weekly continuity clinic where you consult and follow patients, acting as the primary neurologist.
During the last year of training, you complete a one-month senior rotation where you serve as the primary neurologist to several new patients each day. You also have the opportunity to participate in outreach clinics in child neurology.
During your inpatient assignments, you learn to evaluate and treat neurological emergencies in the emergency department at Mayo Clinic Hospital, Saint Mary's Campus.
You also evaluate neurological disorders in the inpatient setting, including the intensive care unit. You participate in teaching rounds each day in the hospital. Child and Adolescent Neurology residents spend no more than six months on the inpatient adult neurology service.
While on outpatient rotations, you evaluate patients with common and unusual neurological conditions. You participate in daily case discussions and have outpatient education opportunities on special outpatient teaching services.
You spend at least two months in a clinical neurophysiology rotation. A unique feature of this course is that this time is dedicated to learning: you do not have other competing clinical responsibilities or call. This assignment includes didactic instruction and practical experience in the basics of:
Autonomic function testing
Electroencephalography (EEG)
Electromyography (EMG)
Electronystagmography
Evoked potentials
Nerve conduction studies (NCS)
Polysomnography
After completing this rotation, you can spend elective time in EEG, EMG, or sleep medicine.
You spend two months training in neuropathology during the PGY-4 year. This rotation provides direct experience with autopsy material under the direction of a full-time neuropathologist.
Your training also includes case reviews, brain cutting, and the study of microscopic materials.
Electives provide an opportunity to customize your education to your specific interests. In addition to further training in child and adolescent neurology, your elective options include the following related clinical and laboratory specialty areas:
Autoimmune neurology
Behavioral neurology
Cerebrovascular disease
Child development
Clinical epilepsy
Clinical neurophysiology: EEG and/or EMG
Deep brain stimulation
Genetics
Headache
Metabolic Disorders
Movement disorders
Neuroimmunology
Neuromuscular disorders
Neuro-oncology
Neuro-ophthalmology
Neuro-otology
Neuroradiology
Neurosurgery
Pain clinic
Palliative care
Physical medicine
Private Practice
Psychiatry
Research
Sleep disorders
Speech pathology
International Elective: Mayo offers the option of doing an elective in Child Neurology, in an underserved international region, in a mentored setting, and provides funding to help cover expenses
You are also able to request electives at the other Mayo Clinic sites in Florida and Arizona.
Didactic courses and conferences
Departmental and multidisciplinary conferences occur essentially every weekday morning and at noon and include:
Neurology Grand Rounds
Child Neurology Grand Rounds
Neurology Subspecialty Conference
Morbidity and Mortality
A conjoint weekly conference is held with Child Neurology and Pediatric Neuroradiology in which the radiological findings of Child Neurology patients are discussed. In addition to the regularly scheduled departmental conferences, there are resident-only conferences on Tuesdays. Residents direct a series of child and adult neurology case vignettes and participate in an evidence-based medicine journal club. Visiting professors lead small group discussions with the residents.
As a resident, you will have many opportunities to participate in research and to hone your educational skills with various courses offered through the Mayo Clinic School of Graduate Medical Education.
During this time, residents also participate in outstanding didactic teaching courses in the following areas:
Basic neurosciences
Neuroanatomy
Neuroradiology
General neurological disorders
Neuro-critical care
Clinical neurophysiology
Ethics
Transition to practice
Research training
You are required to complete one or more research projects in clinical, laboratory, or basic neurosciences during your training. The program offers strong support for resident research including up to six months of elective time, connection to a faculty mentor, access to the Rochester Epidemiology Project (allows for population-based, longitudinal research), and Departmental funding to cover research costs. There is also generous support for residents to attend meetings to present their research.
Those candidates applying for the Child and Adolescent Neurology Residency who have a particular interest in research may wish to inquire about Mayo Clinic's Clinician Investigator Training Program, which they would be eligible to compete for after completion of their residency. More details about this program can be forwarded to you upon request.
Teaching opportunities
Neurological education as a career track has a long history of support in our program. Teaching opportunities abound at Mayo Clinic and in the Child and Adolescent Neurology Residency. You can teach Mayo Clinic Alix School of Medicine students and visiting students from other medical schools through bedside instruction and formal didactic lectures.
A major senior resident responsibility is teaching junior neurology residents as well as residents from adult neurology, general pediatrics, psychiatry, and neurosurgery who rotate on the child and adolescent neurology services. Senior residents have the opportunity to join the faculty to teach the pre-clinical neuroscience course at Mayo Clinic Alix School of Medicine.
Call frequency
The call schedule is different for each rotation. Mayo Clinic College of Medicine and Science follows the recommendations of the Accreditation Council for Graduate Medical Education (ACGME).
Evaluation
To ensure that you acquire adequate knowledge and develop the appropriate technical skills to meet program expectations, your performance is monitored carefully during the residency. You are formally evaluated by supervising faculty members on a regular basis and meet with the program director to review these evaluations.
In addition, you regularly evaluate the faculty to confirm that your educational goals are being met.
In your PGY3-5 year, you will participate in the American Academy of Neurology RITE exam annually, which will allow you to benchmark your learning in preparation for your Board exam.
Advisers and mentors
Each incoming resident will be assigned a faculty adviser from within Child and Adolescent Neurology. Your faculty adviser provides you with comprehensive educational advice and personal support throughout your training program.
Your adviser also serves as a contact point, introducing you and your family to Rochester and the Mayo Clinic system.