Curriculum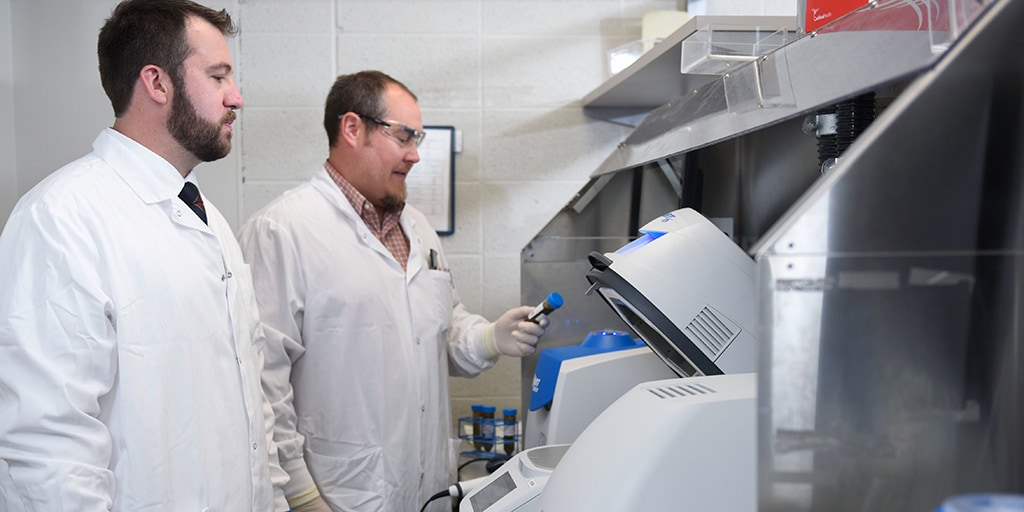 Clinical training
Training in the Clinical Chemistry Postdoctoral Fellowship is divided into two phases:
Phase I
The first phase is a highly structured eleven-month introduction to clinical laboratory systems and services. Through one-on-one interaction, lectures, case presentations, and laboratory exercises, you learn the basic principles of analysis, the pathophysiology of disease, and the application of clinical chemistry to diagnosis.
During this phase, you rotate through the different laboratories in the divisions of clinical core laboratory services and clinical biochemistry and immunology. The curriculum is aligned with the ABCC/ComACC core competencies expectations for clinical chemists. Content is shared as rotation modules listed below, each taught by specialized faculty experts in clinical chemistry, hematology, immunology, cell kinetics, and laboratory genetics, in different laboratories.
| Rotation | Length |
| --- | --- |
| Central Clinical Laboratory | 1 month |
| Hospital Clinical Laboratory | 2 weeks |
| Toxicology | 3 weeks |
| Antibody & Protein Immunology | 1 month |
| Cellular & Molecular Immunology | 1 week |
| Neuroimmunology | 1 week |
| Cardiovascular Laboratory Medicine | 3 weeks |
| Trace Metals | 2 weeks |
| Biochemical Genetics | 2 weeks |
| Molecular Diagnostics | 2 weeks |
| Clinical Informatics | 2 weeks |
| Endocrinology | 3 weeks |
| Infectious Disease Serology | 1 week |
| Metabolic Hematology | 1 week |
| Nephrology Laboratory Medicine | 2 weeks |
| Coagulation | 2 weeks |
| Advanced Central Clinical Laboratory | 1 month |
Studies focus on details of testing, methodology, and the clinical correlation of laboratory tests. You also are assigned to a project related to the development and implementation of a new laboratory test. At the mid-point of the first year, fellows begin Clinical Chemistry On-Call pager rotation. During this rotation, fellows field inquiries on test interpretation, appropriate tests utilization, and assist with handling unusual and/or troubleshooting for patient care in our inpatient, outpatient, and reference practices.
As a fellow, you will be offered several translation research projects by faculty during their rotations, and with mentorship, these projects are expected to generate content for abstracts to be presented at national conferences in the field at the end of the first year of fellowship.
Phase II
For the final 12-13 months, you will select one of the clinical laboratories you rotated through during your first year to serve as your main focus, and you will assume increasing responsibility serving in an "acting laboratory directorship" role. Laboratory and patient problems are referred to you to help you prepare for your ultimate role as a hospital clinical laboratory director, assistant director, or developmental scientist or manager in a diagnostic-related company.
During the second year of fellowship, senior fellows will serve as mentors to junior fellows. Translation research projects started on the first year of fellowship are likely to be fully completed and published in the second year, and the laboratory selected as your second-year home laboratory will offer new, longer-term projects for you to work on during your acting directorship.
You will also be given the option of an elective four-week rotation to the Mayo Clinic campus in Phoenix, Arizona, or Jacksonville, Florida, where you will gain further hands-on experience directing a smaller laboratory, which provides an environment of community practice.
Research training
Research is an integral part of the training program and is highly encouraged for all of our fellows. There are many research opportunities - the program maintains a dynamic list of project ideas for trainees, although you will also be encouraged to develop ideas of your own. This project list includes both translational/clinical directions as well as educational and quality topics. Early in the program, directors will review this project list with you to allow for meeting abstract deadlines and completion of projects by the end of the program. An introduction to the IRB system, the Mayo Clinic library, and the department's Biorepository Laboratory services will also be provided.
We have a tremendous number of resources to support research at Mayo Clinic, including readily accessible statistical support, graphic design and media services, and publication services. We also have the DLMP Research Innovation Office which provides support for drafting and submitting IRB protocols as well as provides staff for patient recruitment and consent if needed. These services make it possible to perform high added value research, as there is support taking care of the administrative aspects and allowing us to focus on science.
Before the end of the program, at least two poster or oral presentations describing research performed during fellowship training should be presented at meetings of national scope (ACLPS, AACC). In addition, at least two manuscripts should be accepted, in press, or published in peer-reviewed journals.
Leadership and management
As part of this program, you are expected to present operational and scientific material at a variety of internal Mayo Clinic pathology and clinical conferences, including staff meetings, chemistry rounds, and journal club.
Throughout the year, you will attend formal presentations on laboratory management principles as part of the established teaching conferences that are given by expert staff members. This is a curriculum designed for leadership and management developed by the Department of Laboratory Medicine and Pathology at Mayo Clinic.
Teaching opportunities
As a fellow, you support pathology residents and other clinical trainees rotating on the clinical chemistry service. Fellows are also included as lecturers in the medical laboratory science program at Mayo Clinic. Additionally, you are expected to prepare and present continuing education presentations for laboratory staff, both in person and in the form of webinars.
Evaluation
To ensure that you acquire adequate knowledge and develop the appropriate technical skills to meet program expectations, your performance is monitored carefully during the Clinical Chemistry Postdoctoral Fellowship. You are formally evaluated by supervising faculty members at the completion of each rotation block during the first year, and on a quarterly basis during the second year. Faculty also formally assess inpatient care, medical knowledge, professionalism, systems-based practice, practice-based learning and improvement, and interpersonal and communication skills.
You will meet with the program director and/or associate program director to review these evaluations and discuss professional growth. In addition, allied health staff and residents are asked to evaluate your performance periodically.
As a fellow, you are able to view your evaluations electronically. Final written summative evaluations are completed for each fellow upon completion of the program. You also regularly evaluate the faculty to confirm that your educational needs are being met.