Meet The Faculty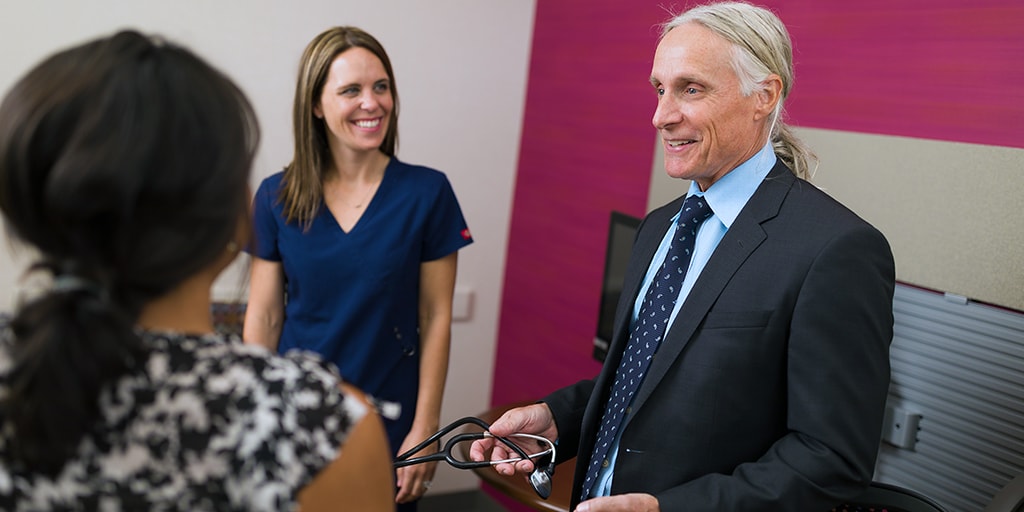 The Division of Hematology and Medical Oncology at Mayo Clinic in Phoenix/Scottsdale, Arizona, has a number of specialty services composed of professionals dedicated to treating cancer and hematologic diseases and improving the quality of life for patients.
The department includes several subspecialty clinics, such as the Breast Clinic and Bone Marrow Transplant Program. The Division of Hematology and Medical Oncology is fully integrated with other medical specialties.
Annually, Mayo Clinic evaluates thousands of patients with diverse solid tumors and hematological disorders at the Arizona campus. In addition, Mayo evaluates a significant number of patients with nonmalignant hematologic disorders, including thrombocytosis, thrombocytopenia, neutropenia, and anemia. You play an important role in the care of these patients.
Mayo Clinic actively participates in clinical trials of newer therapies for malignant disorders, including many Phase I and Phase II trials. In addition to intramural protocols, other trials involve cooperative efforts with a variety of groups.
From the program director
I would like to personally welcome you to the Hematology/Oncology Fellowship at Mayo Clinic in Phoenix, Arizona. At Mayo Clinic, you will be joining a program that is steeped in tradition dating back more than 100 years to the days of Drs. Will and Charlie Mayo. You will be challenged to achieve your best in the areas of clinical medicine, research, and medical education, and to provide the best possible health care for your patients.
To enhance your development as future leaders in hematology/oncology you will have access to a top hematology/oncology faculty to serve as mentors and provide you the expertise needed to maximize your potential. A top-notch curriculum has been established to provide you with a multitude of learning opportunities including inpatient rotations in acute leukemia, allogeneic and autologous stem cell transplantation, CAR-T cell therapy, hematology consults, and oncology consults. You will work alongside mentors in outpatient clinics in all of the subspecialties in hematology and oncology. As a fellow, you will also experience unique opportunities to help underserved populations during rotations at Phoenix Indian Medical Center and Valleywise Medical Center. You will learn from your outstanding group of peers, many of whom will become lifelong colleagues and friends.
Over the past three years, our fellows have scored at the top of all hematology/oncology training programs in the nation on the American Society of Clinical Oncology in-service training examination and in the top 10% of all programs on the American Society of Hematology in-service examination. 100% of our graduates have gone on to pass the ABIM Boards in both hematology and medical oncology and develop careers at prestigious academic institutions, in private practice, and industry.
I invite you to look around our website and learn more about our program.
Brenda Ernst, M.D.
Program Director
Faculty
Physicians, scientists, residents, students, nurses, and allied health staff members work as a team guided by our mission statement. In addition to caring for patients in clinical practice, Mayo Clinic's faculty is committed to teaching and facilitating the growth of medical knowledge. Many of our faculty members have published and lectured extensively and are highly regarded in their fields. You have direct access to the hematology and oncology faculty at Mayo Clinic throughout your training in the Hematology/Oncology Fellowship.
Advisers and mentors
You are assigned a dedicated faculty adviser who can provide comprehensive educational advice and personal support. Trainees meet with their advisers periodically throughout the program to review their progress and career goals, and ensure that their educational needs are being met. Your adviser also serves as a contact point for introducing you and your family to the Phoenix area and the Mayo Clinic system.
Visiting professors
Many prominent professors visit Mayo Clinic each year. They present their work during lectures, participate in hospital rounds and have informal discussions with trainees. You are encouraged to take full advantage of these educational opportunities.